by Kim Ladd, RN, BS, CPHQ, CDCES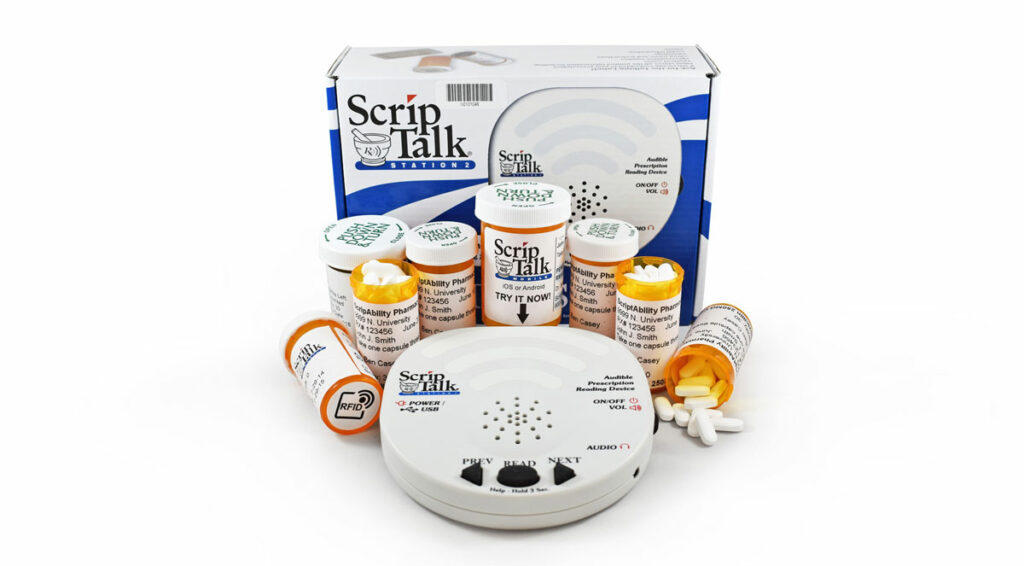 Editor's note: Please join us for our upcoming webinar on Resources for Managing Medications with Low or No Vision, January 19, 2022 from 5:00 to 6:30 p.m. eastern. Please register. ACVREP credit will be offered.
Effectively Managing Medications
If you have a chronic disease, like diabetes, effectively managing your medications is an important part of staying healthy. However, if you are blind, you may wonder how you can manage your medications if you can't see them. Resources and accessible devices are available to help you take control of your health.
Scrip Talk
Scrip Talk is a device that reads your medications to you through either the Scrip Talk device or the smartphone app. Here's a video on how to use the app. Using Scrip Talk, requires prescriptions be filled at a participating pharmacy. The pharmacy places an RFID sticker on your prescriptions, which is read by the reader or the app. To sign up for ScripTalk, just ask your pharmacist, after ensuring they participate. The best part, Scrip Talk is free!
CVS SpokenRX
CVS pharmacies provide the free SpokenRX program. This program also uses a RFID sticker placed onto your prescriptions that can be read by the CVS SpokenRX app. To sign up, call or visit your local CVS pharmacy.
Walgreens Talking Pill Reminder
In June 2014, Walgreens pharmacy exclusively began providing a free talking prescription device, called the Talking Pill Reminder. The device is available at all Walgreens and Duane Reade stores in the United States and through Walgreens mail-order pharmacy. The Talking Pill Reminder is attached to your prescription bottles by the pharmacy. It has 2 buttons on it; one is an alarm that can be set to remind you to take your medicine and the other is an audio button that the pharmacist uses to record a message containing the name of your medicine and the administration directions. Walgreens also offers large print labels. To access these resources, just ask your local Walgreens pharmacy. If you experience any difficulties obtaining the talking pill reminder at Walgreens, contact Walgreens Customer Service at 1-800-925-4733 ext. 4.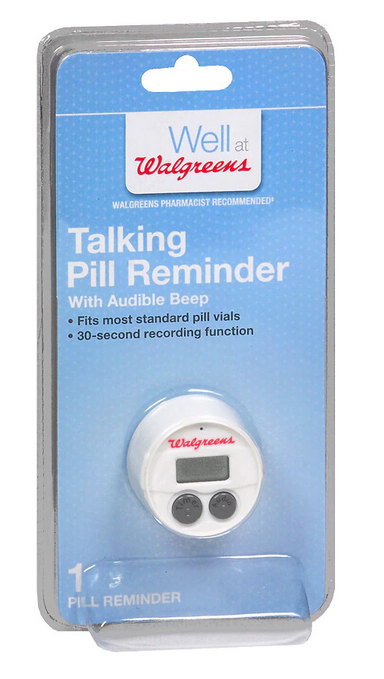 Accessible Pharmacy
Accessible Pharmacy is a mail-order pharmacy based out of Pennsylvania that can deliver medications and supplies to most states. To find out if your state qualifies, visit the Accessible Pharmacy website. In 2020, the company was formed to meet the needs of patients who are blind or experiencing vision loss. They provide numerous accessible devices, such as ScripTalk, large print labels, braille labels and special packaging options, all free of charge. They also provide education and assistance via telephone or the Be My Eyes app, Specialized Help Section. Accessible Pharmacy can also supply pet medications, as well as Prodigy talking glucometers and supplies, and continuous glucose monitors (Freestyle Libre, Dexcom G6) and supplies. You can call Accessible Pharmacy at 215-799-9900, visit their website, or through the Be My Eyes app specialized help section.
Check the resources below for information about Be My Eyes and other visual interpreting services if you don't have access to an RFID reader or other resource or device for accessing your medication information.
Additional Information
NY Times article about Accessible Pharmacy (has audio option 13:56)