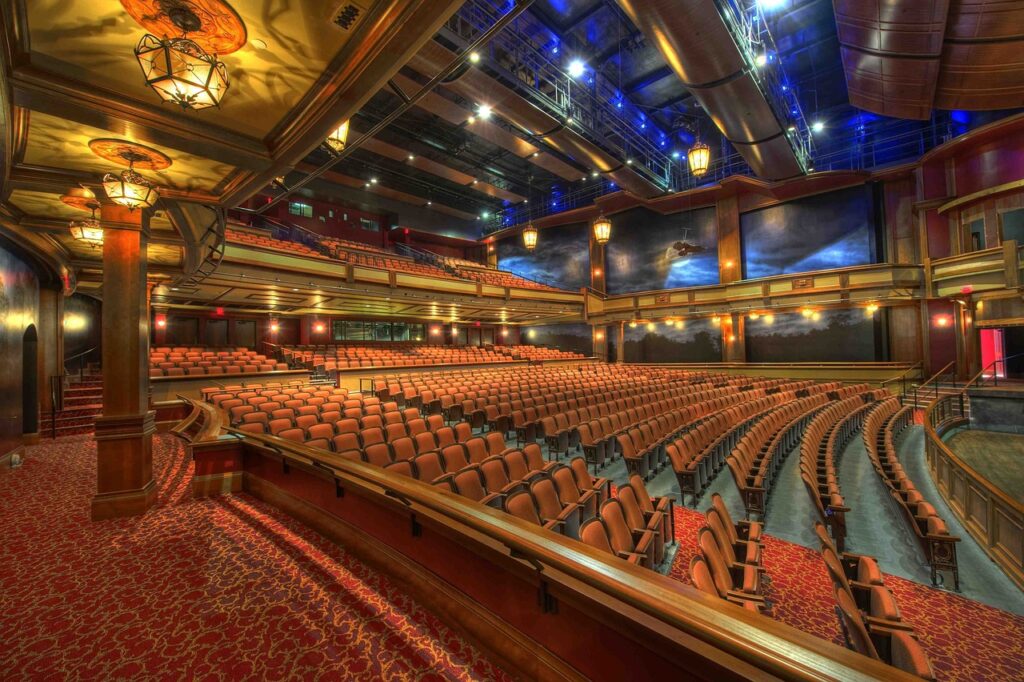 Editor's note: We are celebrating the anniversary on July 26 of the Americans with Disabilities Act (ADA). Under Title II of the ADA, audio description (AD) is required for public entities; Title III includes AD for places of public accommodation. As noted in the post, the Twenty-First Century Communications and Video Accessibility Act of 2010 was enacted, and it required making communication technologies accessible to everyone.
Audio Description Turns Movies and Theatre into Inclusive Experiences
If you think the visual performing arts are only for sighted people, you're missing out on a world of entertainment. That's because audio description turns theatre, television, and movies into inclusive experiences. It provides narration for the visual elements of a production, such as scene changes, settings, costumes, physical movement, and more.
Audio description began with theatre in the early 1980s, with an organization called Metropolitan Washington Ear in Washington, D.C., says Kim Charlson, Executive Director of the Perkins Braille and Talking Book Library, co-chair of the American Council of the Blind's Audio Description Project. In addition, Charlson is chair of an audio description certification project with the certifying authority for professionals in the field of blindness: the Academy for Certification of Vision Rehabilitation & Education Professionals (ACVREP).
"They started training volunteers to describe what was happening on stage at theatre performances in the Washington, D.C., area," she says. "Before that – like when I was going to movies with my parents as a kid – you had to have a sighted person sitting next to you whispering your ear. People around us would get aggravated, so my parents decided they wouldn't go to the movies anymore."
Audio description in live theatres and movies is delivered through a receiver, much like a transistor radio with an earphone. Someone who is blind or low vision listens to the audio description provided live through a microphone or a pre-recorded track.
"I attended live theatre regularly and thought I was getting everything that was going on," Charlson says. "But the first time I went to an audio-described live theatre performance, I realized how much I was missing. I was filling in gaps with things that probably weren't even part of the show. Audio description lets you know what's happening and fills in the information the playwright intended."
Experiencing live productions to the fullest
Today, Charlson says, she rarely goes to live theatre unless it's audio-described. "I know how much value the audio description adds," she says. "In fact, sometimes, because of the audio description, I'll get details that my sighted friends might miss."
Being an audio describer is something people need training in because you can't simply watch live theatre along with the audience. The process involves seeing the show at least a couple of times and writing brief descriptions that fit in between the actors' spoken dialogue or, in a musical, singing. What's more, it has to be objective. Like any theatergoer, people with blind or low vision should have the chance to interpret why, for example, someone is crying based on the context of the story they already know.
For live television broadcasts, such as a holiday parade, audio describers get the same information as TV commentators, like descriptions of the floats in order. When audio description is provided live, the describer is on the premises, which is especially important when something doesn't go as planned.
"I remember one production of Phantom of the Opera where the audience laughed when a character pulled out his sword," Charlson says. "It wasn't clear why there was laughter until the describer explained that the handle came off the sword, so there was no sword coming out of the sheath."
Live audio description isn't always available, but some theatres offer pre-recorded audio descriptions, especially on Broadway. Although it's not the same quality as live audio description, Charlson says it's better than no description. She urges people to ask the theatre before purchasing tickets if a live audio description will be offered, when, or if the pre-recorded description is available. Some theatres will keep a list of patrons who requested live or pre-recorded audio descriptions and email them when it's available for an upcoming show.
Two other tips from Charlson. If you don't have any usable vision, consider purchasing "obstructed view" seats if they're available because they're less expensive. Second, if you use a dog guide, choose an aisle seat. That way, your dog can have more room to relax in the aisle, except when performers use aisles (which an usher or announcer will tell you).
Enjoying movies and TV with audio description
Audio descriptions at the movies are much like pre-recorded audio descriptions for theatre. Movie theatres usually use the same headsets for audio description and enhanced audio for people who are hard of hearing. So it's important to ensure the theatre knows which service you need.
The headsets are usually available when buying tickets or at the service desk. Charlson says it's smart to get the cell phone number of someone you can reach in case you're given the enhanced audio by mistake. That way, you or someone in your party doesn't have to get up and find someone after the movie begins because previews and ads don't include audio description.
Audio description is most widely available on television, thanks to the 21st Century Communications and Video Accessibility Act (CVAA). Under the law, the Federal Communications Commission (FCC) is mandated to monitor and ensure the top four broadcast networks – ABC, CBS, NBC, and FOX – provide at least 87.5 percent of audio-described content per quarter. The legislation also requires the top five cable providers, as measured by Nielsen, the rating service used to assess the popularity of different stations, to do the same. That changes every three years, but those stations are currently HGTV, the Hallmark Channel, the HISTORY channel, TLC, and TBS.
Many streaming channels also offer audio description. For example, Max (formerly HBO Max) recently merged programming with Discovery Plus, offering over 6,500 hours of described content.
CBS offers nearly 100% of its programming with audio description; other networks currently provide about 75% of their prime-time programming – and you have to be watching live. With streaming programs, the audio description track is always available. Charlson points out that most televised sporting events in the U.S. aren't described because radio broadcasts of sporting events already provide running commentary.
Audio description settings are found on a TV's menu under Languages or Accessibility, depending on the TV set.
Take advantage of the availability of audio description because otherwise, you're not getting the full experience. "Say a lion is sneaking up behind our hero, and not even he knows it – but it's pretty important that you do," Charlson says. "It makes a big difference in helping you understand a plot line."
For a list of available audio-described channels, programming for purchase and more, visit the American Council of the Blind's Audio Description Project page.
Read More