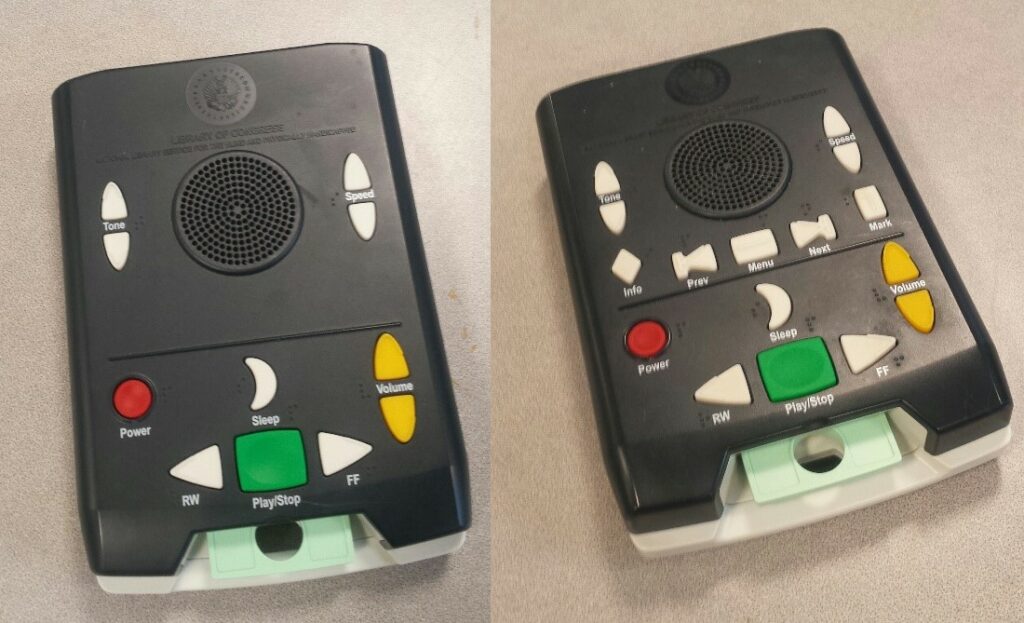 National Book Lovers Day is observed every year on August 9. It's a great opportunity to roll up my sleeves and dive into one of my favorite pastimes, reading! For individuals who've experienced a recent vision loss, reading may be a particularly sensitive topic. As a vision rehabilitation therapist, one of the things I hear most often from clients is the challenge of reading the newspaper, magazines, and of course, books, with reduced vision. As someone with an acquired vision impairment myself, reading after vision loss holds a great interest to me as well.
Maybe you're like me when I was first diagnosed with a progressive vision loss, you might be unaware of the many alternative methods of reading with reduced vision. My reaction to early vision loss was to open a book of Shakespeare I had not opened since college, thinking I'd better get started on rereading the classics before I lost my vision and could no longer read! I slid into a funk.
Fast forward a few years, and I can't think of a time in my life, except the time I was pursuing my bachelor's degree in English, when I read more than I do now. Sadly, I admit, it's often not a classic. The irony is, as a visually impaired reader, you may actually have more access to books now, than you did as someone with better eyesight!
Reading with a vision loss may include making a few changes and exploring a few new tools. Getting back to reading can be a journey of rediscovery, and may include magnification, electronic devices, audio, and even touch.
Your vision loss has opened the door to several unmatched reading opportunities that will cost you absolutely nothing and provide you more accessible reading material than you can hope to read. Below are some great places to help you rediscover reading.
NLS Talking Books
One of the quickest ways to get reconnected with books is with the U.S. Library of Congress, National Library Service (NLS)Talking Books program. For people with a documented (from a doctor, vision rehabilitation therapist, etc.) print disability, books and magazines can be delivered to you electronically by downloading them to a computer, tablet, or smartphone. Or, you can get them delivered to you, postage free, by mail on audio cartridges that play on a Talking Book player (also provided at no cost.) The Talking Book player is easy to use and portable. It's about the size of a cassette recorder, for those of us that remember what that was, and just as easy to use.
You can have books and magazines delivered automatically by selecting a particular genre, and titles will be selected and sent to you. You can also just call and request titles you want to read. Audio cartridges arrive in mailers that are postage free, so there is no cost to you. For more information about NLS Talking Books call them at 1-888-NLS-READ (1-888-657-7323), check out our article, Audio Players and Talking Books, or listen to the OIB-TAC webinar featuring NLS.
Bookshare
Bookshare is a service specifically designed for readers who have difficulty accessing printed material. Books and some magazines can be downloaded to your smartphone, tablet, or computer and read in magnified electronic print, with text to speech, or in some cases, as audio books.
Like the NLS program, to sign up for Bookshare, you'll first need to provide proof of your reading disability from a doctor or vision rehabilitation therapist. Bookshare is free for students, and costs $50 a year to non-students. With a subscription, you're able to download up to 100 books per month! Bookshare has over one million titles in their library and they are constantly adding new books, so there is little chance you'll run out of books to read! For more information, check out Empish Thomas' article on Bookshare, or call Bookshare at 650-644-3449.
Here's a tip for readers who may not currently be students—register first with the free, online resource, Hadley, and you'll be able to sign up as a student using Bookshare. Of course, you'll also have access to hundreds of Hadley's training workshops Hadley provides online, large print, braille, and audio media for people with vision loss free of charge!
NFB-NEWSLINE®
The National Federation of the Blind's audio news service, NFB-NEWSLINE® is available in most states, through the state library service, and there is no cost to eligible readers who are blind, low vision, or have a print disability. Newsline provides access to over 500 local and national newspapers and magazines, such as the Wall Street Journal, NY Times, and USA Today.
There are many ways to access NFB-NEWSLINE® including on a smartphone, tablet, computer, or a media player like the Victor Reader Stream or Amazon Echo. The simplest way, however, is just to listen over the phone, and smart phones, landline and flip phones will work well for this. Dial the local or toll-free number provided when you register and use the keypad to make selections for the publication you want, sections, and to change the text to speech options, like the voice and rate of speech.
In addition to periodicals, Newsline provides access to local grocery store ads, job listings, local weather, and TV listings. For more information, check out Specialty Reading Products and Services, or call NFB-NEWSLINE® at 866-504-7300.
Get Back to Reading
National Book Lover's Day is the perfect time to get back to reading with your vision loss. Rediscover reading with one, or all, of these programs offered at no cost to anyone with a vision loss and embrace some of the old and new technology that makes it all possible. Really, who knew the local paper is as close as picking up a phone?
And be sure to ready my newest AccessWorld article Reading Print with Low Vision.
Additional Information on Reading
Exemptions and Special Assistance for People Who Are Blind or Visually Impaired – VisionAware 
Leading the Way for People with Vision Loss to Become or Remain Literate – VisionAware
Ways to Read Books and Reading to Enhance Mental Health – VisionAware