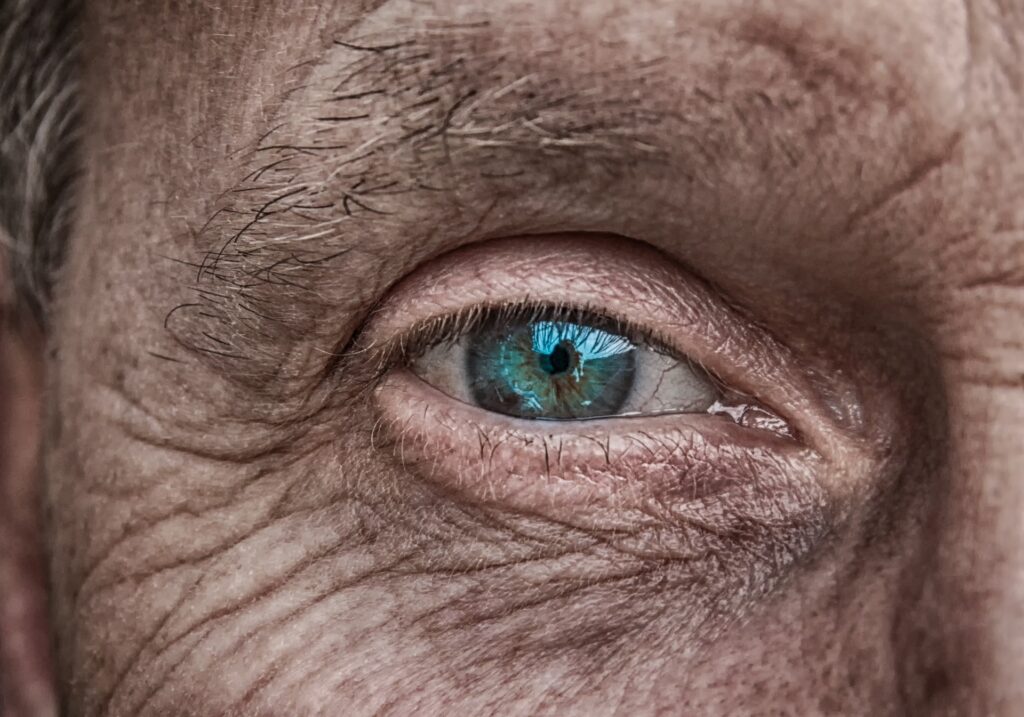 Medically reviewed by Sefy Paulose, MD
What is Geographic Atrophy?
As noted on APH VisionAware, "Age-Related Macular Degeneration (AMD) is a gradual, progressive, painless deterioration of the macula, which is the small area in the center of the retina that gives us our detailed vision." Geographic Atrophy (GA) is the most advanced form of dry AMD and involves patches of cells that have degenerated or died off in the macula, which is the center part of vision. Atrophy refers to the degeneration of the retinal pigment epithelium (RPE). Geographic refers to the shape of the atrophied portion of the retina.
According to GATHER2, the website for the GATHER2 Clinical Trial, "Individuals with dry AMD or wet AMD can develop GA. GA often affects both eyes. There is no US Food and Drug Administration (FDA)–approved treatment for GA." Individuals may experience blind spots, distortions and other changes in vision as GA progresses.
Possible Other Symptoms Related to GA:
Gradual loss of central vision
Difficulty recognizing faces
Difficulty with

Distinguishing color
Adjusting from bright to dim lighting
Depth perception
Close work (threading a needle, reading, cooking, etc.)
Driving
Watching TV
According to the GATHER2 website, you do not have to be experiencing all of these symptoms to qualify for the clinical trial.
About the GATHER2 Clinical Trial
According to the company website, GATHER2 is a phase 3 trial testing a potential treatment known as Zimura® (avacincaptad pegol). A phase 3 trial is one of the final phases of testing typically required for a treatment to be approved by the US Food and Drug Administration (FDA).
Through the trial, doctors want to find out if Zimura® can help slow down the progression of geographic atrophy (GA) and to determine potential side effects of the medication
GATHER2 was designed based on the results of the completed GATHER1 phase 3 clinical trial.
Clinical Trial Procedures
Initially, trial participants will be randomly placed into two groups.
Group 1 participants will receive Zimura® 2 mg eye injections once a month.
Group 2 participants will receive a sham procedure[SC1] meant to simulate an injection once a month. The sham group will not get an injection into the eye.
At the beginning of Year 2, those in the Zimura® group will be randomly placed into two new groups.
Some participants will continue to receive Zimura® once a month.
Some participants will receive Zimura® once every other month.
Patients in the sham group will remain in the sham group.
Two eye doctors will monitor participants throughout the trial on a monthly basis.
How to Participate
First, talk to your doctor.
Read the doctor discussion guide. Key points include:
Find out if you have geographic atrophy
Find out about risks and benefits, other options, clinical trials in your area
Financial costs
Eligibility for the trial
Contact for Participating in the Clinical Trial
If you're interested in participating in the GATHER2 Clinical Trial, please call 1–833–ZIMURA2 (1-833-946-8722) toll-free at any time. To talk to someone, call between 9:00 AM and 5:00 PM Eastern Monday through Friday.

If you call after hours or during the weekend, leave a message for a return call.
Note about ZIMURA: "GATHER2 IS SPONSORED BY IVERIC bio, WHICH IS LOCATED IN THE UNITED STATES. ZIMURA® IS AN INVESTIGATIONAL PRODUCT AND HAS NOT BEEN APPROVED BY THE FDA. SAFETY AND EFFICACY OF ZIMURA® FOR AGE-RELATED MACULAR DEGENERATION AND GEOGRAPHIC ATROPHY HAVE NOT BEEN ESTABLISHED. PLEASE SPEAK TO YOUR DOCTOR ABOUT PARTICIPATING IN THIS TRIAL. Copyright © 2021 IVERIC bio, Inc. All rights reserved._DTP_GATHER2_Discussion Guide_28FEB2021."
Learn More
---