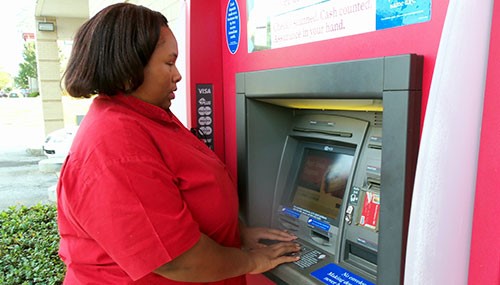 The ADA has five major areas of concentration: employment, transportation, state and local government, public accommodations, and telecommunications. In this post, the VisionAware Peer Advisors address how the ADA has affected their everyday lives in many of those areas.
ADA and the Internet
Imagine for a moment your internet access just stops—the information you get from news sources, research, podcasts, email, your connection to work—it all just comes to a halt… If all of this information is not delivered in a way that's accessible to your device, you would be at a serious disadvantage.

One of the major benefits of adopting the ADA 31 years ago is that it reinforced the Rehabilitation Act of 1973, a law that mandated all federal and state programs and services be accessible to individuals with a disability. Although the internet was not available in 1973 for these programs, as they developed and moved to the internet, laws were in place to guide program and service developers to make sure everyone is included has access to the information they provide.

For example, the internet and the coding used to make webpages has been accessible from the outset, so the developers making webpages and internet services just need to keep accessibility for all users in mind as they develop their services. For instance, just before a town election in my community, I went to the town's website and found a voting guide that covered the issues. It was a PDF file which I couldn't read with a screen reader because of the way it was created. The free Google Docs application converted it to a more accessible file that could be read with a screen reader. It was sent to the town with instructions on how to convert it and to make the community website more accessible and compliant with both the Rehabilitation Act, and the ADA. There was no additional cost or work required to make this vital information more accessible to all users, just mindfulness about using file formats and procedures accessible to all visitors to the website.

As this recent, small example shows, one of the benefits of the ADA is to reinforce existing laws and provide additional guidelines on how to ensure that programs and services we use and depend on every day that are delivered on the internet, are built in a way that enables access to everyone. The ADA provide a basic legal framework we can reference for guidelines on how to best provide programs and services that include everyone in our communities.
ADA and Braille on Elevators
I remember the first time I needed to locate the office of a congressman in Washington DC. I knew which floor the office was on, but the elevator didn't have braille on the buttons. I had to try to figure out what floor I was on by stepping into the doorway and reading the raised numbers on the exterior framing wall. Even when I figured how the buttons were arranged, I wasn't always able to predict I was on the correct floor without checking those print numerals because someone else might have summoned an elevator to an intervening floor between my starting point and my desired one. Then, I still had to try to figure out the correct office once I arrived on the right floor. It is obvious to many people that changes have been made as a result of the ADA for people who are mobility impaired, but braille signage is less noticeable than are curb cuts and ramps.
I used an elevator today and was reminded that just because the elevator has braille, I still can have issues reading the braille because the buttons are so low to the ground. I know they need to be accessible to people in wheelchairs, but I am six feet tall, and it is a little tricky for me to read without bending down on one knee. I hope the door never opens and someone doesn't think I am proposing to them!
I was excited the day I realized that the elevators in my building now had braille labels near the buttons. Before that, there was no reliable way to tell what floor on which I exited, and I needed to tie a rubber band around my doorknob, so I knew I was at my own apartment. At least once, I tried to enter what would have been my apartment if I'd been on the correct floor! Obviously, the person who lived there was unhappy.
ADA and Voting
When I moved to Missouri, I lived in a tiny town in a rural part of the state. I arrived at my polling location to discover that none of the poll workers knew how to activate the accessible voting machine. It sat there like a doorstop. They suggested I have my husband fill out my ballot. I explained that it was important to me to be allowed to vote independently. I said I would wait. I waited three hours before, in desperation, they contacted the county clerk to come and get the device working. The next time I needed to vote, they were so excited that they had set the machine up in advance of my arrival. Unfortunately, they had inserted the Republican primary ballot, and I was registered as a Democrat! Since they had already done it once, it took only 20 minutes to get everything set up on the correct ballot. I am seriously thinking of training as a poll worker, so I can be assured that I will be able to vote independently should no one at the polls remember how to operate an accessible voting machine!
Empish encountered a similar experience when she arrived at a poll where the accessible machine had not been set up. In her post she wrote: "After voting I went home and contacted the Secretary of State's office to let them know that the accessible machine was not set up when I went to vote. The next time I voted I had a better experience, because the machine was in place and ready to go. Sometimes as people with disabilities we have to be advocates and speak up to get the things that we need. This is part of the reason why I appreciate the work that has been done to make voting independent and private for those of us who are blind or visually impaired."
ADA and Life Insurance
The effects of the ADA in my own life have been mixed. After the law was passed, I could ride an elevator independently, but it took eighteen years before I could vote without assistance.
In 2003 when I decided to purchase long-term care insurance, I had to contact six insurance companies before one agreed to insure me. John Hancock denied me twice—on the initial application and on the appeal. The two-sentence denial boldly stated it was due to my blindness. The Florida Commissioner of Insurance Regulations refused to help me.
It took a few months for the application and appeal process to run its course, so with each of the subsequent inquiries, my first question was, "Will I be automatically denied because I'm blind?" Finally, the sixth company offered me an excellent plan.
"The Americans With Disabilities Act (ADA) states that disabled people cannot be denied certain services such as life insurance, but because a disability may affect a person's life expectancy, insurance companies are allowed to take into consideration a person's disability when deciding which plans they may be eligible for and determining the premium price." (Life Insurance challenges for People with Disabilities (brrlaw.com))
ATMs and Other Everyday Tasks
In 2015, Mary was a winner (along with another Peer Advisor Elizabeth Sammons) of an ADA Celebration 25 contest. Among other topics, she wrote about using an ATM, "On my lunch hour, I use an ATM to get some cash. Now, because all ATM's are fully accessible with audio output, nobody else has to know my business." In that same post she covered things she did during the day that were made possible because of the ADA, such as going to a restaurant with her guide dog, using brailled bank statements, using audible pedestrian signals to cross the street,
ADA Resources
Elizabeth, a former program administrator with Opportunities for Ohioans with Disabilities, has written a comprehensive review of the ADA for VisionAware.
Audrey's article on the ADA National Network and the guidance and support its regional offices provide.
Register for the OIB-TAC webinar My Heart Is Not Blind: Voices of Older Blind, on September 13, 2021. The presentation offers compelling accounts of survival, adaptation, and heightened perspective.