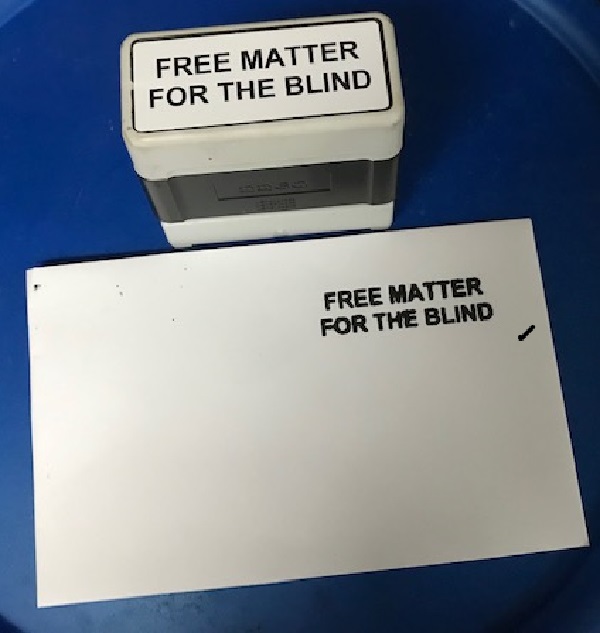 As a result of advocacy efforts over the years, as well as the Americans with Disabilities Act, the federal government and many states offer assistance and exemptions for people who are blind or visually impaired. These cut across many areas of life, and we cover a few examples below. You may also want to read our post Everyday Implications of the ADA for People with Vision Loss, which highlights some of the ways the ADA has been useful in the lives of people with low or no vision.
Free Matter for the Blind and Physically Handicapped
Under the law, passed in 1899, in the U.S. and its territories, specialized reading materials or equipment may be sent free of charge to people who are legally blind, those whose visual impairment prohibits them from reading comfortably, or those who have a physical or perceptual condition which prevents them from accessing printed material in a conventional way.  Examples of mail that qualifies as Free Matter include large-type (14-point type) documents, braille, audio recordings, and talking-book players. Mail must contain the wording "Free Matter for the Blind and Physically Handicapped" where postal stamps are normally placed.  Items must be unsealed to allow for inspection by postal authorities.    
I have been receiving and sending items via Free Matter for the Blind and Physically Handicapped since childhood. My friends and I reused two large brown envelopes with clasps that allowed postal inspection.  We would braille the recipient's name on one envelope to send a letter along with a "return envelope" that had the sender's address, with "Free Matter for the Blind and Physically Handicapped printed on the outside of the return envelope. It was easy to fold the return envelope and insert it into the sender's envelope along with the letter. When a friend matched me with PenPal, a blind man in a nearby state, he was excited that he was able to send the letter to me back to himself!  
How to Apply to Use Free Matter 
Certified participants in the Library of Congress National Library Service for the Blind and Physically Handicapped are eligible to use this service. According to USPS, a "competent authority" such as a social worker, registered nurse, ophthalmologist, doctor, or librarian can certify your eligibility as a person who meets the criteria of legal blindness or other stipulations laid out in the USPS guidelines. According to those guidelines, "you must submit the evidence of eligibility to the Post Office™ where you will make or receive postage-free mailings. Upon verification, you will then be considered eligible to use the free mailing privilege." A detailed question and answer resource is available on the United States Postal Service website.
Free Matter for the Blind Labels
According to the Postal Service, place the words "FREE MATTER FOR THE BLIND OR HANDICAPPED" in the upper right corner of the address side of the envelope or parcel where the postage would normally be placed. The words may be printed, rubber stamped, or handwritten. You can purchase labels and a "Free Matter for the Blind" rubber stamp imprinted with those words from many sources including Free Matter for the Blind Self Inking Stamp | Independent Living Aids and Walmart, among other vendors.
Talking Books
The National Library Service for the Blind (NLS) was established in 1931, this program is among the oldest available to people who are blind or visually impaired and others unable to hold a book due to a disability. You must establish your eligibility through "competent authorities" (outlined in the free matter section above) by having your application for services signed by one of these individuals.
Through a national network of cooperating libraries, NLS offers books in braille or audio formats. These can be mailed to your door for free. Materials can also be downloaded from the NLS website. These books are free to borrow and NLS provides the equipment on which audio books can be played. Their talking-book players feature large buttons, braille letters beside the controls, a sleep timer, and built-in audio instructions. They also offer the books through the BARD Mobile App that can be used on iPhones or Android phones.
You can sign up in a variety of ways, including downloading an application, calling your local library to ask for an application, or calling NLS toll free at 1-800-424-8567.
VisionAware Peer Advisor, Maribel Steel, wrote a great post on How to Get the Most from the Bard in Your Book.
Currency Readers
The National Library Service also offers currency readers free of charge through a partnership with the Bureau of Engraving and Printing. The NLS website states, "The currency reader, called the iBill Talking Banknote Identifier, is a compact device that announces a note's value in one of three ways: voice, pattern of tones, or pattern of vibrations. Just insert a note into the device and press the button on the side to have the denomination identified." It does not identify foreign or counterfeit bills. Call 844-815-9388 for more information.
There are also a number of apps available for reading currency.
Shopping Assistance
Shopping assistance is not covered under the ADA however many stores provide assistance with shopping if you call ahead. Check out these posts written by VisionAware Peer Advisors: Lenore Dillon's post on Shopping Wisely for some tips on shopping and Empish Thomas's post on pickup and delivery services.
Other Programs and Services to Check Out
We have covered just a few of the special programs available for people with vision loss. There are many other areas that are covered by state and federal laws that you should consider.
Audio Description of Movies and TV: Thumbs Up on the ADA and Audio-Described Movies & TV – VisionAware and The Audio Description Project (ADP) (acb.org)
Blindness Identification Card (varies by state. Massachusetts provides a guide and Benefits for Individuals who are Legally Blind | Mass.gov
Guide Dog Laws and information: Dog Guides for People with Vision Loss – VisionAware and Individual State and Province Access Laws | Guide Dogs for the Blind
Income Tax exemptions and tax assistance: Tax Guide – VisionAware and Disability Tax Benefits
Property tax exemptions in some states—Example Indiana
Social Security benefits: If You're Blind Or Have Low Vision — How We Can Help (ssa.gov)
Specialized Equipment for People with Vision and Hearing Loss (computers, phones, tablets, and others: iCanConnect.org | The National Deaf-Blind Equipment Distribution Program
Transportation: Learn about transportation resources in your community through the Eldercare locator at 800-677-1116 or their website: https://eldercare.acl.gov.  
White Cane Safety Laws: White Cane Laws for States | American Council of the Blind (acb.org)
Summary
Thanks too many years of advocacy efforts and laws such as the Americans with Disabilities Act, governments and companies now provide numerous exemptions and supports to ensure access and provide assistance to people with physical and sensory disabilities (blindness, visual impairment, hearing impairment/deafness, and deafblindness). While we have covered quite a few examples here, there may be more programs available in your specific city or state. For more information read the article about the services that the ADA Network provides by VisionAware Peer Advisor, Audrey Demmitt.
Additional Information
A Guide to Disability Rights Laws (ada.gov)
Resources | American Council of the Blind (acb.org)
Resources | National Federation of the Blind (nfb.org)
Talking Books Zoom Webinar | OIB-TAC
Publication 347 – Mailing Free Matter for Persons Who are Blind or Visually Impaired (usps.com)
Audio Players and Talking Books – VisionAware
Bureau of Engraving and Printing US Currency Reader Program – National Library Service for the Blind and Print Disabled (NLS) | Library of Congress (loc.gov)
"Free Matter for the Blind" Postal Regulations – VisionAware