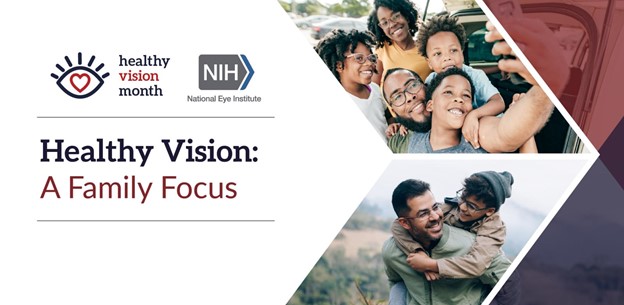 This year, National Eye Institute's Healthy Vision Month's goal is to encourage and equip families to protect their vision together! Their aim is to highlight their Spanish content to support Spanish-speaking Hispanic/Latino families and caregivers.
Spanish/English Materials
The National Eye Institute (NEI) created campaign materials using a Spanish-first approach, meaning the information is written first in Spanish and then translated into English. They used principles of transcreation, meaning the Spanish and English material isn't word-for-word identical, but instead, the Spanish/ English content each aligns with the cultural context of the intended audience. An example is the Healthy Vision page in English adjusted to Spanish.
NEI is also targeting steps that Hispanics/Latino families can take to promote healthy vision and to obtain eye care, stating that Hispanics/Latinos have high rates of blindness/ low vision caused by various eye conditions. Improving family eye health will work toward health equity.
APH ConnectCenter
APH VisionAware has a number of resources to help family members of adults understand eye health and eye conditions such as diabetes and glaucoma, and to promote appropriate vision care. A useful section for Spanish readers is the Diabetes Guide written in both English and Spanish. Our family guide offers guidance to family members and friends on how to provide assistance. Also, be sure to check out our Getting Started Guide, written in English and Spanish, for useful tips.
APH FamilyConnect provides information in English and Spanish for families of children who are blind or low vision.
The APH ConnectCenter provides a directory of services for adults and children as well as an information line that provides translation assistance for Spanish-speaking callers.
Resources for Obtaining Eye Care
NEI offers a list of resources to help with eye exams, glasses, and treatment. This information includes help for both children and adults.