Editor's note: To learn more and see a demo of the DexCom continuous glucose monitoring system, register for the upcoming webinar, Monitoring Your Blood Sugar Levels With Low or No Vision, on June 23 from 5:30PM to 7:00PM ET, featuring Kim Ladd and Marana Vradenburg.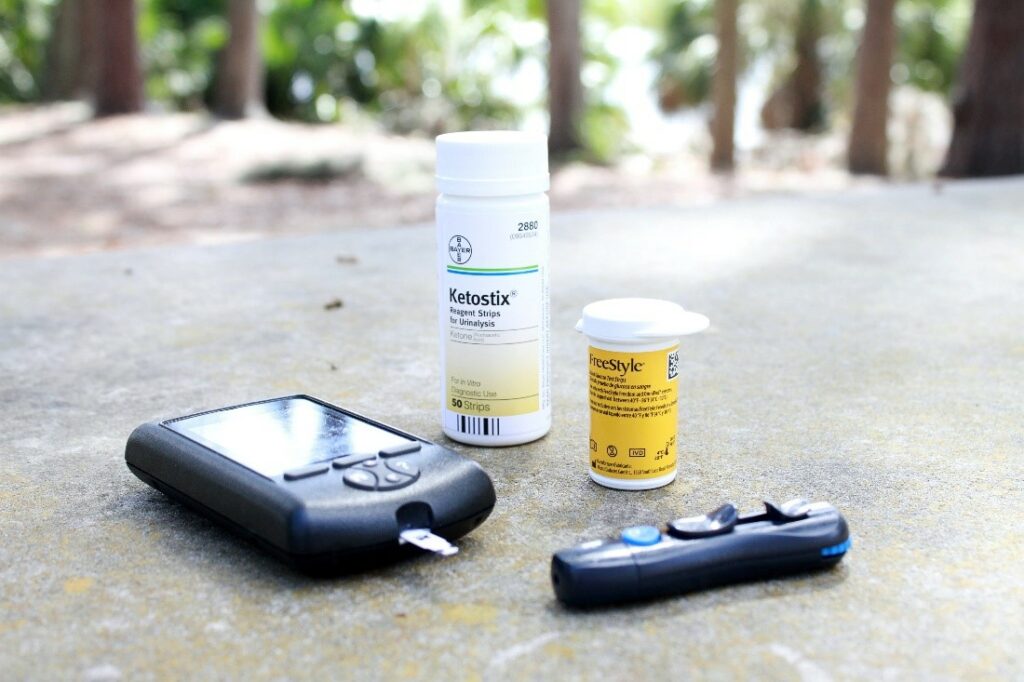 You have low vision or no vision and are diagnosed with diabetes. Your doctor tells you that you need to check your blood sugar (glucose) levels at home. You think "how can I do that, I can't see!" I am here to tell you that you can! All you need is an accessible monitor and some alternative techniques. Here are two types of blood glucose monitors that can help people with low or no vison:
Talking blood glucose monitors (aka glucometers), and
CGMs (aka continuous glucose monitors).
Talking Glucometers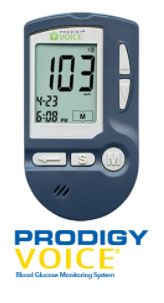 Talking glucometers work just like regular glucometers, except they have an audio function that speaks your blood glucose results aloud. Many also have audio functions for the memory bank and some of the set-up instructions. Currently, the only talking glucometer on the market that is fully accessible (meaning the audio function works for the set-up modes, testing modes and memory modes so that no visual assistance is needed) is the Prodigy Voice®. The Prodigy Voice® is the only meter to receive an Access Award from the American Foundation for the Blind (AFB) and an Access Plus Award from the National Federation of the Blind (NFB).
Obtaining Glucometers and Supplies
Glucometers, strips, and lancets are sold at pharmacies, mail order companies, and online. You do not need a prescription to buy these items, but without a prescription you will pay 100% of the costs. To get these items partially or fully paid for by your health insurance plan, you need to have a prescription from your doctor.
Most big-chain pharmacies stock, or can order, talking meters and supplies. Smaller pharmacies can usually order the supplies with advanced notice. Another option is to call a medical supply company and ask to have the glucometer and supplies mailed to your home. The medical supply company then bills your insurance company.
Another option is to get the glucometer and supplies from Accessible Pharmacy. According to their website, Accessible Pharmacy Services for the Blind is a comprehensive, home delivery pharmacy service specializing in the needs of the blind and low vision community and their families. They were founded by blind and sighted experts in the areas of accessibility, technology, and medicine and they are the only provider of its kind. Contact Accessible Pharmacy by phone at 215-799-9900, online or with the Be My Eyes app. Accessible Pharmacy, Be My Eyes, and Prodigy have partnered together to provide diabetes supplies to people with low/no vision at no or low cost.
Insurance Coverage
Medicare Part B covers diabetes monitoring supplies at 80%, and you, or your secondary insurance plan pays the remaining 20% of the cost. Unfortunately, the insurance coverage system is complicated and varies depending on the type of insurance and plan you have. The only way to determine the amount you will be responsible to pay for, and the brand of talking glucometer and supplies the plan covers, is to call your insurance company through their toll-free number on the back of your card and ask them. If your insurance company says they will not pay for a talking glucometer, find out why. Then ask your physician to appeal that decision with your insurance company. The appeal needs to come from your physician because the insurance company usually requires your physician to complete a medical necessity form to override their denial.
If you are unable to get the Prodigy Voice, here are some other talking glucometers to consider:
ReliOn Premier VOICE from Walmart. This glucometer can be found in Walmart stores near the pharmacy or online.
Continuous Glucose Monitor (CGM)
A continuous glucose monitor (CGM) is a device used for monitoring blood glucose levels through interstitial fluid on a continual basis. A CGM takes a blood sugar reading on set intervals via a sensor that has a thin, flexible filament inserted just under the skin and held in place by an adhesive; it sends the data to either a reader device, an app, or both. CGMs can be a good choice for people with diabetes and vision loss, as they do not require finger sticks. The readers are not accessible, but the CGMs listed have an app that can be used with Talkback on an android phone or VoiceOver on an iPhone to make them accessible. Note, all phones are not able to download the apps. Check your phone's ability before getting a CGM.
The FreeStyle Libre CGM system consists of a handheld reader and a sensor worn on the back of the upper arm. The sensor measures glucose every minute. Use the handheld reader or the phone app to scan the sensor to find out your blood sugar level; you can scan the sensor as often as you like, even through clothing. The Libre is FDA-cleared for adults and children 4 years and older.
The Freestyle Libre 2 has optional, real-time glucose alarms that notify you if you go too low or too high; however, currently the accessible app for the Libre 2 is still under FDA review.
Each scan of the sensor provides a current glucose reading, a trend arrow, an 8-hour history and is water-resistant.
The sensor must be changed every 14 days and takes 1 hour after insertion to calibrate before it can be used.
Dexcom CGM was the world's first CGM system. It tracks your glucose levels continuously throughout the day and night and sends your glucose reading to your smart device or receiver every 5 minutes. It is FDA cleared for ages 2 years and older.
The sensor is usually applied to the abdominal area.
The Dexcom G6 features a 10-day wear sensor that is water-resistant and easy-to-insert with an auto-applicator; it takes 2 hours to calibrate before it will send readings.
The transmitter needs to be changed every 30 days.
The Dexcom has a Share and Follow app that can link your readings to a family member to share your real-time results. It works with the iPhone with VoiceOver and android phones with their Talkback feature.
Summary
As detailed in this post, fortunately you have some options when choosing an accessible device to monitor your blood sugar accurately. Be sure to read Marana Vrandenburg's post about her experience with the Dexcom and attend our webinar on June 23 to find out more.
Resources
Consumers Want to Know: How can I Test My Blood Sugar and Give Myself Insulin When I am Visually Impaired? – VisionAware
OIB-TAC Roundtable Forum: Managing Diabetes with Vision Loss | OIB-TAC
Accessible Pharmacy for the Blind and phone #: 215-799-9900
All About Diabetes – VisionAware
Prodigy Voice® instructional video
Getting Started with the Freestyle Libre
Medicare Guide to Getting a Freestyle Libre
The Freestyle LibreLink Mobile App
Abbott customer service phone #: 855-632-8658 for Freestyle Libre
Inserting Sensor and Attaching the Dexcom Transmitter [This step does require some visual assistance because the new sensor needs to be synced to the transmitter by entering an ID #]
Dexcom customer service phone #: 888-738-3646