by Lisamaria Martinez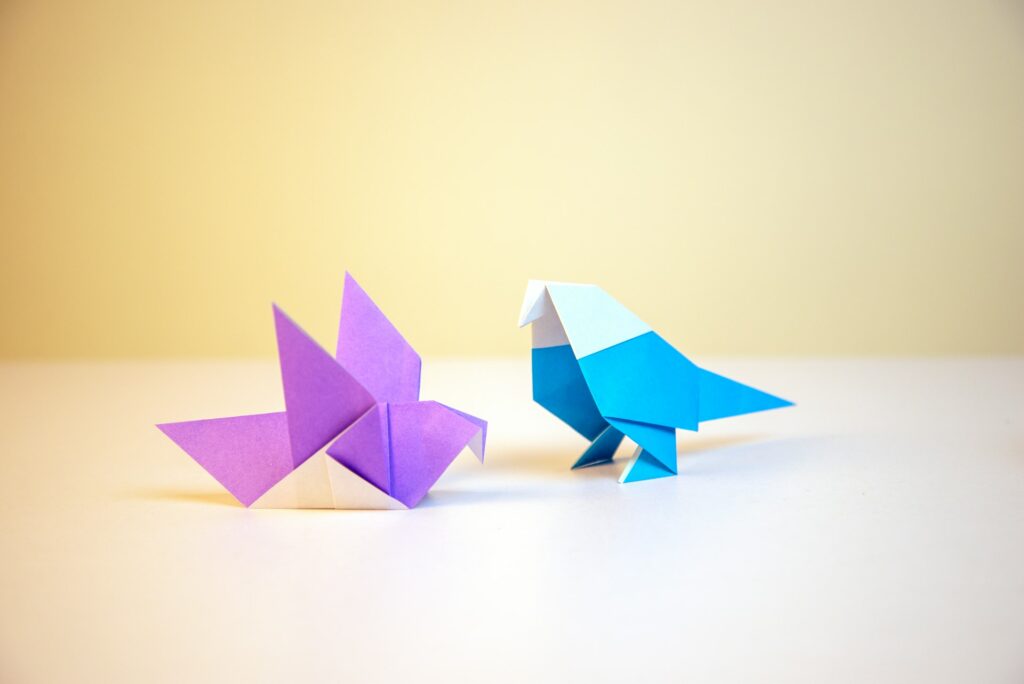 Origami of two birds
Editor's Note:  Origami, the Japanese art of paper folding offers a great crafty way to create art and keep your hands busy just about anywhere!  Lisamaria Martinez has created instructions for the blind and visually impaired to be able to join in the fun!  If you want to learn more, join Lisamaria on Saturday, April 23rd at 12:00 PM Eastern for a fun and informative webinar where she'll teach you how (and why) to fold paper! Click here to register 
Making Tactile Art
One silver lining of the pandemic was the revitalization of my interest in origami—the Japanese art of paper folding. If you are new to origami, it is the creation of small paper sculptures: genuine tactile art! I am passionate about making origami more accessible to blind people. As I learned paper folding and tried to expand skills, I realized that many commercial and internet origami instructions are visual and use arrows to indicate which way to fold paper. In the digital age, you can find a myriad of video tutorials on YouTube demonstrating how to fold all types of models. These video tutorials are often silent except for some pretty music. I've also discovered that if there is dialog, it isn't particularly useful to a blind person who needs specific instructions and precise verbal descriptions in order to follow along.
While we were sheltering in place during the beginning months of the pandemic, I began to teach weekly, and later, monthly accessible origami classes. By accessible, I mean I created image and action-described origami lessons with written instructions and sufficient auditory information to benefit the two dozen or so people who joined me via zoom from across the country: People who thrive with blindness or low vision. We folded models of varying degrees of difficulty—from paper cups to jumping frogs, we had so much fun folding, talking, socializing, and learning.
My Teaching Journey
Eventually, I was asked to teach a class to a group of blind students in Virginia, then Texas, then Minnesota, San Francisco; and somehow, I taught a few origami classes at Google during Diversity and Inclusion Week!
For me, origami has become a unique way of teaching multiple skills to blind students, and all learners really. Origami is a great way to introduce, teach, and reinforce a wide variety of spatial concepts that come up naturally when folding paper. There's a level of precision that is needed in order to produce a model that looks the way it is supposed to. Geometry comes into play. Good instructions are critical, and so is self-advocacy when a learner isn't quite sure what is being requested. Self-advocacy and social communication skills are reinforced when instructions need to be given again and perhaps reworded to accommodate different learning styles. It's not enough to just tell someone to "turn the model over." What does "turn the model" actually mean? To be an effective instructor, I had to learn how to be extremely precise and clear when teaching people who are blind or who have low vision and who are participating remotely. I am still learning ways to teach while having fun folding paper.
Before we dive into one of my favorite (and useful) models, here some background: According to many historians, origami is a paperfolding art believed to have originated in Japan around one thousand years ago. However, scholars believe modern paper was invented in China and some suggest that the art of paper folding may have also come from China; likely starting with the folding of leather and cloth goods. You can read the "History of origami" here in the online version of the Encyclopedia Britannica.
So let's get to the fun stuff …
I like teaching the Mini Wallet or Folder as one of the first models for any group. It's easy. It's useful and functional, and frankly, I think it's cute.
This wallet can be used to enclose gift cards or a little cash for someone's birthday or a special holiday. Notes can be tucked into this wallet as well as receipts and cash as mentioned. Sometimes, I don't want to take a wallet out when I have a tiny purse, so I quickly pick a sheet of colorful paper, fold it into a wallet, slip in a credit card and a $20 dollar bill, and off I go!
As a blind person, the origami wallet is super useful for organizing and sorting printed receipts or business cards. There are multiple pockets that allow you to sort what goes where. And most of the time, the wallet has distinct markings on the outside so you can easily orient top from bottom and left from right.
Mini Folder or Wallet
In 2010, Lindy Van der Merwe compiled text-only origami instructions for blind crafters and friends. The version of the mini folder or wallet provided in this blog was adapted by Lisamaria Martinez in 2020 from material on Lindy's website. You can find more text-only origami instructions written by Lindy at her website: Accessible Arts and Crafts.
What You Should Know
Paper to be used: Rectangular, any size
Folding level: Beginner
Steps: 11
Instructions
Step 1
Place a rectangular piece of paper down on a hard, flat surface, with the short edges at the left and right and the long edges facing top and bottom.
If using two-sided origami paper, lay your paper with the patterned or colored side down before starting to fold.
Step 2
Fold the left edge over to meet the right edge. Crease and unfold.
Step 3
Fold both the left and right edges in to meet at the vertical crease line you have just folded. Crease well and unfold.
Step 4
Fold the two top corners of the paper downwards and inwards, aligning the edges with the first vertical creases you encounter. Crease well and leave folded.
Step 5
Fold the two bottom corners of your paper upwards and inwards, aligning the edges with the first vertical creases you encounter. Crease well and leave folded.
Note that your model should now look like a rectangle with each corner folded down into what some call a dogear.
Step 6
Bring the left and right edges of the model over to meet the vertical center crease line. Crease and leave folded.
You should now be able to distinguish two triangular-shaped areas, one at the top of the model and one at the bottom.
Step 7
Turn the model over like turning the pages of a book.
Step 8
Bring the top edge of the model down toward the bottom edge until the top triangular shape area created in the previous step is entirely visible. Crease and leave folded to create a rectangular flap that will comprise three triangles at the top part of your model.
As you bring down the top edge of your paper, you will notice that a triangular shape is revealed. When folding down your top edge, make sure you can just feel the vertical crease at the top of the triangle with a fingertip. Crease very well because you are working with more layers of paper now.
Step 9
Bring the bottom edge of the model up toward the top edge until it hits a point midway between the top and bottom of the flap created in the previous step. Crease well and unfold.
Step 10
Bring the bottom edge up toward the top of the model once again, but this
time tuck the bottom edge in underneath the two top triangular pockets you
formed in Step 8.
Don't be afraid to lift the two top flaps, one at a time, for this step. It is ok to bend the bottom corners of the model just a little in order to let the paper slide underneath the top triangular pockets.
Press flat.
Step 11
Bring the left edge of the model over to meet the right edge. Crease well and leave folded.
CONGRATS! You have just finished your very own origami mini folder or wallet! Drop a comment below and tell me what you thought.
Learn More
If you're curious about Origami for people who are blind or have low vision and want to learn more, join Lisamaria on Saturday, April 23rd at 12:00 PM Eastern for a fun and informative webinar where she'll teach you how (and why) to fold paper! Click here to register