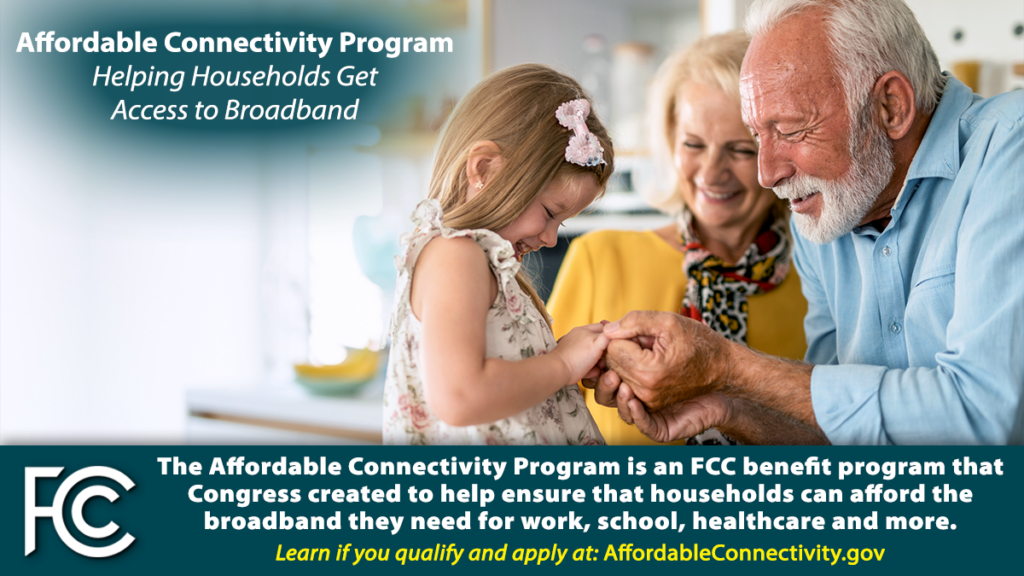 Affordable internet services are critical in today's world of virtual connectedness. As we all discovered during the pandemic, Zoom support groups, meetings, and virtual medical appointments were and still are a real boon to everyone. For people with minimal transportation services, these accommodations can be a true "lifeline." That is why the new Affordable Connectivity Program for broadband services is a major help to people who are blind or low vision to provide affordable internet services.
What is the ACP?
According to the Federal Communications Commission (FCC), "the Affordable Connectivity Program (ACP) is an FCC benefit program that helps ensure that households can afford the broadband they need for work, school, healthcare and more." The program replaces the Emergency Broadband Benefit (EBB), initiated during COVID.
The program offers a discount of up to $30 per month toward internet service for eligible households and up to $75 per month for households on qualifying Tribal lands. If you qualify for the program, you can also get a one-time discount of up to $100 to purchase a laptop, desktop computer, or tablet, through a participating provider.
Who Qualifies?
Your household income must be at or below 200% of the Federal Poverty Guidelines (approximately $55,000 a year for a family of four or $27,000 a year for an individual). Alternatively, someone in your household must participate in one of the following assistance programs:
The National School Lunch Program or the School Breakfast Program, including through the USDA Community Eligibility Provision;

Federal Public Housing Assistance

Supplemental Security Income (SSI)

Veterans Pension or Survivor Benefits

Bureau of Indian Affairs General Assistance

Food Distribution Program on Indian Reservations
How Can You Enroll?
Submit an application online at: AffordableConnectivity.gov to submit an application or print an application to mail in.
Contact participating providers to select a plan and have the discount applied to your bill. (Note: call your provider to find out if they participate). Your provider may offer an alternative application.
You must apply for the benefit and also contact a provider to select the plan you are interested in.
Mobile Service-Another Possible Benefit of the Program
Many providers, such as Comcast, are offering internet and one line of mobile service, which allows qualified individuals to stretch their $30 credit to cover all but $25 of Internet and one line of unlimited cell data. Therefore, if you don't have cell service, this may be an affordable option for you.
What If You Are a Lifeline Subscriber?
Lifeline provides a discount on phone service for qualifying low-income consumers. It is available to eligible low-income consumers in every state, territory, commonwealth, and on Tribal lands. According to the FCC, you can contact your internet company directly to enroll in the Affordable Connectivity Program (ACP). You do not need to apply again. You can apply your Lifeline and ACP benefit to the same or separate services.
Need Help?
Call the ACP Support Center to talk to someone about your eligibility or application status: (877) 384-2575. They are available 7 days a week, from 9:00 a.m. to 9:00 p.m. ET. Or you can email at: ACPSupport@usac.org
Read the FCC FAQ about the program.
Learn More