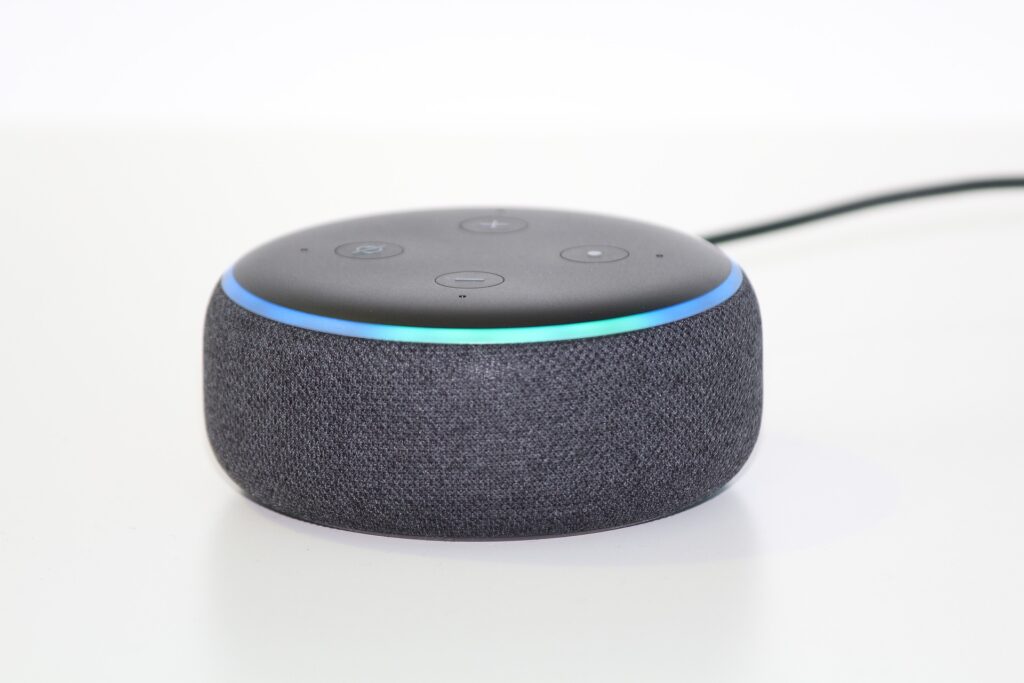 As discussed in the April 5, 2023, APH VisionAware blog entitled, APH Huntington Conducts Needs Assessment Study for Rural West Virginia Counties, APH Huntington partnered with the Marshall University Research Corporation to conduct a needs assessment study for Cabell and Wayne County West Virginia residents who are blind or have low vision. This study determined that a relatively low number of blind/ low vision residents were smart speaker users and could benefit from information and training on using them.
Amazon Echo Device Training Initiative
In direct response to that data point, APH Huntington partnered with the Cabell-Wayne Association of the Blind (CWAB,) the local non-profit focusing exclusively on blindness/ low vision, to provide Amazon Echo smart speaker training and devices to local blind and low vision residents.
The Amazon Echo device has a low barrier to entry. No particular technology skills are required to use most of its features; therefore, it is a technology option that could uniquely meet the needs of many CWAB consumers, many of whom are older and not particularly experienced in using technology.
A user simply speaks to the device and asks questions to receive all types of information, play games, obtain news and weather, or listen to books read aloud. Access to the world of information made available through a smart speaker can be life-changing to those who complete the training and obtain a device.
Making a Difference
After only three group training sessions, CWAB and APH Huntington are already observing an excitement building as local blind or low vision residents learn what the smart speakers can do and begin to share that information with their blind or low vision friends.
These Amazon Alexa training consisted of two two-hour sessions which covered the following:
Day 1
1. Introduction to the Amazon Echo: What is it? Why is it useful? What will you need to set it up?
2. Learn basic commands: How to set timers, alarms, and reminders; how to do mathematical calculations, how to obtain weather forecasts, news, and music; how to use Echo to control lights, home appliances, door locks, and other hardware.
3. Introduction to Echo skills: How they differ from basic Echo commands.
4. Discussion of privacy concerns.
Day 2
1. Questions & answers based on the previous session's information.
2. How to use the Echo to read books: Bookshare, Newsline, Audible, Kindle.
3. Using the Echo to make calls and send messages as an intercom and "drop in" function.
4. Details of setup: Setting up an Amazon account, keeping track of passwords, connecting a payment card, and low-cost Internet program options.
While these two days of training covered a good bit of information, instructors stressed to the participants that the goal of the training was to get them started using the device. We shared that everyone uses the Echo for different tasks and that each person would gravitate toward uses that fit their situations and lifestyles.
We also encouraged them to experiment and keep trying to use the Echo for new things, and if they were unsure if the Echo could perform certain tasks, all they needed to do was ask it.
After one of the trainings, we received a thank you note from Mike, which read in part,
"Thanks for the Alexa training. I appreciate how it was presented, and as I said during a session, I often feel that I am in over my head in technology training. However, I gained more knowledge of Alexa without feeling intimidated or out of my league. This made it very easy to ask questions and participate.
I can certainly understand why blind people like the Amazon Echo, and I am certain I will make more use of it in the future because of your training."
As a result of the needs assessment and successful training thus far, additional training sessions are planned for later this year.
Read More
Using the Alexa Echo Dot: All the Possibilities for People with Vision Loss – VisionAware