By Karen Shrawder, Work Incentives Practitioner with the California Department of Rehabilitation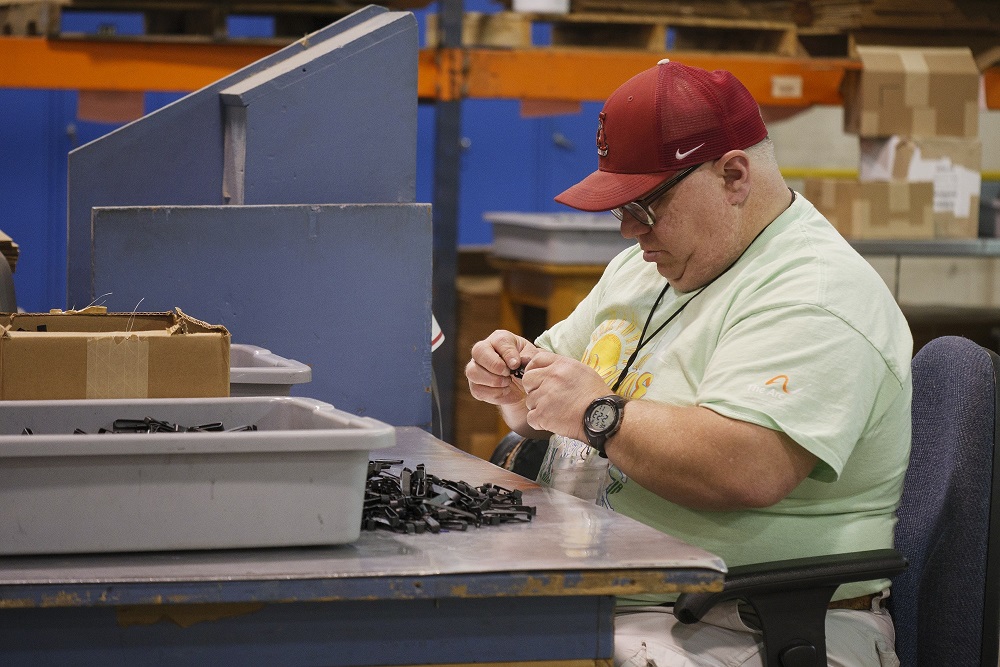 We've all been gifted with knowledge, skills, and abilities that are meant to be used. Using them is what truly gives us that wonderful feeling of accomplishment and satisfaction and that includes working! Many people are pondering the question "what are the benefits of working?" right now.
Just yesterday, I heard that there are over three million open jobs in the state of California alone! Why is that? It's definitely not because people aren't qualified for these jobs, right? I've heard people wondering if the increased number of open jobs has to do with people leaving the workforce for early retirement or retraining for new career paths. Other people have floated the idea that the large number of job openings might be caused by extra unemployment insurance for COVID relief. Regardless, the great news is that job openings are employment opportunities for people, all people, even adults and older people with vision loss.
Further, as the Department of Labor states, people with disabilities bring a lot to the "employment" table: "Perhaps more than any other group of people, individuals with disabilities have the ability to adapt to different situations and circumstances. As employees, they add to the range of viewpoints businesses need to succeed, offering fresh ideas on how to solve problems, accomplish tasks and implement strategies. Hiring people with disabilities can positively impact a business's bottom line. Recruiting and retaining workers with disabilities is one strategy to counter the effects of the aging and shrinking workforce. This untapped labor pool can offer a source of skilled employees and can contribute to increasing retention and reducing turnover. In addition, tax incentives and technical assistance can assist with accommodations, which are often relatively easy and inexpensive to implement."
Concerns About Working Due to Loss of Benefits
Perhaps you are hesitant to start working because you're worried about losing resources you already have like Supplemental Security Income (SSI) and/or your Social Security Disability Insurance (SSDI) benefits. But what if you knew exactly how getting a job would impact your SSI and/or SSDI benefits and that you could be in control of how quickly or slowly you worked yourself off of those benefits? What if you could know for sure you would still have your Medicaid or Medicare health insurance while you're working?
Myths and Misconceptions
There are widespread myths or misconceptions about what will happen to your SSI or SSDI cash and health benefits when a beneficiary becomes employed. The top three are:
If I get a job, I will lose my monthly cash benefits.
If I go to work, I'll lose my Medicare or Medicaid.
If I work for a while, and I have to stop working or decrease my hours later on, I won't be able to get my benefits back.
While those are all legitimate concerns, none of them are true!
Find Out Why: Join Our Webinar on June 10
On June 10, 2021 from 4:00pm – 5:30pm Eastern, I will explain why the above statements are false, and why, instead, we should focus on all of the benefits of working. Before viewing the webinar, take some time to create a list containing at least three benefits of working. Think about short-term and long-term goals for yourself and your family. Consider your desire to accomplish things and to feel proud of your accomplishments. Then, on June 10th, we'll talk about work incentives that the Social Security Administration (SSA) has put into place to enable you to work without losing your benefits before you're ready. I look forward to speaking with you! Please register for this informative webinar.
Additional Resources
Employment and Workplace Adaptations for Adults Who Are Blind or Have Low Vision – VisionAware
Careers for Blind and Visually Impaired Individuals – CareerConnect (aphcareerconnect.org)