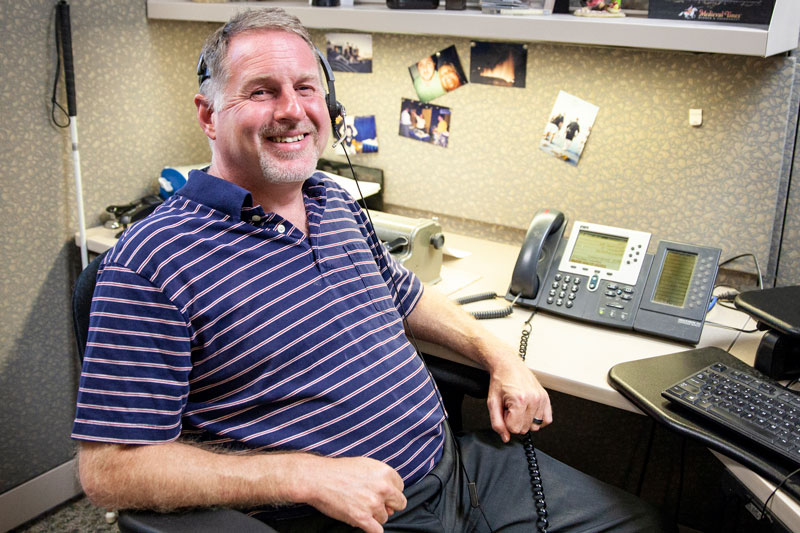 Editor's note: This post was written by Alan Lovell, Information and Referral Coordinator for the APH ConnectCenter. Alan often receives calls that are especially good examples of what we strive to do in the ConnectCenter and from time to time he'll share them here on the blog.
I receive calls to the APH ConnectCenter's I&R Line on just about any topic under the sun related to individuals with visual impairments. But today one of those calls has just stuck with me. The call was from Brigid, a nurse at Johns Hopkins hospital, who reached out about a patient who recently lost his sight. I want to share the story here.
Brigid's Patient With Vision Loss
Brigid's patient, a single man of 44 years old, had a steady decline of his vision over the course of six weeks which rendered him totally blind in a very short time. This man had no family, no friends, and had been living in an apartment on his own for many years. The nurse described him as possibly having a mild intellectual disability, but only as it pertains to being able to self-advocate. He was brought to the nurse's attention after being rescued off of the streets. He had walked out of his home and become disoriented. He hadn't told anyone of his rapid vision loss, and because he was alone, no one was the wiser. He was wondering around in the middle of the street trying to find his way home, when a good Samaritan stepped in to help. Rather than just help him find his way home, this good Samaritan convinced the man to go to a hospital for help. Our nurse Brigid, who is a patient welfare advocate, made it her personal mission to find this man help.
Because he lost sight so quickly and told no one, her patient had been unable to operate a phone or work an ATM. In fact, he lost his debit card a few months back due to his inability to work the machine. He had been unable to call to report the card as lost, call to pay his rent, or just about every other course of business one can think of. By the time Brigid intervened and secured him in a safe assisted living facility, he was being evicted from his apartment for being over 6 months behind in paying his rent. When he moved to assisted living he took only his medications and a computer that he couldn't use. She explained that all of his other possessions, including photo ID, had been sent to a landfill when he was evicted. Thankfully Brigid was able to intervene with the landlord and advocate for her patient so after he learns to live independently once again he can return home.
"How Can a Person Like This Learn to Live Independently Again?"
Brigid asked me this question, emphasizing that he has no one, no family, friends, no one. At one point she even asked one of his neighbors "Do you know him?" The neighbor's response was, "Well, I've seen him wandering up-and-down the streets before carrying huge armloads of groceries, but passing the building over and over again. I just thought he was homeless and an invalid. He didn't seem to have any sense of direction." We now know that he was lost and trying to find his own home.
My work with the ConnectCenter I&R Line is unique in that we don't just answer questions and move on; we have the time and opportunity to really try to help people find solutions. I spent a good amount of time on the phone with Brigid. As a person charged to help people who are vulnerable and sick, she was particularly moved by her patient's plight and made it her personal mission to help him. Moved by her determination, I decided to make it my mission as well. With promises to help in any way I could, I started by emailing her links to local blindness and rehabilitation agencies to get him started on the road to independence once again. I will follow-up soon to fill in any blanks and assist with other questions that will surely develop over time.
Connect with the ConnectCenter
If you or someone you know needs information and resources related to vision loss please either give us a call at 1-800-232-5463 or email us at connectcenter@aph.org.