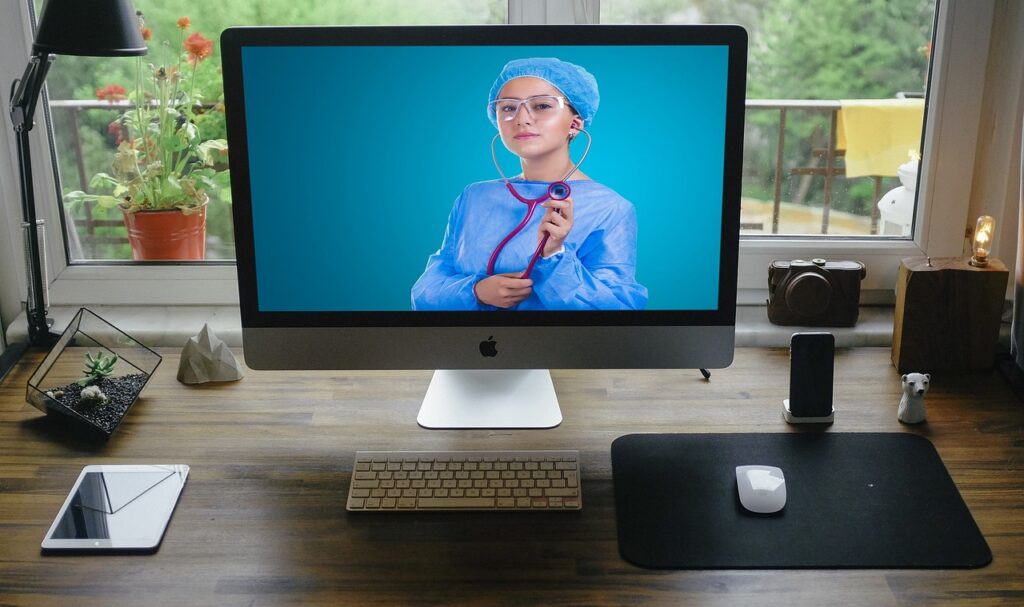 by Amanda Bernath
During the height of the pandemic, many services, including healthcare, education, shopping, and entertainment, shifted to online platforms. My favorite pandemic changes were the rise of online shopping and the expansion of delivery options and curbside pick-up. The new level of convenience was amazing, especially when it meant I didn't need to wrangle kiddos through the stores with me anymore or spend hours on-site selecting my desired goods.
While we can probably agree that Telehealth expansions were an incredibly practical and helpful silver lining of the pandemic – services that maybe you have reaped benefits from– their benefit is not merely a convenience factor for many. Since the pandemic began, telehealth has transformed from a convenient niche service to a critical, mainstream part of healthcare delivery. For many, it's a lifeline to crucial medical services and has made many healthcare services more accessible. As emergency measures end, however, some of these services may return to primarily in-person models again, which could lead to a loss of accessibility for many people, including our community of people who are blind and have low vision. The shift in available services began recently, on May 11, 2023, when the federal COVID-19 public health emergency (PHE) measures expired. Keep reading for a telehealth overview and to learn about some of the significant changes in the world of digital healthcare that may be headed our way.
What Does Telehealth Cover?
Telehealth enables patients to access medical care and consultations while not physically present at a healthcare facility – remote doctor's appointments. It uses digital communication tools such as video conferencing, phone calls, secure messaging, and mobile apps. It allows patients ready access to healthcare services from the privacy, safety, and convenience of their own homes.
Telehealth services cover a wide range of healthcare needs, including:
Consultations. Patients engage in virtual appointments with healthcare providers to discuss symptoms, receive diagnoses and receive medical advice.
Follow-Up Care. Telehealth allows remote monitoring of patients' progress and follow-up visits after an initial in-person consultation.
Chronic Disease Management. Patients with chronic conditions, such as diabetes, have access to regular virtual check-ins with their doctor to monitor their condition, review medications, and discuss any concerns.
Mental Health Support. Telehealth platforms are commonly used for remote therapy sessions, counseling, and mental health assessments.
Prescription and Refills. Patients may request necessary refills, and providers can review medications and issue new and refill prescriptions electronically.
Remote Patient Monitoring. Wearable devices and other monitoring tools (blood pressure and sugar monitors, for example) can collect health data at home, which can be transmitted to healthcare providers for analysis and timely interventions.
Health Education. Telehealth can be used to deliver educational materials, provide health coaching, and offer guidance on lifestyle modifications.
Empish Thomas shares her telehealth services experience in the following blog: My Experience Using Zoom for a Telehealth Appointment.
What Changes Are Coming?
Telehealth existed in a more limited capacity pre-covid. Still, it underwent significant expansion during the COVID-19 pandemic as healthcare providers sought to limit in-person visits to prevent the spread of the virus. However, much of this expansion was enabled by temporary emergency measures, including changes in legislation and policy that increased the type of services that could be delivered via telehealth and expanded the types of healthcare providers that could deliver these services. As public health emergency laws end, here are some ways telehealth might change:
Reimbursement Policies. Coverage for many private and government programs broadened to include telehealth services for the above-mentioned reasons. However, reimbursement policies might be rolled back for many companies as laws revert to their previous state. What does that mean? It may become too financially steep for some providers to make telehealth services widely available. Certain types of appointments may still be covered (like mental health appointments), while other types may begin to require in-person care.
Interstate Practice. Temporary waivers during the pandemic allowed healthcare providers to offer telehealth services across state lines in the United States. Patients under out-of-state physician care may experience limited or uncovered access to their respective providers.
Prescribing Regulations. Many providers were allowed to prescribe medication, including controlled substances, through telehealth visits. In March of this year, the Drug Enforcement Administration (DEA) and the Substance Abuses and Mental Health Services Administration jointly issued a temporary rule to extend certain exceptions granted to existing DEA regulations by the Covid-19 Public Health Emergency measures. This was done to avoid lapses in care for patients.
Privacy and Security Rules. To facilitate the rapid adoption of telehealth, some regulations related to privacy and security were temporarily relaxed during the pandemic. As public health emergency laws end, healthcare providers may need to invest in more robust and compliant technology platforms, which may delay or increase the cost of available telehealth appointments.
Healthcare Provider Adaptation. The end of public health measures may also affect healthcare providers' adaptation to telehealth. Some might continue to use it in a mainstream manner because of its convenience and efficiency, while others may choose to return to in-person care exclusively. Individual provider decisions depend on their practice, specialty, and patient population.
When Do Changes Take Effect?
The transitions for each state and insurance company are likely to be determined by a combination of factors, including legislation, reimbursement policies, technological capacity, and the needs and preferences of patients and providers. It's worth noting that telehealth experiences and advances during the pandemic demonstrated their potential value, which gives hope to the possible motivation of efforts to address these issues and incorporate telehealth more fully into standard healthcare delivery practices.
That being said, the following dates are ones that modifications to current services will likely take place, at least for now, so be sure to contact your providers and insurance carriers for specifics related to your healthcare needs:
December 2023
December 2024
Moving Forward
Telehealth offered a lifeline during lockdowns and highlighted the potential for a more patient-centric healthcare approach. It eliminates travel time, offers more flexible scheduling, minimizes the risk of exposure to infectious diseases for vulnerable populations, and makes healthcare more accessible for those with limited mobility, those who face barriers to traditional in-person care, and those who live in rural and underserved areas.
Here are a few tips to help you navigate the coming changes and hopefully minimize stress during the adjustment:
Coverage changes will vary by state and provider. Use this Policy Finder tool to find the most up-to-date regulations in your state.
Contact your insurance provider to verify your coverage ahead of appointments. Most insurance providers cover at least some form of telehealth service. Medicare is expected to continue with limited coverage during the phase-out.
Provide feedback and voice your needs and preferences! Write an email explaining the importance of telehealth services to your medical care plan and ask them to continue coverage. Encourage others you know to do the same!
Once you know when and how the telehealth changes will affect your individual medical care, discuss changes with your medical team and work together to get a plan to ensure you continue receiving the care and support you need.
The list of policy modifications above is by no means exhaustive, but it hits the highlights. If you'd like to dive in deeper, here are some additional resources you can peruse in your spare time!
Policy Regulations