Editor's note: In honor of Veteran's Day on November 11, APH VisionAware brings you this exciting story about a Veteran and his experience both in WWII and the space program.
On November 14, 2022, several WW blinded veterans are invited to Kennedy Space Center to observe the Artemis I Moon mission. It is a unique collaboration between NASA and Wisdom 4 The Blind (more below about this organization).
During the launch, veterans will be offered an opportunity to hear and feel the launch by experiencing the sounds and vibrations from the thrust of the powerful rocket.
Ed Vrona, age 103, will be one of the blinded veterans who gets to attend. A resident of Daytona Beach, he is happy to have the opportunity to attend this life-changing event. Ed had a chance to go to a precursor to this event in August and had this to say, "It was an eye-opener for me," he states. "The rocket is so large." Ed attended with one of his daughters, Joan, and met with astronauts and other distinguished guests. Ed says, "Next to my wedding day, this was the most exciting event!"
Ed's History with the Space Program
These opportunities are extra special for Ed because, unbeknownst to others, he has a history with the space program. Around 1959, Ed worked with JPL engineers. He machined parts for Mercury, Gemini, and Apollo missions along with the Hubble Telescope and the Lunar Landing which is still on the moon today. When they invited Ed, it was strictly a coincidence because they had no idea that he had previously worked in the space program.
This experience goes back to Ed's youth. As a child, growing up in Wisconsin, he enjoyed the Boy Scouts and working with his hands. This pleasure later provided employment as an adult. He worked in various machine shops, but when WWII came, he enlisted. He took his skills to the battlefield. During the war, he worked on various machines such as airplanes and was stationed in Papua New Guinea. After serving for one year, Ed lived in Chicago and continued working in machinery leading up to his participation in the space program.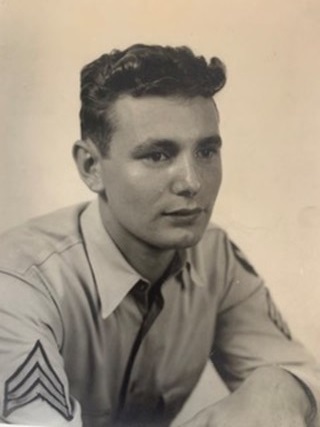 Retirement in Florida
After working many years, Ed retired in 1981 and moved his family to Florida. He has fond memories during the war of flying back to West Palm Beach. "I told my wife if I could get back to Florida, I want to retire there," he said. Before his wife died in 2015, these former snowbirds enjoyed biking, dancing and swimming. Also, during his retirement, Ed continued to use his hands to make wooden angels. "I made a lot of angels, staining them white and giving them away as gifts," he explains. "Each one was unique with different size wings." He also made doll houses and attended doll shows with his wife.
Onset of Macular Degeneration
Even when Ed started to lose his vision to Age-Related Macular Degeneration (AMD), not many disruptions happened in his life except for driving. "Although I have problems recognizing people and food on my plate, I live independently on my own. I do my own cooking and laundry," Ed shared. "But I do have people check on me regularly."
Living Positively with Low Vision
Ed uses low-vision aids and devices like hand-held magnifiers, eyeglasses, and an electronic magnifier. These tools, along with assistance from the Veterans Administration and Wisdom 4 the Blind, give Ed the support and resources he needs to maintain his independence. Ed doesn't allow his low vision to get him down. He keeps a positive attitude. "My life has been good," Ed states sincerely. "It has been wonderful, and I feel I am the luckiest person you will ever meet!"
Learn More
Wisdom 4 Blinded Veterans Portal – YouTube. Founded in 2022, Wisdom 4 The Blind helps veterans who are blind or low vision with resources to help keep them abreast of news and other helpful content on living with blindness or low vision. Intended to be a "one-stop shop" for veterans, the organization offers unique programming such as a Caribbean Forum, a cruise planned for next October that will offer blind skills training, music, rock climbing, cooking instruction, and more! Wisdom 4 The Blind provides "feel 2 see experiences" that allow the use of all senses. Check out their newsletter.
Veterans Health Administration Services for the Blind or Visually Impaired – VisionAware
Veterans Personal Stories – VisionAware