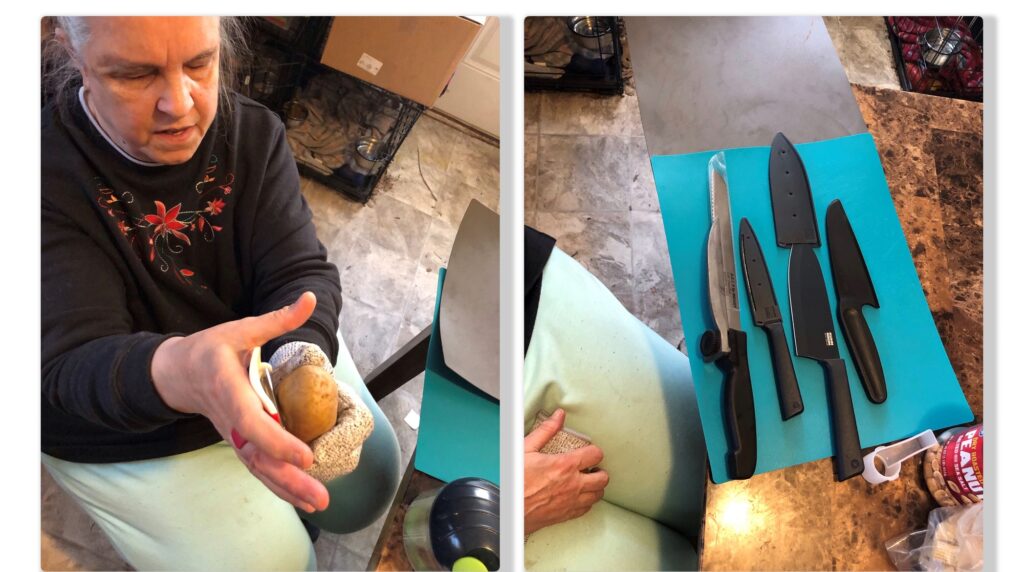 Editor's note: Jeannie Johnson has been a long standing VisionAware Peer Advisor and she facilitates a Facebook group that centers around discussion on accessible kitchen electronics. You can learn more about it here, All Text Small Kitchen Electrics.
Whether you've been blind/visually impaired all your life or have experienced vision loss later in life, you may avoid or feel challenged by terms like cutting, chopping, slicing, dicing, grating peeling, etc. For performing these skills, not only is it important to have the proper tools but being able to safely store, use and clean them is paramount! While not all inclusive or necessarily the most expensive, the products that I discuss in this post have been found to work well for those of us who have low or no vision.
Types of Helpful Knives
It is possible now to purchase many brands of knives with safety sheaths. My favorite brand is Kuhn Rikon with knives of many sizes and varieties: paring, with straight edged or serrated blades, bread, chef's, santuko and utility knives. Additionally, Kuhn -Rikon also makes spring loaded, locking kitchen shears called Snips that will easily tackle any job you have in the kitchen from cutting open a vacuum packed bag to cutting off those pesky little things that hold a new utensil on the display card.
For slicing, try magic slicing knives, also with protective sheaths, that can be adjusted to the exact thickness you desire, ensuring that your slices will be uniform. They come in right-handed and left-handed styles. Although I'm right-handed, I find the left-handed style works best for me, as I cut with the adjusting plate closes to me or to my left, moving upward, away from me or to my right, depending on how I have the food positioned. When cutting on nonstick surfaces such as a brownie pan, Pampered Chef has a very nice nylon knife that beautifully gets the job done.
For cutting lettuce and other greens, Zyliss makes a plastic, serrated lettuce knife that cuts without them turning brown.
For pizza, there are pizza cutters that have protective covers for storing, and they're not just for pizza any more. Use them to cut pies, waffles, lasagna and small sandwiches.
With all these items, your cutlery drawer becomes a much safer place for your hands to enter!
Types of Food Choppers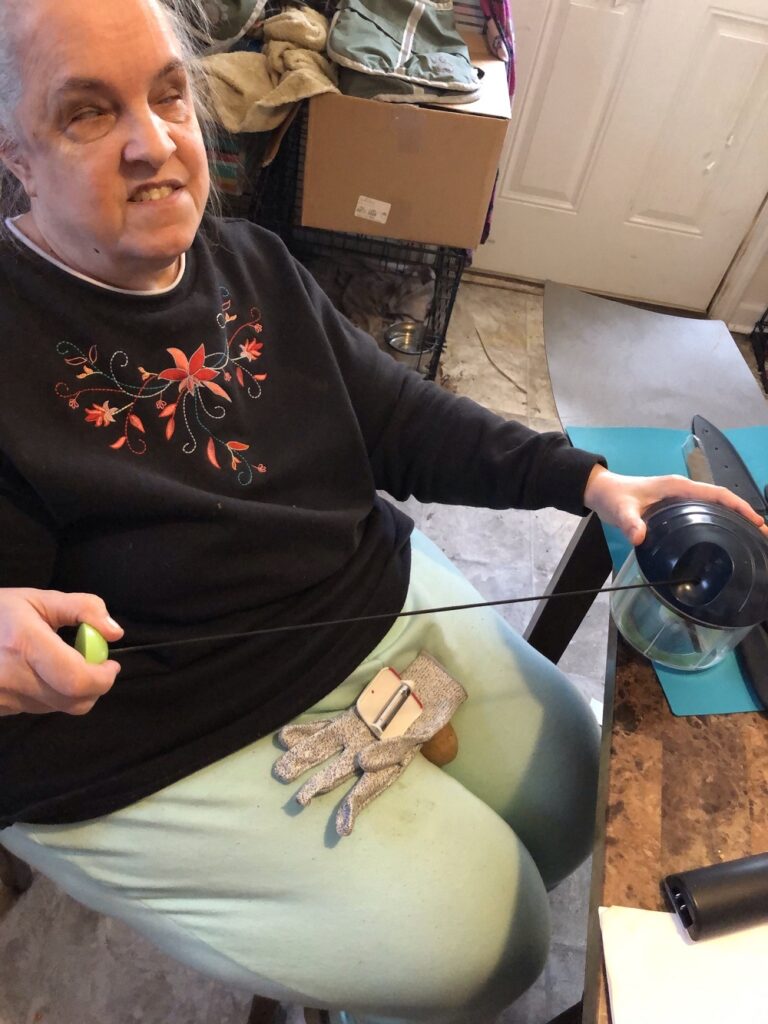 The Kuhn Rikon Chop Chop, (3 cup capacity), and Pull Chop, (2 cup capacity), are ingenious food choppers that consist of 3 parts, the cup, the blade and the lid. Easy to assemble, when the parts are in place, the domed lid has a string, reminiscent of that on the talking dolls of old, that, when pulled, causes the blade to rotate, cutting whatever is inside. The more the string is pulled, the finer the food is chopped, so whether you want your onion rough chopped or finely diced, you can quickly, easily do the job with just a few pulls of the string! For larger vegetables or fruits, it may be necessary to cut them into smaller pieces so they will easily fit in the cup. There are also small simple electric food choppers. For example, Black and Decker has 1.5 cup and 2 cup models. These small appliances have a motor base, a cup, a blade, and a bowl. These are great for small tasks like quickly chopping herbs, garlic, onions. Once the bowl, blade, and lid are assembled and secured to the base these models are operated by a push button on the motor base.
Safety Techniques
Cutting
When cutting, it is safer to cut on a flat, solid surface, rather than holding the food in one hand while cutting with the other. For those who have some vision, cutting boards and mats come in different colors, so the user can have contrast between the color of the cutting surface and the food being cut. I'm quite fond of the mats. They are very inexpensive, available in a variety of colors and sizes and, because, after cutting, the sides can be pulled together, transferring food from the mat to a bowl or pan is very safe, easy and almost mess proof! Not all cutting mats are created equal, having slightly different characteristics. Check a review of the ones that are considered to be the five best sets from Amazon.
When cutting, peeling or grating foods, you may wish to protect one or both of your hands by wearing cut resistant, safety gloves, sometimes called butcher's gloves. They are thin enough that, unless you have an impaired sense of touch in your hands, you can still use your fingers to, for example, gauge the thickness of your intended cuts.
To make food more stable for cutting, you may wish to cut round foods like potatoes and onions in half, from end to end and then put the flat surface against the cutting board or mat to finish the preparation.
Grating
There are likely going to be times when you want to grate fresh cheese, zest the skin of a citrus fruit or perhaps shred some vegetables. A quality box grater can do all these things, but for good measure, while using it, be sure to wear a safety glove so you don't lose any skin off your knuckles!
Peeling
For peeling vegetables and fruits, try the innovative palm peeler. It slips over the middle finger and rests in the palm of your hand, with the peeling blade facing out. Each downward movement of your hand, removes a strip of peeling from the food. Again, you may want to wear a safety glove on the hand holding the food, just to be sure you don't accidentally nick your fingers.
Safety Can Openers
There are several designs of safety can openers on the market that leave no sharp edge on the rim of the lid or the can. Models include some that are easier for people to use who have hand dexterity challenges. While cans with pull tab lids or keys, such as creamed soups and canned meats are considered to be convenient, I prefer to open these cans with a safety can opener, avoiding sharp edges.
Safely Storing Sharp Items
After using an item with a sharp blade, the very safest precaution is to immediately carefully wash, dry and put it away with its safety cover if it has one. If you don't take the time to do this, always be mindful of an exposed blade, never leaving it in a position where you or someone else could accidentally be injured. You should position knife blades to the back of the counter or sink, the blade to Chop Chop or Pull Chop in the dirty cup of the device, and the box grater behind other dirty dishes, etc. If you decide to put knives in the dishwasher, position them with points down and/or blades unexposed.
Now that you're aware of kitchen helpers that can make your food prep life a little easier, be safe, be well and enjoy cuttin' up in the kitchen!
Read More About Cooking Safely
VisionAware has a great deal on information on cooking safely. If you are new to vision loss, you may want to work with a vision rehabilitation therapist who can provide training in safe cooking techniques and organizing your kitchen. Here are some articles to get you started:
Cooking with Confidence: A Peer Guide to Cooking Safely with Visual Impairment – VisionAware
Cooking and Meals: Master Your Kitchen – VisionAware