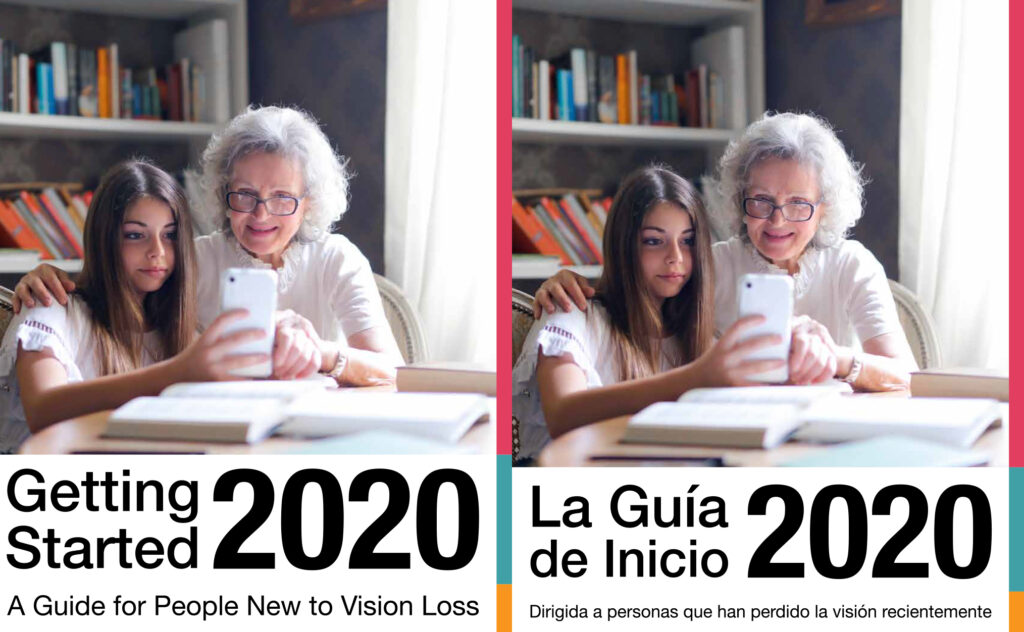 Editor's note: Several VisionAware peer advisors share their personal perspectives on getting started with vision loss. They encourage you to watch our new video about VisionAware and the resources that the site provides to people with vision loss, family members, and professionals. Also be sure to check out the Getting Started Guide, which provides excellent tips for living with vison loss.
When I became a Vision Rehabilitation Therapist (VRT) or a Rehabilitation Teacher (RT) as we were then called, I learned two important things about vision loss:
1.) Vision loss is no respecter of persons; it can impact anyone regardless of race, religion, education, or any other barrier that may divide us.
2.) The impact of vision loss extends far beyond the person who has been diagnosed with low vision or blindness. Family and friends are greatly affected as well.
As a young teacher of adults who were losing vision, I wanted to address these two challenges. Years have passed and these two challenges related to vision loss still exist. As a retired VRT and as a peer advisor I have a platform to continue my lifelong desire to level the playing field for people with vision loss. All of the VisionAware peer advisors have serious vision problems, and we represent a wide range of ethnic, religious, and educational backgrounds. VisionAware writers have risen to the challenges set before them by vision loss and are eager to share techniques and resources to help others regain an abundant life.
Being a peer advisor also provides me personally with an opportunity to reach out to family members and friends of those who have been diagnosed with low vision or blindness. Many of the helpful hints, adaptive techniques and resources help everyone touched by the visual diagnoses.
I remember when I lost my vision some 20+ years ago from a rare eye disease, the internet barely existed. Resources to help me figure things out were scarce. Even more importantly, ways for people with vision loss to share their relatable stories were not readily available. Today, through VisionAware we are able to offer a well-rounded resource for adults new to vision loss, including information about travel, employment, cooking, cleaning, recreation, health and fitness, entertainment and so much more. We attempt to cover it all because life is complex and is still happening even after vision loss. People need resources and help figuring out how to continue beyond the diagnosis. We want people to know that life can still be full, meaningful, and rewarding. The information we provide on this website reflects that fact.
Although I have spent most of my life as a totally blind person, having acquired my vision loss in childhood, I do understand what a daunting adjustment to the onset of blindness can be. In elementary school, I was asked to teach another blind child how to tie her shoes. I taught myself a method that works well and makes sense to a blind child and had no problem teaching her. In high school, I was often put in the role of mentor to visually impaired students transitioning into mainstream public school. I was deeply touched by an Edna St. Vincent Millay poem entitled "Prayer to Persephone" that asked the Goddess of Spring to comfort someone newly arrived in the underworld. I realized how vision loss might feel like a descent into the darkness of that realm. I was fortunate to be raised by a very wise mother. She treated me like the child I was and hid her own desire to overprotect to give me opportunities to grow and learn like my four sighted siblings. I owe much of what I have accomplished in life to my mother and extended family. I am delighted to assist others finding their way through new challenges. I don't claim to have all of the answers, but I am up for exploring options until we can discover what will work for them.
A vision loss acquired later in life can be isolating. Prior to the vision loss, we may have no exposure to individuals who are blind or low vision, so what we think we know about blindness or vision loss is often inaccurate. Also, like most people with sight, we have learned most of our daily living and employment skills with vision and have no idea that there are alternative ways to do these things with less vision. I know some of this to be true firsthand. When my own vision loss began over 20 years ago, my anxiety and delay in seeking out rehab resources contributed to losing a job I loved, depression, and isolating for a while before regaining a healthier understanding of what this loss meant and how to adapt to work with it.
Working as a VRT and contributing to VisionAware as one of the peers provides me the opportunity to share some of what I've learned as I adjusted to vision loss. It is not uncommon for someone to leave the doctor's office with a diagnosis of a progressive eye disease or a vision loss, and be told, "there's nothing more we can do." That is simply untrue. VisionAware expands both resources and community for those new to vision loss. While medically, there may be nothing available to reverse vision loss; there are many adapted daily living skills, traveling techniques, and technologies that already exist on our computers and smartphones to help compensate for a vision loss. VisionAware is also a welcoming community of people and professionals who can help connect someone new to vision loss with resources.
Writing for and promoting VisionAware as a resource is just one of the ways I continue to remind myself and others that, "There is plenty more we can do!" 
Additional Resources 
Getting Started When You Are New to Vision Loss: Part One – VisionAware
New to Vision Loss and Feeling Overwhelmed—Post Two in Getting Started Series – VisionAware
Roadmap to Living with Vision Loss: What Kinds of Services Will You Need to Maintain Independence? – VisionAware