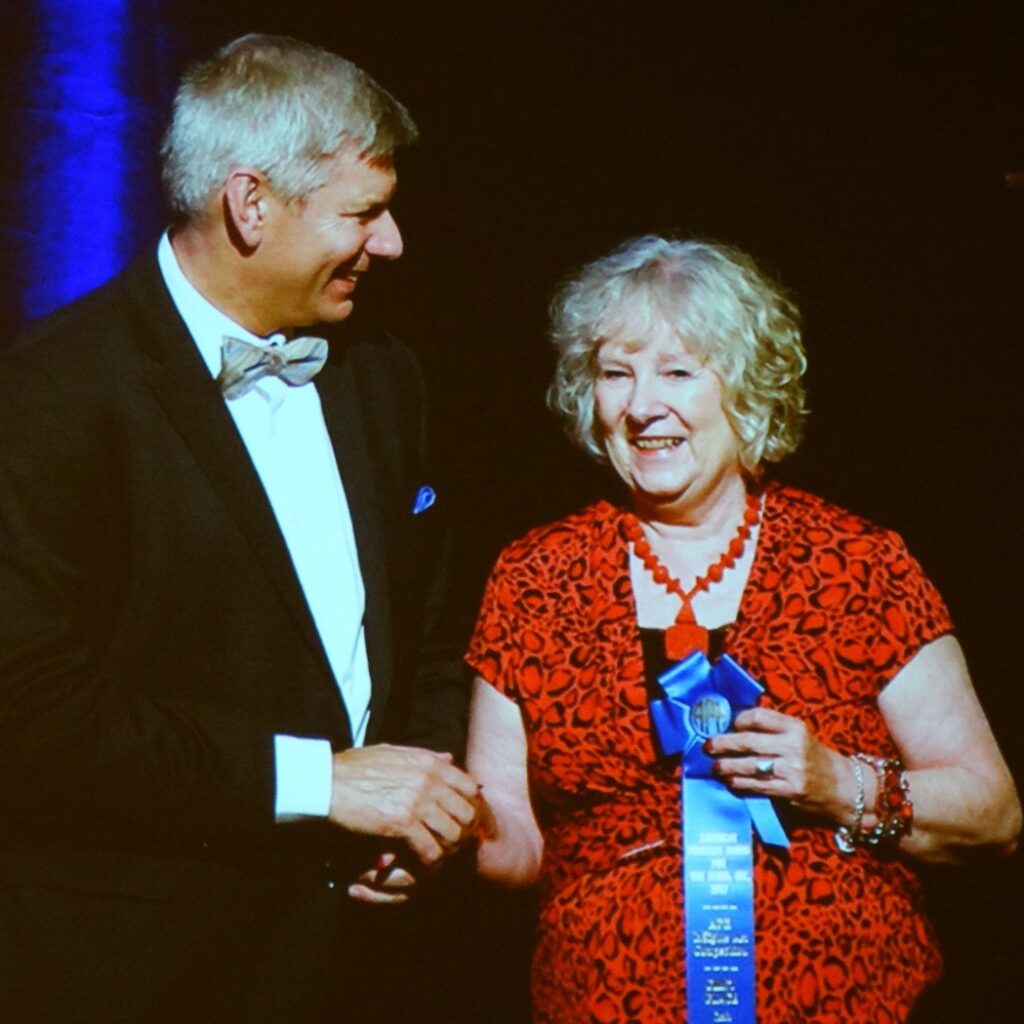 Observed on January 31st, Inspire Your Heart with Art Day is a time to think about how art affects your heart. Lynda McKinney Lambert, VisionAware peer advisor and award-winning artist, poet and author, is just the kind of artist that this day epitomizes.
Lynda doesn't let vision loss hinder her creativity. She has taught classes in writing and art in Austria, Italy, the Czech Republic and Germany. Lynda began a blog in 2009, "Walking by Inner Vision," to share her uplifting poetry and short stories. She has contributed encouraging articles on VisionAware, and for the past five years, Lynda's fiber-work pieces have won several awards in the InSights exhibition sponsored by APH. In this interview, Lynda expands on her mission statement which is to find euphoria through art and writing as we celebrate "Inspire Your Heart with Art" Day.
M: Before we learn about your creative life, can you tell us about your vision loss journey?
L: My vision loss occurred in 2007, due to Ischemic Optic Neuropathy. I have detailed my journey with vision loss in a personal story on VisionAware. I have also written about my journey with low vision in a series for low vision awareness month.
M: What came first; writing poetry, writing short stories, or creating mixed-media fiber artwork?
L: I began painting at the age of thirty-six. I had no prior knowledge of making art. I was busy raising five children and being a homemaker. Because I was making ceramics locally, an artist saw my finished works and pronounced, "You are an artist!" I began taking painting classes at her studio – and I was hooked for life. Over the next three years, I was actively exhibiting in art shows, receiving awards, and by 1980 I was in my first national show at the Javits Center in New York City.
In 1985, I entered the University of Pennsylvania to earn a Bachelor of Fine Arts and a degree in painting, eventually getting a Masters in Fine Arts from West Virginia University (WVU). I received a full scholarship and stipend at WVU, where I assisted with the advanced painting courses while earning my degree.
At the same time, I began work on the MA in English degree in Pennsylvania! I don't know how I ever managed such a rigorous schedule and travel schedule between the 2 states. I learned to love doing research and writing papers. It was my passion to work on paintings and writing about art and artists that led me to complete 2 additional degrees in both genres. I had my first poems published in 1989 in West Virginia – and once I saw my poems published, there was no turning back!
M: Does being creative come easily to you?
L: We all have something natural for us. I know them as "Gifts from God." Writing and art come naturally to me. I get my motifs and iconography from just looking, listening, touching, smelling or being aware of everything around me. I notice the things that others walk right past and never see. I bring them to light and call attention to them in my creative works.
Since the late 70s, I have shown my art all over the US in over 400 exhibitions. One notable one is the Osaka Triennale 1991, when I was one of the eight American printmakers chosen for this international show in Japan.
M: What inspires your art?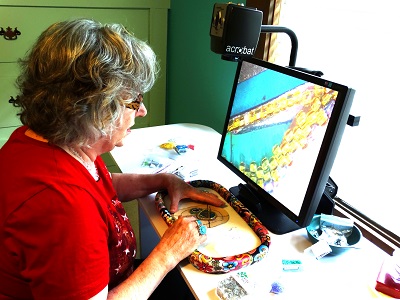 L: One of the aspects of inspiration is inhalation — Breathing in. I think it is essential to consider aspects of life that surround us. I am aware of a kind of in-gathering of information into my own inner spirit by intention. For example, when I am working in the studio, I am also listening to lectures or reading books that give me information and are teaching me in some way. This week, I listened to two 1979 lectures by William S. Burroughs. I am also listening to Augustine's books, the 4th-century author and philosopher. Now that I am retired from teaching, I can take my time and savor the philosophy books in depth.
M: On your website you mention choosing a positive word for the year. In 2020, your word was "Gifts". Have you chosen a word to live by in 2021?
L: My One Word always arrives in my consciousness on New Year's Day. When it comes, it makes sense, for I have had premonitions in advance, and this coming of the One Word is the final piece to the puzzle. In 2021, my One Word is Clarity and I have written a post about it.
M: What inspired the piece, "My Eyes are Only for You"?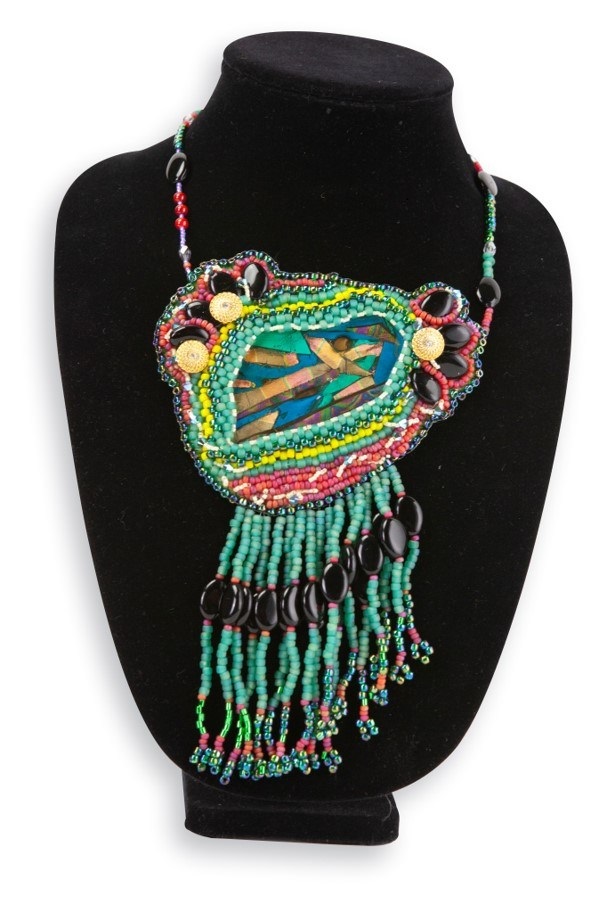 L: Everything is inspired when I begin to muse and ask, "What if?" This particular artwork appeared in the InSights 2020 exhibition. I did a series of three works on a theme; one is an oval shape, one is a round shape, and this one is a freeform shape. This series began when I picked up some art pieces that a friend made a long time ago. I had a necklace pendant and a pair of earrings gifted to me around 1996. I liked the colorful pieces of resin that my friend made into jewelry, and I wanted to do something that would be a tribute to her.
One day I picked up the pieces and asked, "What if I break these up and use them to begin a work of art?" I had enough material (also known as "found objects") to use in three different talismans. It took me a couple of years to complete the art pieces as fiber work is intricate and time-intensive. I am patient and stay with the process until it turns into a finished piece that I can exhibit in an art show. My friend and I may have gone our different ways but I cherish the memories of our friendship through the creation of this art piece.
M: With several books of poetry published, where do you think your creative ventures will take you next?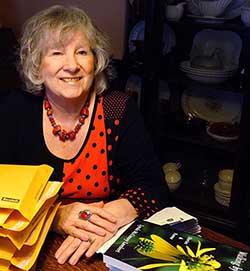 L: I have just completed the manuscript to revise my first published book, Concerti: Psalms for the Pilgrimage. I expanded on the first book – adding many journal entries and meditations on individual Psalms from the Bible that inspired my own pilgrimage. The new revisions are currently with an editor and book designer and due for publication in 2021.
I also have the second chapbook in my four season-themed series that is ready for publishing. The first chapbook is, First Snow, published by Finishing Line Press, 2020. It is a collection of thirty wintry-themed poems. The second in the series is Primavera: When Spring Break is Over. This year I aim to complete books three and four – poems inspired by summer and autumn.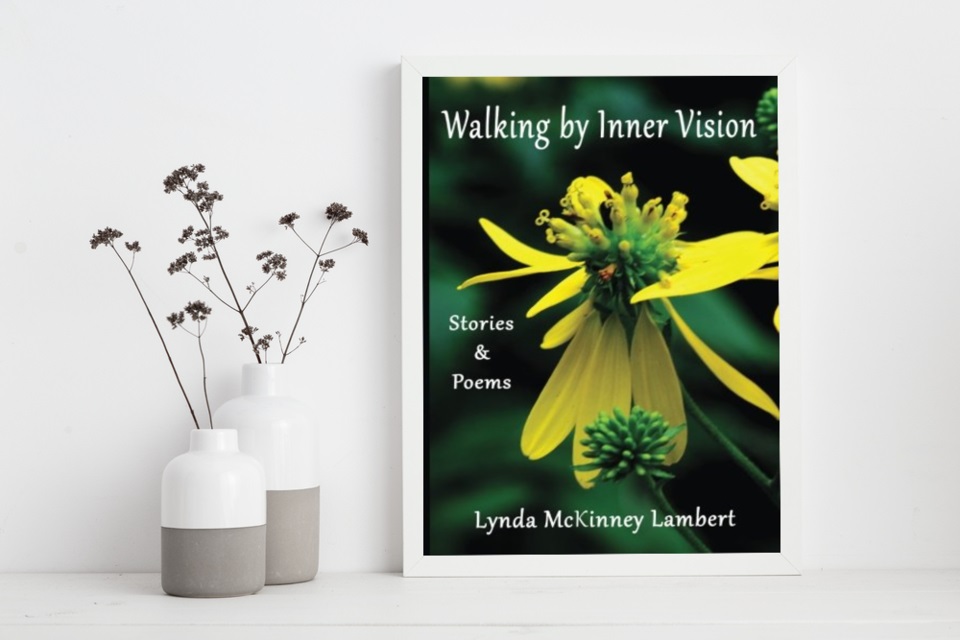 The other writing project I have begun is a sequel to another one of my books, Walking by Inner Vision: Stories & Poems. This volume includes sixteen poems and twenty-seven thoughtful personal essays. Beginning with January, I use the cycle of a year in chapters through to December which is like taking a walk through my journal –covering stories from my earliest memories as a child. Reflecting on the times when we lived through the blackouts and darkness of World War II with my mother and my aunt. Their husbands were away at war, and the sisters lived together.
M: I believe we can take a tour of your fiber-studio online?
L: My studio is on the second floor of our home with a large bay window facing South-East., This means the room has excellent light most of the day and, you can visit my studio by going to my "Walking by Inner Vision" Blog. There, under the heading, "This Week in Photos," you can find more works in progress.
Lynda's Dream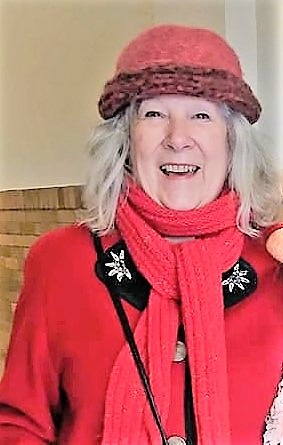 I will share a dream with you: in two and a half years' time, I will be celebrating my 80th birthday. My dream is to have a solo exhibition of my fiber works in a gallery or museum – somewhere. Even though I don't know where it will be or how it will come about, I am working towards that future dream and exhibition. Each stitch I make is taking me that little bit closer to that anticipated art show.