How to Live a Creative Life Again
The APH Insights Art Award is an annual celebration of art specifically created to honor artists, children, and adults alike, who are blind or visually impaired. As a VisionAware peer advisor, I was offered an opportunity to attend the annual APH meeting. Since I live in Australia, it was my great pleasure to attend via Zoom as an observer for the 2021 Insight Awards ceremony. I was truly captivated by not only the stunning pieces of art, but also by the exquisite audio description which brought each piece shimmering into life for my vision-impaired eyes.
This year the judges received 208 entries, despite closures and lack of art supplies due to COVID restrictions, which made the awards even more inspiring. One sculpture in the two-dimensional art category, "mariposa" was made entirely from beans, seeds, and deep magenta and yellow lentils! There were many brilliant and unique pieces which can be viewed again from a link at the end of this article.
Congratulations to Lynda McKinney Lambert
One of VisionAware's peer advisors,  Lynda McKinney Lambert, has been juried into the APH Insights Awards seven times, winning an award for three-dimensional wall pieces and talismans from 2014 to 2021. I had the opportunity to interview her in the past for Inspire Your Heart with Heart Day. In this interview about her latest award, I asked Lynda about her creative life, and how she goes about selecting artwork for the APH contest.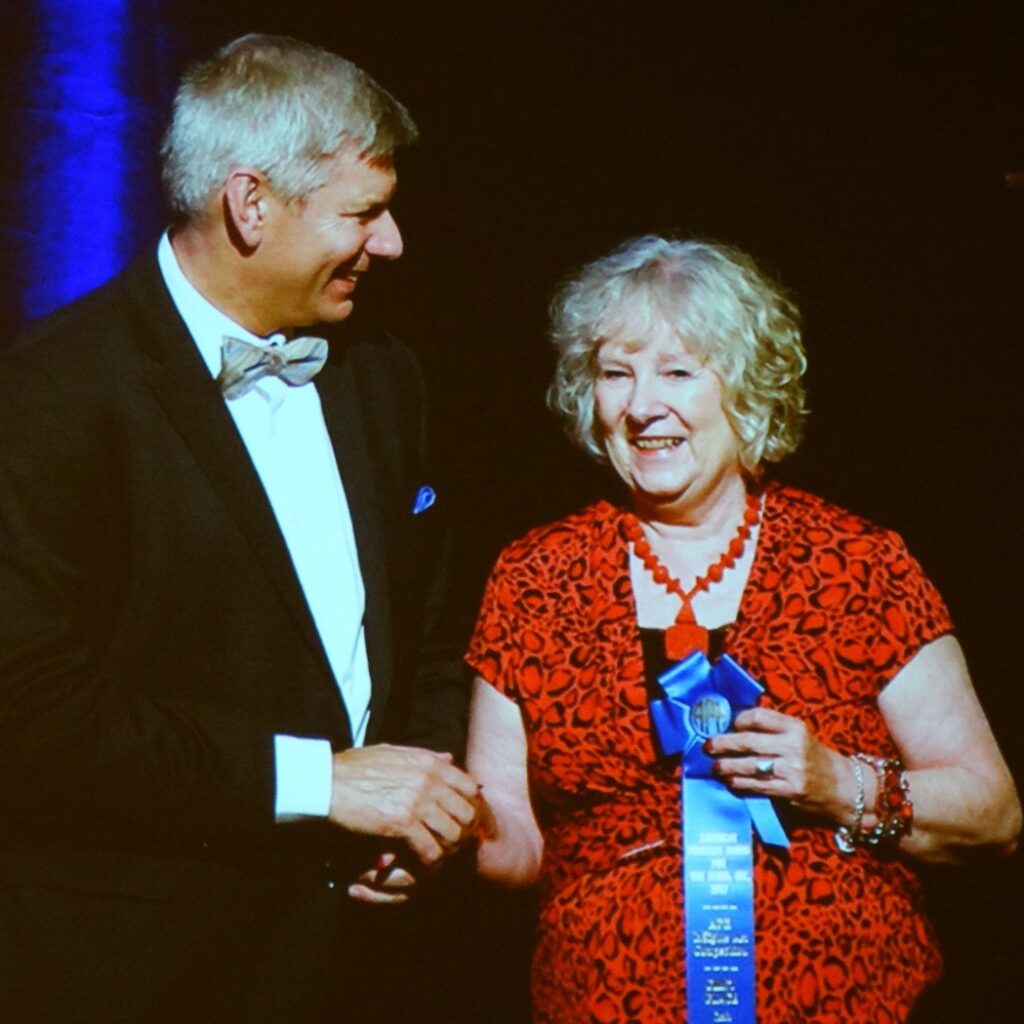 M: Lynda, please tell us a bit about your first creative art pieces.
L: My first oil painting in 1976 was a still life of a crock and weeds which is still in my office to this day. When I experienced my first art class, however, I had no idea what an artist was or that art would become a passionate focus for the rest of my life. I signed up for a painting class with a friend from church. She was a painter and taught classes at her studio. I stayed with her for three years, painting one day a week in her studio. For the rest of the week, after I got the children off to school, the kitchen table became my studio.
I moved on into more formal studies to finally become a professor of Fine Arts and Humanities at Geneva College in Beaver Falls, Pennsylvania.
M: I believe you lost your vision in 2007. As an artist and writer, what helped you keep producing your creative projects at such a challenging time?
L: It was my intention of making art again that compelled me to continue after sudden sight loss. The fire that was ignited from when I started on the art path is one nothing can put out, not even vision loss. It helped that I had a brilliant low-vision specialist who said, "You will make art again. It won't be what you did before, it will be different. You will do it again."
Dr. Paul Freeman, from Allegheny General Hospital, Pittsburgh, PA gave me hope. He asked me to bring in what I was working on when I lost my sight, and urged me to consider how I could change my art piece to continue working in art.
M: Did you ever think you would have to give up art due to your sight loss?
L: For the first year, it seemed as if I could never make art again. I was sixty-four years old when I lost my sight – I was in shock for a long time. Then, I went away for in-residence rehabilitation in Personal Adjustment to Blindness. It took months for me to learn about rehabilitation and to get to the program in Pittsburgh. A friend who was a retired doctor recommended a woman who was blind who guided me to the right place, where I learned how to live my creative life again.
Inspired by Patterns and Movement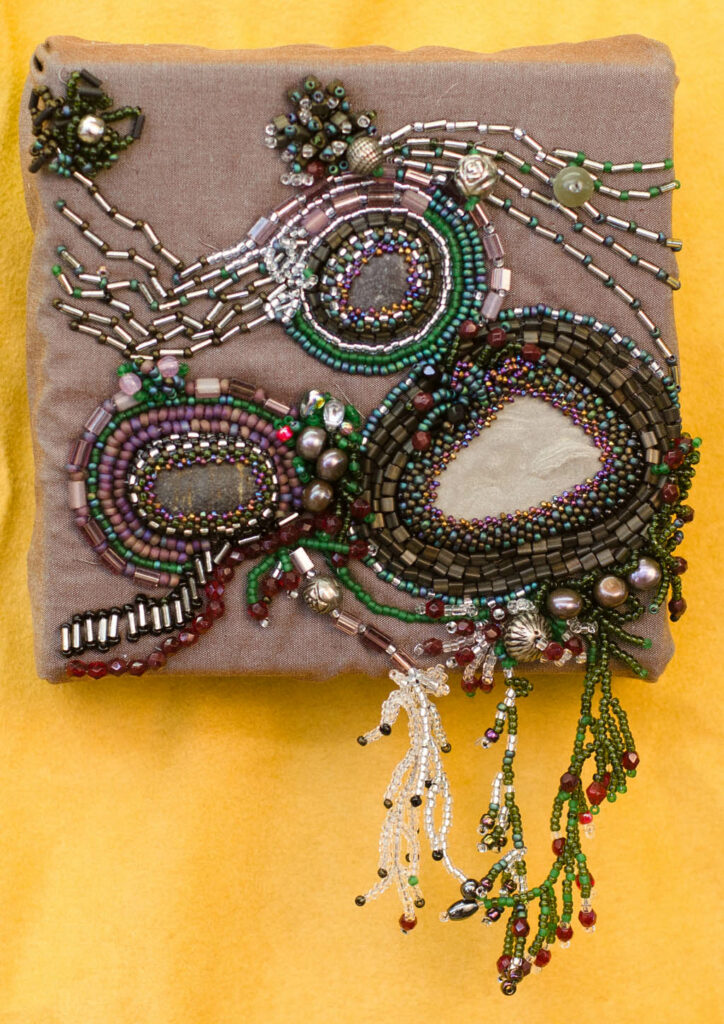 M: As a seasoned artist, how do you decide which artwork to enter into the APH Insights Awards?
L: Since 2014, I have entered seven shows with three wall pieces and four talismans. I send a piece that is a three-dimensional statement about something precious or exciting to me. I like to select a piece that gives the viewer insight into the world through color, patterns, objects, and movement. The first artwork I entered was inspired by some smooth river stones I gathered when I was out on a canoe on the Allegheny River. I used three of those stones to begin the work, and I combined them with my imagination and feelings of floating on a river on a hot summer's day, my "Party on the Allegheny River)."
Winner Adult Craft 2021
M: Can you share the story behind your recent First Place Award for "Evening Vespers"?
L: "Evening Vespers" is a talisman. This piece has tiny fluorite donuts and amethyst gemstone chips to set the color palette. These chatoyant stones feel silky when touched, as well as give the finished work an exceptional sheen. I added other materials that were in the reflective glow of the stones and selected complimentary beads to contrast with the smooth feeling of the fluorite and the silky touch of the amethyst pieces.
Each day of work brings unexpected discoveries, including the name of the artwork that reveals itself at the end of the process. I named this piece "Evening Vespers" for its twilight colors and the incandescence of the fluorite.
The exciting thing is, I never know what the piece will look like until it is completed, because I make decisions every step of the way, like picking my way through a pathway in the woods. I trust the process to be my guide; I trust my intuition, randomness, and chance.
M: What advice would you give to a person with vision loss who would like to enter next year's Insights Awards?
L: First, please don't be afraid to have your creative work put out to the jury process. It is so important for you as an artist to have professionals looking at your art. This allows you to learn more about your art piece, and the joy of having it put before the viewing public.
My best tip is to send the actual work for the jury process. Pictures just cannot capture the nuances of a work of art.
M: Just for fun, what type of art do you think you would create if you were stranded on a desert island?
L: I would create weavings from nature, using grass and leaves and other materials that grow there. I would also be dancing in the sands and splashing joyously in the water – the art of dance is a recurring theme in many of my poems and artworks.
Four Seasons of Creativity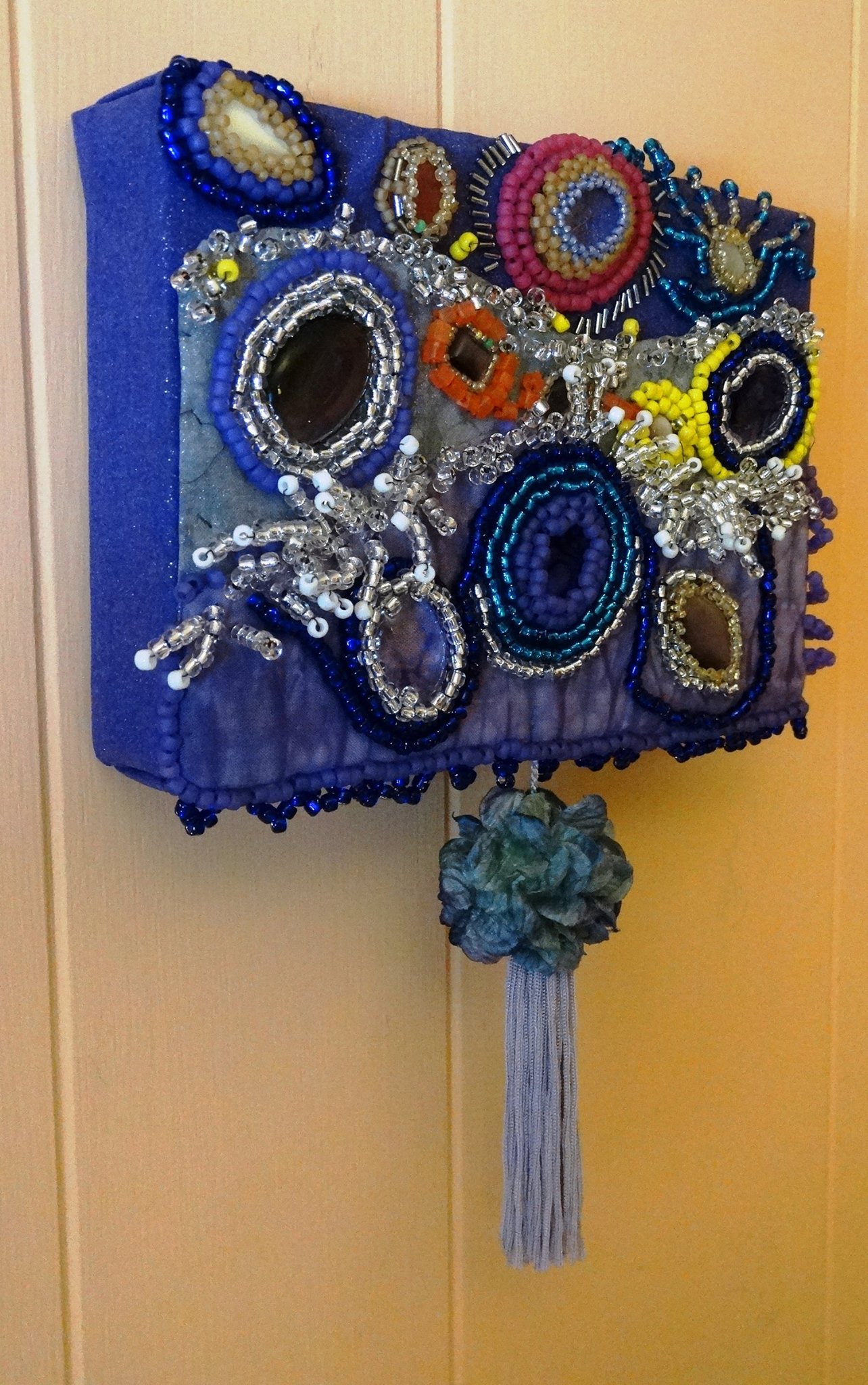 On the Horizon for 2022
M: Finally, Lynda, what is on the horizon for you in 2022?
L: At the beginning of each new year, I choose one word to guide the year. This year the word is "Clarity". Clarity teaches me new things about making art and writing. Clarity helps me stay on my path to stand firm in the winds of change.
I am working on a new art series called "The Four Seasons", a collection of between 12 and 16 Mixed-Media Fiber Art pieces. I have almost completed 3 pieces for the "Winter" part, and will resume my work in November, after the regular summer break I take to work in my sun filled garden.
M: Thank you Lynda, I am sure we will see more of your inspired art and poetry in the near future.
Tweetable Quote by Lynda:
"My passion of making art and writing is always at the center of my days."
Lynda McKinney Lambert, Visual artist, author, and poet
Additional Information
Insights Art Awards submissions for 2022 are now open.
Listen to the audio description of APH Insights Arts Awards 2021 from all categories
Learn more about Lynda on VisionAware and on her website.