Reading to Enhance Mental Health and Well–Being
By Audrey Demmitt, R.N. and VisionAware Peer Advisor
Reading As a Healing Experience
Most of us become readers at an early age and discover the wonders of a good story. We learn to interact with books in order to learn and grow. Characters come alive to us as we relate to their experiences. Sometimes reading is for pleasure or escape, and other times it is for the disciplined acquisition of information. No matter what, our engagement with literature and the written word has the potential to change us, calm us, inform us, inspire us, and heal us. In its simplest form, this is known as bibliotherapy.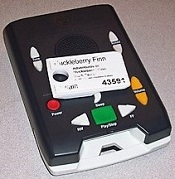 Exposure to books, poetry, writing, and even film and videos can be therapeutic and beneficial in helping us process our own life experiences. In other words, literature can be used to help us figure life out, heal emotional traumas, and change thoughts and behaviors. Reading can be a healing experience and, fortunately, there are many ways that you can access books today, including the talking book program through the National Library Service.
Reading Books About Blindness
As I was learning to adjust to vision loss, I was drawn to read books about blindness and books written by authors who were blind. I found it very helpful and motivating to enter the narratives of others who were sharing their own stories of vision loss. Some books were informational, some humorous, and others deeply moving.
I realized that the cumulative effect was that I understood more about blindness, and my feelings about it were changing. Reading books on blindness, memoirs, and biographies of blind writers have had a very positive influence on my ability to adjust and cope with vision loss. It has long been understood that literature "heals the soul." The use of bibliotherapy has evolved and become quite complex as it is applied to psychiatry and healthcare. Consider a bit of reading therapy for yourself as a way to deal with vision loss.
Here at VisionAware, the Peer Advisors have put together a reading list of books for this purpose. It is not exhaustive by any means, but it is meant to get you started. Most of these titles are available through the National Library Service for the Blind and Physically Handicapped (NLS) in audio or braille formats. Newer titles are not yet available through the NLS. Many are available on e-book formats through your favorite booksellers (Kindle, Nook, etc.). Another way to find such books on blindness is to search the NLS collection using "blindness" as a keyword. Whether you are using your eyes, ears, or fingers to read, may it be a rewarding and therapeutic experience.
Books on Blindness
A Brush with Darkness: Learning to Paint After Losing My Sight by Lisa Fittipaldi – NLS
A Guide Dog Goes to School by Elizabeth Simpson Smith – NLS
A Matter of Dignity: Changing the Lives of the Disabled by Andrew Potok – NLS
A Sense of the World: How a Blind Man Became History's Greatest Traveler by Jason Roberts – NLS
And There Was Light: Autobiography of Jacques Lusseyran, Blind Hero of the French Resistance by Jacques Lusseyran – NLS
As I See It: From a Blind Man's Perspective by Robert Branco – NLS
Beyond the Bear: How I Learned to Live and Love Again After Being Blinded by a Bear by Dan Bigley – NLS
Beyond the Miracle Worker: The Remarkable Life of Anne Sullivan Macy and Her Extraordinary Friendship with Helen Keller by Kim E. Nielsen10. Blind: A Memoir by Belo Cipriani – BARD
Blind Courage by Bill Irwin – NLS
Blind Fate by Pierre Nubar – NLS
Blind Justice by Floyd W. Matson – NLS
Blind Sighted by Peter Moore – NLS
Blind Tom by Geneva H. Southhall – NLS
Blind Vision: The Neuroscience of Visual Impairment by Zaira Cattaneo – NLS
Blindness for Beginners by Maribel Steel
Blindness: What It Is, What It Does, and How to Live with It by Thomas Carroll – NLS
Brother Ray: Ray Charles' Own Story by Ray Charles – NLS
Cane Confessions: The Lighter Side to Mobility by Amy Bovaird
Cockeyed: A Memoir by Ryan Knighton – e-book, NLS
Coping with Vision Loss: Maximizing What You Can See and Do by Bill Chapman – NLS
Coping with Vision Loss: Understanding the Psychological, Social, and Spiritual Effects by Cheri Colby Langdell
Crashing Through: A True Story of Risk, Adventure, and the Man Who Dared to See by Robert Kurson – NLS
Do You Dream in Color? by Laurie Rubin – NLS
Eavesdropping: A Memoir of Blindness and Listening by Stephen Kuusisto – NLS
Focus by Ingrid Ricks – e-book
Follow Your Dog by Ann Chiappetta–e-book and print
For the Benefit of Those Who See: Dispatches from the World of the Blind by Rosemary Mahoney – NLS
Going Blind: A Memoir by Mara Faulkner – NLS
Hanni and Beth: Safe & Sound by Beth Finke
Helen Keller: A Life by Dorothy Herrmann
How Do You Kiss a Blind Girl by Sally Wagner – NLS
If You Could See What I Hear by Tom Sullivan – NLS, available as DVD film
In Dog We Trust: Independence, Thrills, and Dignity with My Seeing Eye Dogs by Sue W. Martin – Bookshare
Insight Out: One Blind Woman's View of Her Life by Mary Hiland
Invisible: A Memoir eBook by Hugues de Montalembert
Lessons I Learned in the Dark by Jennifer Rothschildby – NLS
Living on the Edge of Twilight by Doug Green – e-book
Long Time, No See Memoir by Beth Finke – NLS
Making Life More Livable by Maureen Duffy – new edition available through APH Press; older edition on NLS
Not Fade Away by Rebecca Alexander
Only Bread, Only Light: Poems by Stephen Kuusisto – NLS
Orchid of the Bayou: A Deaf Woman Faces Blindness by Cathryn Carroll
Ordinary Daylight: Portrait of an Artist Going Blind by Andrew Potok – e-book, NLS cassette
Out of Sight: Blind and Doing All Right by Art Schreiber – NLS
Out of the Corner of My Eye: Living with Vision Loss in Later Life by Nicolette Pernot
ROCKS: The Blind Guy at the Lake by Thomas P. Costello – Amazon print, The Carroll Center Books on Blindness
Scattered Shadows: A Memoir of Blindness and Vision by John Howard Griffin – NLS
Seeing Lessons: 14 Life Lessons I Have Learned Along the Way by Tom Sullivan – NLS
Self-Esteem and Adjusting with Blindness: The Process of Responding to Life's Demands by Dean and Naomi Tuttle – NLS
Shades of Darkness: A Black Soldier's Journey Through Vietnam, Blindness and Back by George Brummell – NLS
She Touched the World: Laura Bridgman, Deaf-Blind Pioneerby Sally Hobart
Teacher: Anne Sullivan Macy By Helen Keller
The Adversity Advantage by Erik Weihenmayer and Paul G. Stoltzby – e-book,NLS
The Barefoot Lawyer: A Blind Man's Fight for Justice and Freedom in China by Chen Guangcheng – NLS
The Blind Blogger's NYC Adventures by Maxwell Ivey Jr
The Blind Blogger's First Speaking and Signing Adventures : + How You Can Conquer Your Fears by Maxwell Ivey Jr
The Music of Silence: A Memoir by Andrea Bocelli – NLS
The Story of My Life eBook by Helen Keller
The Unseen Minority: A Social History of Blindness in America by Frances A. Koestler – NLS
The View from Under the Pew by Diane Winters Johnson, Margaret Freed (Illustrator)
The Way We See It: A Fresh Look at Vision Loss – e-book available at Vision Loss Resources
Things No Longer There: A Memoir of Losing Sight and Finding Vision by Susan Krieger
Thoughts on Blindness: One Spouse's Perspective on Losing Vision and Living Life by Becky LeBlanc – The Carroll Center Books on Blindness
Thunder Dog: The True Story of a Blind Man, His Guide Dog, and the Triumph of Trust at Ground Zero by Michael Hingson – NLS
Together: A Story of Shared Vision by Tom Sullivan – NLS
Touch the Top of the World by Erik Weihenmayer – e-book, NLS
Undaunted by Blindness: Concise Biographies of 400 People Who Refused to Let Visual Impairment Define Them by Clifford Olstrom, Perkins School for the Blind – NLS
Upwelling by Ann Chiappetta–e-book and print
Walking by Inner Vision: Stories & Poems by Lynda McKinney Lambert–e-book, Kindle, print
What to Look for in Winter: A Memoir in Blindness by Candia McWilliam – NLS
Who Lost? The Autobiography of a Blind Man with Great Vision by Dale Sheldon – NLS

When You Can't Believe Your Eyes: Vision Loss and Personal Recovery by Hannah Fairburn
Note: New books will be added to this list periodically.