From Personal Loss to Personal Growth and the Road to Independence
by Audrey Demmitt, BSN, R.N. and VisionAware Support Group Advisor
Blindness is a thief of much more than just vision. It robs you of many things and the impact is life-changing. In the early stages of adjustment, loss is its anthem and grief is its mantle. Often depression is a close companion of vision loss because the losses pile up and overwhelm one's ability and internal resources to handle them. This was my experience.
In the beginning, I was not even aware of all the losses that would come as a result of my vision loss, which served to protect me. There are many kinds of losses to catalog. There is the actual sensory loss of vision: losing touch with the physical world and missing out on information, colors, and beauty.
Shattered dreams are another significant loss. There are material losses caused by blindness, like the loss of a job, car, home, or relationship. And there are internal, personal losses, such as self-esteem, confidence, social standing, identity, security, and purpose in life. Indeed, blindness is a greedy thief that seeks to destroy – if you let it.
Accept, Adjust, Cope, Reaffirm
The task is to learn to accept, adjust, cope, and reaffirm life as a person who is visually impaired. The process is a long farewell to who you once were and how you used to do things. It involves re-imagining life as a visually impaired person and reinventing yourself. It is a tall order, but the point is you can learn to adjust, limit your losses, and reclaim your life.
Adjustment to blindness is a process; it takes time, training, and courage. It does not submit itself to a timeline or linear progression. According to the Hadley School for the Blind, there are seven stages of adjustment to vision loss:
Physical and Social Trauma
Shock and Denial
Mourning and Withdrawal
Succumbing and Depression
Reassessment and Reaffirmation
Coping and Mobilization
Self-Acceptance and Self-Esteem
Self-Esteem and Adjusting with Blindness
The Hadley course, entitled Self-Esteem and Adjusting with Blindness, suggests that adjustment to blindness is an ongoing process as it calls for continually learning new techniques, revisiting issues of loss, reliving seasons of depression, and reassessing goals and dreams. I found this course to be very helpful.
Somehow it comforts me to know these stages. It gives me a roadmap and milestones to anticipate. There is much about the experience of "loss and grief" that is universal and it has been well studied. It is reassuring to know that the myriad of powerful emotions I experience are all within the "norm" for a grieving person, and that eventually these emotions give way to positive growth and progress.
You never quite finish adjusting. This is also true of personal growth. We are always growing as a result of our experiences. We are always adjusting to what life brings us: new stages, crisis, joys, challenges, setbacks and losses.
Turning Points
Learning that Emotions Come from What We are Thinking
There was a time when I was not "adjusting" very well to my vision loss. I was angry and felt life was unfair. I was afraid of the future. And I was depressed. In short, I was "stuck" and it affected every aspect of my life. Eventually, I sought counseling and began to understand the impact and implications of my vision loss.
I learned about depression; that there was no shame in it, which freed me to address it. Through cognitive therapy, I learned that our emotions come from what we are thinking; negative thinking results in negative feelings. This seemingly simple concept was a key to turning my depression around.
With my counselor, I worked through a book called Feeling Good: The New Mood Therapy by Dr. David Burns. This book was a toolbox full of tools to deal with negative emotions which I have used over and over in life. It changed my thinking and perspective on my vision loss and many other things. It taught me to "reframe" the negatives, correct distorted thinking patterns, and find the good and positive side of things.
Joining a Support Group
Joining a support group was another important step that helped me adjust to my vision loss. Meeting others who have successfully navigated through life encouraged me. It was empowering to hear their stories and learn from their experiences. It inspired me to develop new plans and reach for new goals. It was the beginning of learning everything I could about retinitis pigmentosa, my eye condition, and what to expect in the future. Knowledge was an effective therapy and it moved me forward.
Reaching Out for Rehabilitation Services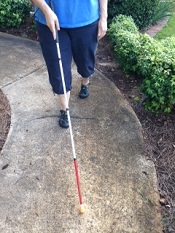 Another turning point for me was when I reached out for vision rehabilitation services. Just the process of learning new skills like walking with a white cane and reading with a video magnifier gave me hope and restored my confidence. It was hard to accept the reality that I needed help. I hid my vision loss for so long and it was frightening to go public with it.
But in the end, getting rehabilitation services has been liberating on many levels and the payoff has been great. It has restored my independence and confidence. It has reduced daily frustrations and shown me new ways to do things so I am once again engaged and productive. My adjustment to vision loss will continue as my vision deteriorates and there are always new things to learn.
Make a Positive Choice
Make a positive choice to reach out for support and services to enhance your independence and quality of life. VisionAware can help you find resources and connect to services. Consult the Directory of Services for your state. And learn about what others are doing through our series on independence.