Support Groups and Other Resources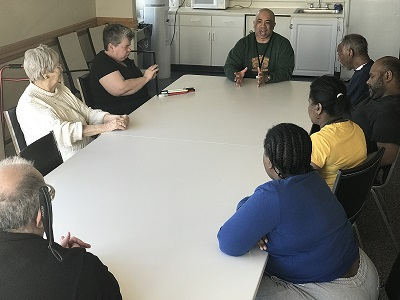 Importance of Joining a Support Group
If you've been diagnosed with an eye condition, have a family member who has, or have become a caregiver, joining a support group may be the most important thing you'll ever do. Whether online or in your local community, such groups offer the opportunity to talk to others; share common concerns, frustrations, and stories; and find solutions to your vision-related difficulties. For more information on support groups, you can read Support Groups and the Adjustment Process.
Check out Finding Support Groups for more information including links to directory listings of support groups.
Support Group Resources and Supportive Communities Meeting Virtually
The APH Directory of Services allows you to find local support groups as well as organizations that offer counseling and adjustment services, low vision services, mobility training, and vocational rehabilitation.

ILVSG TeleSupport – This support group is designed for older adults with low vision who may not have access to the internet or other in-person groups. It is a monthly meeting offered over the phone and there are no fees or obligations. It is designed for low vision seniors anywhere in the U.S. who have no access to the Internet or cannot attend a live support group. Learn more at: 

MD Support — TeleSupport

 or call toll-free at 

1-888-866-6148 to get started!

 

The Friendship Line – The Institute on Aging established this toll-free line for older adults who may be depressed, lonely, disabled, or in crisis.  It is both a crisis "hotline" and a 'warmline" for emotional support. Trained volunteers answer the calls and make calls. The Friendship Line provides round-the-clock crisis support services including: p

roviding emotional support, elder abuse reporting, well-being checks, grief support through assistance and reassurance, active suicide intervention, information and referrals for isolated older adults, and adults living with disabilities.

Volunteers will also call people on a regular basis to help monitor their  physical and mental health concerns. This service can improve the quality of life and connectedness of isolated callers. Reach out today and call 1-800-971-0016. To learn more, visit Senior Intervention Hotline for Crisis Support Services.

Social Call – This Covia program connects adults 60 and older to new friends on the phone or video calls. Volunteers are "matched" to participants with the goal of building friendships through weekly calls.  This free service is a great way to socialize and make connections when you can't get out in your community. Go to: 

Social Call | Covia Corporate

 or call

 1-877-797-7299 

to get started. 

Covia Well Connected and 

Well Connected Espanol–

 This program, previously known as Senior Center without Walls, offers enrichment, community, fun, support and learning groups for older adults who may be homebound. All groups meet over the phone and/or on-line and are free. They offer support groups specifically for the visually impaired. It is a rich and supportive community and there is something for everyone! Visit their website to check out the catalog of offerings and learn how it all works. Call 

1-877-797-7299 

to register and get started.  

Mather Telephone Topics – Join Telephone Topics to learn about a variety of topics: wellness, music, sports, history. Participate in live discussions and enjoy live performances from home. All you do is call the phone number or log on to the Zoom meeting. Participation is FREE and open to everyone, anywhere!

Learn more 

at: 

Aging Well Discussions and Programs | Telephone Topics (mather.com)

  Then click on "Download Schedule" and choose an option that interests you. If you have questions about Telephone Topics, call 

1-888-600-2560

.

Eye2Eye is a free phone-based peer support program which offers emotional support, assessment, information, and referrals to people who are blind or visually impaired and their families. It helps people cope with the challenges of adjusting to vision loss, using trained peer support specialists who are also blind or visually impaired. They serve people in more than twenty states.