The Macon County Blind and Visually Impaired Support Group of Tuskegee, Alabama
By Audrey Demmitt, RN and VisionAware Support Group Advisor
Starting the Group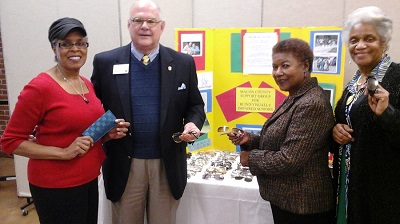 The Macon County Blind and Visually Impaired Support Group of Tuskegee, Alabama has become a thriving group in its community. It began in the fall of 2013 when Ms. Maxie Fleming B.S., M.Ed., a retired disease intervention specialist for the state of Alabama, agreed to assist the local vision rehabilitation therapist to start a support group for people who are visually impaired. Shirley Rogers, R.N., M.Ed. and volunteer at the Golden Life Center, was a charter member of the group and is now a co-leader. These two ladies know the challenges of vision loss personally and are devoted to assisting seniors in their area to adjust to vision impairments.
Sponsored by OASIS
The Macon County support group is sponsored by a federally funded program administered through the Alabama Department of Rehabilitation Services called OASIS (Older Alabamians System of Information and Services). The OASIS Program has been serving older Alabamians with vision loss since 1987. Services are provided by a state-wide network of qualified vision rehabilitation therapists and orientation and mobility specialists who assist persons 55 and older who are experiencing vision loss.
OASIS offers vision rehabilitation training, orientation and mobility instruction, low vision examinations and devices, support groups, and referral services. There is no charge for these services, which are available in all 67 counties in Alabama.
More About OASIS
OASIS sponsors support groups throughout the state. They provide support to the support group leaders in the form of literature, resources, contacts, referral information, and teleconferences. Support group members are referred to OASIS for vision services and OASIS refers consumers to the Macon County support group.
Partnerships with Other Agencies
The support group has established relationships with other community agencies as well. They have partnered with the Macon County RSVP (Retired Seniors Volunteer Program). Mrs. Mary Harris, director, and the RSVP staff promote the support group activities with senior residents in the area. They work with the Lions Club and the Alabama Institute for the Deaf and Blind. Such collaborations with other organizations that serve the visually impaired are a key to their success.
Information About Meetings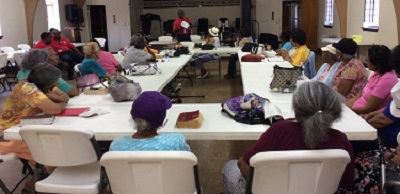 In Macon County, monthly meetings are held at the Golden Life Center (GLC) at the Greater St. Mark Missionary Baptist Church on the third Tuesday of each month, January through October. As guests of the GLC, the support group leaders coordinate with the senior center to bring a special program from 10:45-11:45 that is incorporated into GLC's regularly scheduled activities. Support group members are invited to join the GLC activities, which include singing, prayer, exercise, and Bible study from 9:30 until 12:00 noon when lunch is served. Some group members arrive by church van, though transportation remains a challenge for others.
Programs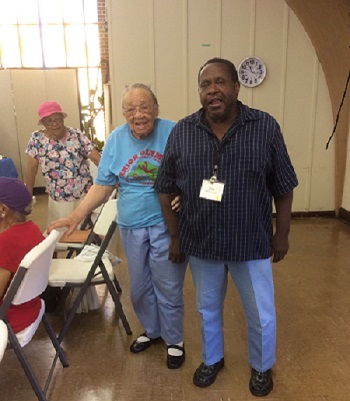 There have been several popular programs presented by the Macon County support group. An orientation and mobility specialist visited to teach human guide and safe travel techniques.
The group organized an outreach project, collecting eyeglasses for the Lions Club and presented them to a Lions representative.
There was an informative workshop given by the fire department on Fire Prevention and emergency preparedness recently. The group especially enjoyed visiting with the Montgomery Library for the Blind staff to learn about the Talking Book Program. Several qualifying group members were then signed up for the program.
They invited a guest speaker on the topic "Local Transportation Needs and Options." And Ms. Maxie Fleming presented on "Living with Retinitis Pigmentosa" and "How to Speak Up for Yourself and Get Results." In the future, the leaders are hoping the group can attend a conference for the visually impaired.
Involving Group Members
Ms. Shirley Rogers states she "tries to involve group members in the meetings as much as possible." Family members and caregivers are also included and welcome at the meetings. Ms. Fleming and Ms. Rogers are planning to conduct a needs survey among group members in order to plan future meetings. They are also developing a plan to do teleconferencing for people who cannot attend their meetings.
Promoting the Group
The group advertises through articles in the local news, announcements via the Minister's Alliance, the diabetes support group, local churches, and largely by word of mouth. Monthly flyers are distributed to support group and GLC members, vision rehabilitation staff, county senior centers, and at senior functions. A portable traveling poster was created and is set up in local churches, the county commissioner's office, and at other local events.
These efforts have paid off and the Macon County support group is growing in recognition and reaching many seniors who need help learning to live with vision loss. These leaders are committed to increasing awareness about support services for seniors who are visually impaired and their families so they can live independently and safely in their homes for as long as possible.
As co-leaders of the Macon County Blind and Visually Impaired Support Group, Ms. Fleming and Ms. Rogers are making a difference in their community with their dedication and expertise. This group is lucky to have them and there is no doubt it will continue to grow. Ms. Rogers remarked, "Adult Education and Patient Advocacy are in my blood. It is a joy to research facts, coordinate programs and help others live their best lives. What a tremendously rewarding experience!"
More Information
For more information contact: Maxie Fleming at 334-727-0962 or email; or Shirley Rogers at 334-552-1522 or email.