Maine, Boothbay Harbor: Visually Impaired Persons Support Group
VisionAware's Featured Support Group
: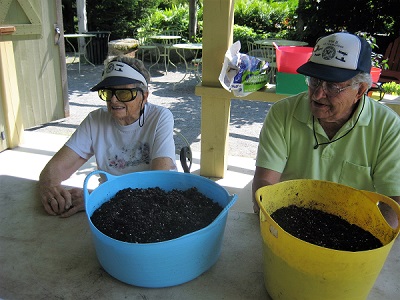 Caption: Dick Butler and Marilyn Greenleaf
By Audrey Demmitt, RN and VisionAware Support Group Advisor
The small, coastal town of Boothbay Maine has an active support group for visually impaired people. Joan Stark started the group in 2001 on the recommendation of her eye doctor. It has been going strong under her leadership ever since. She is assisted by Mollie and Wells Moore, who also bring their unique talents and energy to this special group.
Spiritual Advisers Invited to Join the Group
Joan describes the group as "informal and flexible," which makes it comfortable for members to share openly. Most meetings she does not come with an agenda; rather she allows it to evolve from whatever the group wants to talk about. There are guest speakers occasionally and Joan has invited staff from The IRIS Network, a vision rehabilitation agency, to address topics like assistive technology, life skills and the caregiver's role. Since the beginning, the group has invited local clergy to serve as spiritual advisers. Over the years, the spiritual advisers have attended meetings and contributed as members of the group. Some have done special presentations; reading an inspirational book and discussing it with the group and an inter-faith study of holiday celebrations.
Local Weekly Newspaper Provided on Audio Cartridges
Years ago, Joan had a friend who read and recorded the local newspaper for her. She started sharing the tape with her VIP group and it was very popular. By the time it circulated though, the news was old. Wells thought there had to be way to make multiple copies of the newspaper reading. Thus began a program that continues today which Joan calls the "crown jewel" of their group. The local newspaper is now read and digitally recorded by volunteers and reproduced on the Talking Book cartridges. The state National Library Services gave them the information on how to get started and they raised donations to purchase the recording equipment through the Perkins School for the Blind. Each week Mollie and Wells organize the volunteer readers, reproduce the recordings, and mail copies to group members, who pay a nominal fee to purchase cartridges. Now, everyone gets their local news on time!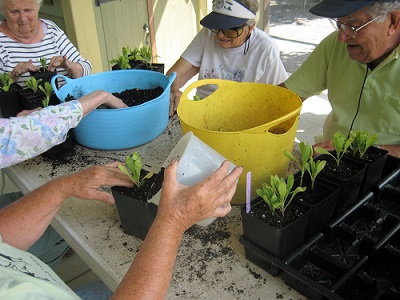 Learning to Garden Together in the Sensory Garden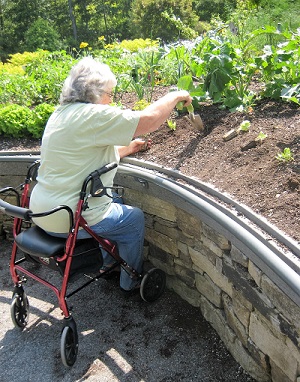 Caption: Kitty Hartford Planting Plant
Mollie and Wells are gardening enthusiasts and have visited sensory gardens all over the world. These gardens are accessible to people with all types of disabilities. When the Coastal Maine Botanical Gardens started planning their own sensory garden in 2000, the Moores got involved with fundraising efforts. Lerner Garden of the Five Senses opened to the public in 2009, offering a beautiful space for all to enjoy. Today a horticultural therapist teaches gardening classes for all abilities and members from the support group take classes together each summer. It is a wonderful way to build friendships.
Meetings Open to Public, Family and Friends
This support group meets at St. Columbus Episcopal Church on Emery Lane in Boothbay Harbor on the first Monday of each month at 2:00pm. Anyone looking for information and support for living with vision loss is welcome to attend. Mollie remarked, "Many are in denial about their vision loss. But once they come to our meeting, they become regulars." It seems to be the comradery and useful information that keeps them coming back. For more information, contact Mollie Moore at 207-633-3810 or Joan Stark at 207-633-2498.