Friedman Place: A Community for Adults Who Are Blind or Visually Impaired
By Audrey Demmitt, R.N. and VisionAware Support Group Advisor
Friedman Place is a unique residential community for people who are blind and visually impaired, located in Chicago, Illinois. It is a nonprofit agency that serves adults aged 22 and up, providing apartment living and support services comparable to assisted living centers. Friedman Place began in 1935 and moved to their current location in 2004; a renovated building which houses up to 81 residents in private apartments.
The building is specially designed for people with visual impairments with features like special lighting, changes in floor textures, high-contrast paint colors, handrails, and "talking" elevators. The staff is trained to work with adults with visual impairments and a variety of services are offered to meet the needs of residents including nursing services, social work, certified vision rehabilitation therapy, housekeeping and meal service. Group activities, outings and programs are provided to promote independence, health, and community.
A New Low Vision Support Group Offered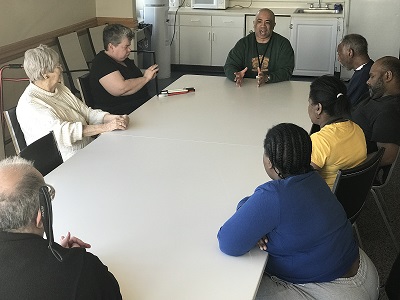 Recently, Friedman Place launched a new Low Vision Support Group that meets at 10 am on Tuesdays on an interval schedule. "The group is scheduled to be an ongoing program at Friedman Place. However, it will be offered in 5 week intervals with 3 week breaks in between. We have found that this helps in preventing attrition as well as keeping the topics and members fresh," explains Christian Zapata, LCSW, Social Work Supervisor.
Donald Hooks, CVRT, leads the group with a therapeutic and rehabilitation emphasis. His motto is "Living Life on Life's Terms" and he believes it benefits participants to learn that other people are dealing with the same issues. The group discusses topics and problems and encourages participants to share personal experiences, techniques and solutions. A strict confidentiality policy is explained to protect the privacy of group members. Participants are informed that "what is said in the group; stays in the group."
The Low Vision Support Group at Friedman Place is open to family and friends as well as non-residents in the community. It is advertised locally through email lists and e-blasts. As with any new group, getting the word out and building steady attendance is a challenge.
Friedman Place is located at 5527 W. Maplewood, Chicago, IL. The support group meets on the 4th Floor Activity Room. Learn more about this unique living option for the blind and visually impaired at Friedman Place. Contact Christian Zapata, LCSW if interested in attending the new support group at: 773.989.9800 x1102
Related Information
Support Groups and Other Resources