Sights Unlimited Chapter I Support Group, Hometown, Illinois
By Audrey Demmitt, RN and VisionAware Support Group Advisor
Support Group Meets for 30 Years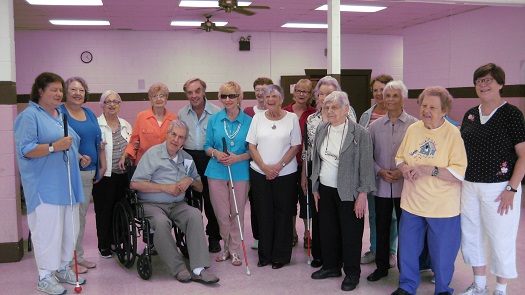 Thirty years ago, several people met each other at the local library in Hometown, Illinois and decided to form a group to support others who were visually impaired in their community. This grass-roots support group, now known as Sights Unlimited Chapter I, meets on the second and fourth Mondays of most months from 12pm to 2pm at Hammond Community Hall in Hometown. Their mission is to advocate for issues vital to the visually impaired and to help members cope with vision loss through education, social activity, and friendship.
Carol Struggling with Employment Joins Group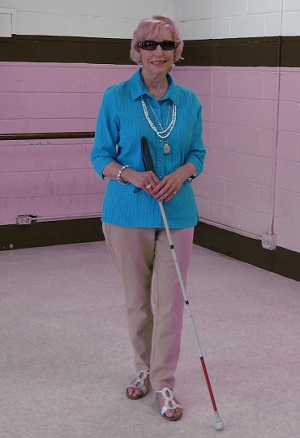 Carol Lampe joined the group over 25 years ago. She was invited to a meeting during a difficult time in her life when she was struggling to maintain employment while she was losing her vision. Carol was born legally blind due to a degenerative retinal disease and knew first-hand what it was like to live with impaired vision. She earned a college degree and taught school for several years.
When that became more difficult as her vision changed, she took a course from the Lighthouse for the Blind on medical transcription. This helped her land her next career as a pathology secretary. The job was largely medical transcription, but also involved other more visual tasks. Carol states, "Although I had rehabilitation services, it was my own drive that kept me learning more and more about using adaptive equipment because I knew I would have to live on my own."
She worked happily for 20 years at the hospital; but eventually, she lost her remaining vision and with it, her employment. Not yet ready to retire, Carol sought volunteer work and became a telephone supervisor with a program called Grandma Please, which provided after school tele-support for latchkey children.
Carol Becomes a Support Group Leader
Carol faced the challenges of learning braille, access technology and safe mobility with the support of the group. She became assistant leader and then the chapter director, serving for the last 10 years as an energetic and enthusiastic proponent who believes in the power of a support group.
Carol relies on an assistant leader and 4-5 volunteers who help her plan and conduct the meetings. "They are essential to the group," says Carol.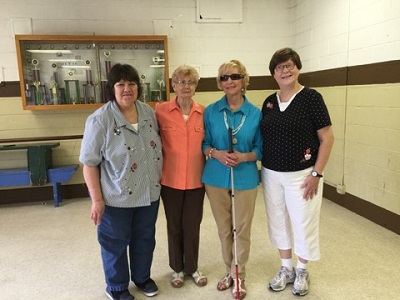 Left to right: Donna Draeger, Lorraine Real-Secretary, Carol Lampe-President, Joan Juris-Treasurer
Joan Juris, a volunteer at Second Sense, is the assistant leader and treasurer of the group. "She is very knowledgeable and helpful when it comes to working with the visually impaired," says Carol. Joan maintains the finances and prepares folders for new members with information about talking books, paratransit, vision rehabilitation services and product catalogs.
One volunteer, Donna Draeger, has served the group for many years, even after her mother, who was visually impaired, passed away. "Donna does so much for our group! She brings us homemade baked goods for every meeting and always comes early to decorate the tables for our meetings. She has been a true blessing," reports Carol.
Secretary Lorraine Real does an excellent job of taking down the minutes of each meeting and arranging the rides between the volunteers and members. Other volunteers provide transportation to and from the meetings, serve cake and coffee, and help by reading articles and inspirational material to the group. While family members are welcome to attend, most come alone and the volunteers assist them as needed at the meetings.
The Meetings Have a Full Agenda
The meeting agenda is full and Carol reports they "are a happy group, always have great discussion and enjoy each other's company." She begins with a prayer and social time with cake and coffee. Then she calls the meeting to order and always tells a few jokes, which everyone seems to enjoy. The secretary and treasurer give their reports and Carol follows that with group exercises.
She gives an update on members who are not present and acknowledges the birthdays for the month. New members introduce themselves and then the speaker or topic is introduced. Sometimes members bring informative or inspirational articles to share. The group has holiday luncheons and parties occasionally and the main dish is provided through donations and group members contribute side dishes.
The best part of the meeting seems to be the discussion time and everyone is eager to contribute according to Carol. Each meeting, she prepares a question for the group. Sometimes the questions are practical such as "How do you manage grocery shopping?" or "How do you keep track of your calendar, addresses and phone numbers?"
Other times, the questions encourage thought on emotional adjustment and coping like "How are you feeling about your vision loss?" And then there are questions designed to get to know each other better like "What are you grateful for?" or "What was the happiest day of your life?" As members share their stories, strategies and struggles through this meaningful discussion, something special happens among them.
The group has invited a variety of guest speakers over the years. They have had staff from Second Sense, a vision rehabilitation agency, speak about relevant topics and techniques for living with vision loss. Companies have come to demonstrate new products for the visually impaired. Other speakers, including a representative from Social Security, a podiatrist, and even a humorist, have presented popular programs at the Sights Unlimited meetings.
Getting the Word Out
The group circulates a flyer each year in places where seniors and the visually impaired gather in order to recruit new members and relies on word of mouth as well. They are looking for new ways to grow the group membership. Currently there are about 25 members and Carol hopes to keep the group going with fresh jokes and new information on how to live with vision impairment. There is no doubt she is committed to this support group and her lively, generous spirit has touched the lives of many and is making a difference in Hometown, Illinois.
More Information
For more information, contact Carol Lampe via email.