Michigan: Traverse City Visually Impaired Persons Group
by Audrey Demmitt, R.N., VisionAware Support Group Advisor
In 2015, Melinda Hollands, MSW, LMSW, began a support group in Traverse City Michigan for people who live with visual impairment. She is legally blind herself and knows well the challenges of vision loss and wanted to use her personal and professional experience to support others. The Traverse City Visually Impaired Persons Group (TC VIPs) seeks to improve the quality of life for people with visual impairment through education, networking, and socialization. It is an active and well-respected group which participates in a variety of activities including advocacy projects to improve public access for the blind and adapted sports.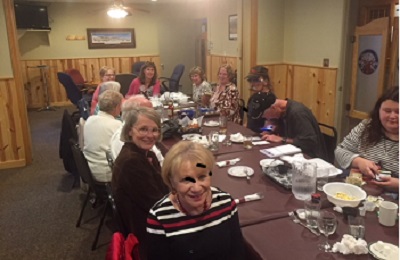 Caption: VIPs at Restaurant
Melinda characterizes the TC VIPs as "involved, empowering, community-minded, and eager to collaborate." She also says it is a social group that likes to have fun. Besides the monthly meetings at local restaurants, this group plans and attends many social events like an annual bowling/pizza birthday party, the symphony and baseball games. This year they celebrated World Sight Day with the NLS Talking Book Library and joined the Traverse City Lions Club in celebrating their 100th birthday. Several group members help plan the social activities.
Active Advocates in Their Community
The TC VIPs were invited to join the Disability Network Access Team to evaluate accessibility projects in the local community. Members have helped address the need for accessibility on hiking trails and in the National Park Visitors Center. In addition, they met with the local transportation service to discuss ideas for improving services for the disabled. Some members participated on a panel of citizens with disabilities for the city Civil Rights Commission providing suggestions for accessibility. Their involvement is making a difference through improved services for the visually impaired.
Giving Adapted Sports a Try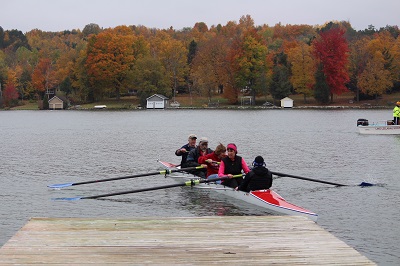 Caption: VIP group rowing in the "VIP Ship"
The Lake Leelanau Rowing Club invited the group to participate in the development of an adapted rowing team. They introduced members to the sport and they now have a team of 4 rowers who are known as the "VIP Ship." The TC VIPs have also participated in a local goalball demonstration event and a trial of adapted martial arts with the hope there will be a future class offered. Melinda and several other group members cross-country ski with Ski for Light, a program for the visually impaired. What a wonderful way to stay healthy, engaged and social with friends!
Future Goals for the TC VIPs Group
Melinda wants to expand the number of people aware of and involved in the group. As it grows, she hopes members will reach out to one another more independently and share information, particularly in the realm of technology. For instance, she would like to see members learn from each other to use more features and apps on their smart phones. The group will continue to advocate for enhanced services in their community by collaborating with various agencies.
The TC VIPs want to engage people who are visually impaired in social and recreational activities and offer support to one another. Melinda states, "Its rewarding to gather people together to discover they are not the only one and watch them inspire each other. Our group is well-known in the community and regarded positively."
Information About Meetings
This dynamic support group usually meets at a centrally located restaurant from 5:00-7:00pm on the first Thursday of the month. The schedule varies in the summer and the location changes periodically. Melinda maintains an email list for members only so she can keep everyone informed of up-coming meeting details and events. For more information, contact Melinda Hollands at: mlhollandstc@gmail.com, or call 231-590-0986.