Optim.Eyes Low Vision Support Group Focuses on the Positives
By Audrey Demmitt, RN, VisionAware Support Group Advisor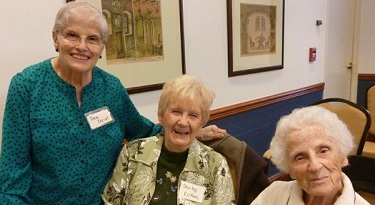 About 5 years ago, Dolores "Dee" Christ lost her beloved husband of 52 years and a few months later, rapidly lost her vision to macular degeneration. She was declared legally blind and she and her daughter began the search for help and resources. Her daughter spent hours on the phone and the computer, gathering helpful information. They discovered Second Sense, an agency that serves the blind and visually impaired in the Chicago area. They also learned there was not a support group in Dee's community. Dee wasted no time, realizing she may be able to help others in the same situation. She decided she would start a support group herself, at the same time as she was getting her own services for vision loss. Through tears Dee states, "This has given me a purpose in life. It has become my passion."
A New Support Group Launched
Second Sense agreed to help Dee get a new group off the ground. They sent a staff member to assist her for the first three months. Dee took the Hadley Institute's course on self-help groups to prepare for this new role. In 2012 Optim.Eyes Low Vision Support Group was born and started with 7 members. Now with 25 members ranging in age from 70-100, this group is thriving.
Optim.Eyes Low Vision Support Group meets the second Tuesday of each month at the Brookdale Des Plaines senior living facility at 800 S. River Rd., Des Plaines, IL. 60016. They meet from 12noon until 1:30pm, sharing refreshments provided by the facility. Shirley Eilken, an original group member, assists Dee at the meetings by making name tags and taking attendance. Many group members live at Brookdale and Kami Naughton, Resident Program Director, has been very supportive of the group and also lends a helping hand at meetings. Brookdale even provides transportation so members in the community can attend meetings and entertainment for the annual Christmas party.
Guest Speakers, Workshops, and Special Events
The group voted to have guest speakers at their monthly meetings. Polly Abbott, a certified Vision Rehabilitation Therapist from Second Sense is presenting a workshop called "Dining Out with Confidence" in April. She has presented in the past on topics like: handwriting, how to find the right magnifier, and mobility training and the white cane . Other speakers have included eye doctors and people who are blind or visually impaired sharing their life stories. There are usually good discussions and hands-on experiences at the meetings.
Additionally, some group members have enjoyed special field trips and events. Pam Stern, former Manager of Youth/Senior Programs at the Chicago Lighthouse North, organized trips to the art and history museums, for the visually impaired community. Dee attended with several group members and reported they were allowed to feel certain paintings and sculptures. At the history museum, they participated in a project to give the museum feedback on how to make the environment and displays more accessible to the visually impaired. Some group members have even enjoyed audio description and behind the scene tours at theaters, meeting the actors and seeing and feeling the costumes up close.
Learning New Technology Together
Recently, Dee learned about some new services for the visually impaired and invited Yvette Skelnik, a sales representative from Comcast Business Partner, to speak to the group. Ms. Skelnik explained these new services and demonstrated the voice controlled Guide Reader and talking remote. As a result, Brookdale will be updating the Comcast equipment so residents can use this new technology. And Dee now has this feature at home and says, "I love it! It sure makes watching TV a pleasure and not a struggle." She is excited about learning how to use these features with her new iPhone and iPad so she can watch videos of her grandchildren's sports and other activities on her TV. What a "cool" grandma, at age 81! (By the way, the American Foundation for the Blind gave Comcast an AccessAward in 2015 for creating the industry's first voice-guided TV interface).
Dee saw the need in her community and stepped forward to provide support, comfort and information to those who are living with vision loss. She urges her group to stay positive and to "take the t out of can't." It is a group where you will find hope and compassion. Group members can share their concerns, fears, and experiences in an atmosphere of mutual trust and respect. All are welcome including family members and friends of the visually impaired.
Being a Role Model Means Keeping up with What Is New
Dee regularly attends other support groups and book clubs to get fresh ideas for her group. She also attends seminars, classes and low vision events whenever possible to "keep abreast with what is going on in the low vision world." Dee works hard to make this group worthwhile and at the same time, works on her own independence skills. She is a great role model for her group and is dedicated to the mission of helping others navigate the murky waters to find help. "There is so much out there to help us but the doctor tells you 'there is nothing else to do for you' and that is just not true," says Dee.
Contact Information
If you or someone you know is experiencing vision loss near Des Plaines, Illinois, contact Dee Christ for more information. You will find friends and learn you are not alone. Dee Christ can be reached at: cchristdee@sbcglobal.net.