Peace Village Low Vision Support Group Brings the Generations Together
by Audrey Demmitt, R.N., VisionAware Support Group Advisor
Residents who have vision impairments gather regularly at Peace Village Senior Living Community to learn together and support each other. This low vision support group is facilitated by the Resident Advocate Amanda Janicke, who is a licensed clinical social worker. She says, "It's rewarding to witness group members supporting and guiding one another as they share how vision loss has affected their lives."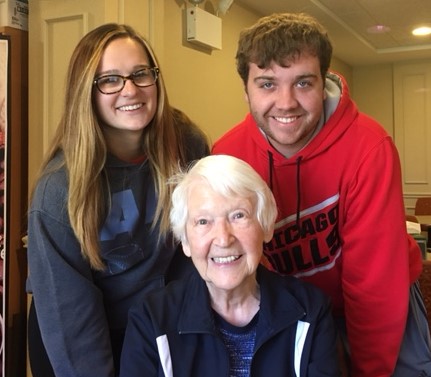 Caption: Peace Village Resident Eileen with College Students
About the Group
The group meets once a month at Peace Village in Palos Park, Illinois and is for residents only. The dates and times of the meetings vary and are announced in the residents' newsletter and posted on the monthly calendar. Meetings are one hour and include guest speakers, hands-on lessons and topical discussions. They are a safe place for residents living with vision loss to vent frustrations, share their experiences, learn about resources and explore their feelings. Amanda conducted an assessment of the group's needs and desires for meeting content which directs her planning.
Support Group Activities and Engagement
One guest speaker who was very popular was a local ophthalmologist. A laughter therapist is visiting the group this month. Recently, the group agreed to end each meeting with relaxation exercises. When the dining room, menu and meal plan changed at Peace Village, Amanda used the support group meetings to help the residents with low vision to make the transition. She arranged for the group to tour the new dining room space and requested large print menus. Some group members took a fieldtrip to attend a low vision product expo where they learned about helpful devices. Amanda looks for ways to make the meetings relevant and engaging to keep attendance up and with 18 members participating, she is doing just that.
Inter-Generational Project Initiated with Saint Xavier University
Another creative idea Amanda implemented was an inter-generational project in partnership with Saint Xavier University this past spring. She explains her plan below:
Implementation of Plan
"Last fall I developed a plan for an intergenerational project for the support group members and a professor at a local university agreed to build it into his community-based learning course. During February, March, and April of this year, the support group met here at Peace Village with students from this local college's Health Communications course. The students were asked to interview a resident to learn about his/her personal story and experience with vision loss. In return for sharing about themselves, the residents were to receive something tangible from the students at the end of the project – specifically, something written and of the residents' choosing. As you can imagine, many of the residents with low vision struggle to write because they cannot easily see what they are writing."
Outcomes of Plan
The project was conducted over three months during the regular meeting times and consisted of 3 one-hour interviews between the residents and students. Thirteen residents and 25 students participated. Needless to say, the project was a great success and both generations had a positive effect on each other. Amanda reported there were meaningful interactions and outcomes. She states, "Some residents asked the students to help them write a memorial for a loved one, a snapshot of their life story, a poem to family members, or an op-ed piece for the local newspaper. Other residents asked the students to help them create a picture collage, and one resident/student pair designed an 'about the painter' biography booklet with pictures of his artwork." One resident named Eileen shared: "I like young people. It was fun getting to know the students." She said that completing the project was like a life review, and "it brought back a lot of good memories for me."
The students were enthusiastic and seemed to go above and beyond with this project. Friendships were formed and several students brought thank-you gifts to the residents and made plans to stay in touch. They learned about resilience, eye diseases and living with health challenges. Some students remarked they did not have grandparents and enjoyed hearing the life stories and building a connection with a senior. As part of the class project, the students participated in a health fair on campus where they presented on eye conditions. And they were required to write reflection pieces on their experience. What a worthwhile and positive way to bring the generations together to listen and learn from each other! It was beneficial on so many levels to all who participated.
Congratulations to Amanda Janicke and Peace Village on the successful implementation of this creative initiative.
Give Us Your Ideas for Replicating the Plan
Do you have ideas on how to replicate this project in your setting or support group? It would be a wonderful opportunity to foster greater understanding about aging with vision loss and promote meaningful interactions between the generations.