Visually Impaired Support Group of Cumberland County, Tennessee, Inc.
by Audrey Demmitt, RN and VisionAware Support Group Facilitator
Support Group Extraordinaire in Crossville Tennessee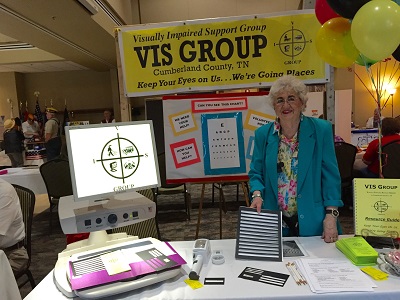 Caption: VIS Board Member Fran Burrus at health fair exhibit
The Visually Impaired Support Group of Cumberland County, TN, Inc. (the VIS Group) is a 501 (c)(3) non-profit service organization and has existed since 2006. This group is passionate about their mission to improve the lives of the blind and visually impaired through education, communication, transportation, on-loan equipment, support group meetings, and socializing.
The VIS Group works with city, county, and state leaders, as well as local business leaders, and reaches a 14-county radius. They pride themselves in being an all-volunteer organization with 70 members and have an impressive list of programs and accomplishments. Their motto is "Keep your eyes on us, we're going places!"
Group and Meeting Details
Currently, the VIS Group meets the 2nd Thursday of each month, September through June at the Sonshine Soup Kitchen at 69 Neecham Street in Crossville, TN. They begin at 9:30am with a business meeting and then enjoy a guest speaker and topical discussions. The meeting closes with a social time with coffee, tea, and snacks served, ending at 11:30am. They have an annual summer picnic in July and a Christmas luncheon in December. Margie DeMars, the group's publicist, says, "We are the visually impaired reaching out and supporting the visually impaired."
The group is led by Linda Simmons, President, and Joyce Lignar, Vice-President. There is a Board of Directors that consists of three sighted members and nine visually impaired/blind members. It is affiliated with the American Council of the Blind, Tennessee Council of the Blind, and the Crossville Chamber of Commerce. They are also a participating partner of the United Fund of Cumberland County, TN.
Programs and Services
Membership dues are $25 per year, which help support the many programs and services offered. Here is a list of their ongoing initiatives:
Equipment On-Loan
VIS members in good-standing may borrow aids and devices from the VIS Group Inventory of over $20,000 worth of equipment. Items to be borrowed include: desktop video magnifiers, handheld magnifiers, digital magnifiers, lighting, and talking blood pressure kits.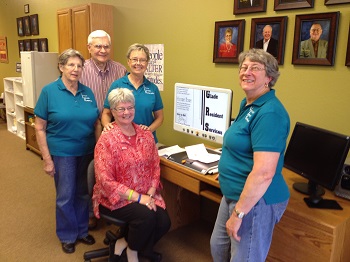 Caption: Community Outreach Program donates electronic video magnifier to Fairfield Glade Resident Services. Seated is Holly Neal United Fund President; standing are Judy Barnett, VIS treasurer, Ken Schuning, FGRS President, Linda Simmons, VIS President, and Margie DeMars, VIS Publicity
Community Electronic Video Program
The VIS Group purchases desktop electronic video magnifiers (EVMs) and donates them to public facilities. Since 2009, they have donated EVMs to the Crossville Art Circle Library, the Fair Park Senior Center, Beverly Apartment senior complex, and Fairfield Glade Resident Services to be used by the community.
Transportation Fund
The VIS Group sponsors field trips to encourage members to get out and explore. Transportation by buses is fully paid for and guests of the participating members can attend for free. They are also working with city and state leaders to improve transportation options for the community.
Resource Guide
The VIS Group publishes a Resource Guide and distributes it to eye specialists, medical doctors, and other professionals who serve persons with vision loss. The book describes "Who, What & Where" to find services and information. It is free to the public and has been lauded by professionals and consumers.
"InSight on Vision" Conference
The VIS Group presents a biennial half-day conference with speakers, such as agencies serving people who are visually impaired, ophthalmologists, low vision specialists, and vendors of specialty low vision devices. This event is open to the public and free of charge.
For more conference information, contact the "InSight on Vision" Chairperson Margie DeMars at 931-456-6758 or email Margie.
Special Events and Fund Raisers
This active group holds several special events and fundraisers each year. They have provided an iPhone class for the blind and visually impaired and worked with the Macular Degeneration Foundation on promoting the LowViz Guide indoor wayfinding app for Tennesseans attending the American Council of the Blind Convention. They have hosted Italian dinners, golf tournaments, raffles, and support other fundraisers for the United Fund, which supports the group.
Making an Impact
The VIS Group is making an impact in their community. They are responsible for convincing the county and city to stripe all curbs and steps for improved visibility in public and government areas. This was a great achievement! Now state officials are trying to pass laws to emulate the Cumberland County area.
The group continues to prosper and grow through tireless efforts to meet the needs of the visually impaired. It is evident they have enjoyed many successes and garnered the support and respect of the community. What a wonderful team of volunteers making a difference in Crossville Tennessee!
The VIS Group Office is located at 46 Genesis Rd., Crossville, TN, 38555 and is open Mondays, Wednesdays and Fridays from 10:00am – 2:00pm. They offer information and educational materials free to the public. If you or someone you love is struggling with vision loss, contact this amazing group for support. Call the VIS Group office at 931-787-1772 or email Vis Group.