Twilight Visions Support Group in West Texas
by Audrey Demmitt, VisionAware Support Group Advisor
Editor's Note: The Twilight Support Group is VisionAware's Support Group of the month for December, 2016. Read and learn!
About the Support Group Leader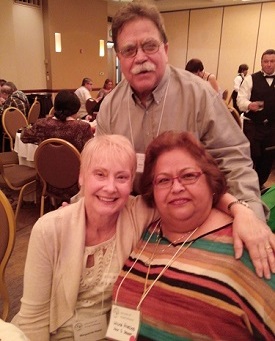 Mike Bates, born and raised in West Texas, had a successful career in the oil business until nine years ago when he lost his vision to a retinal detachment and soon after, he was diagnosed with macular degeneration. At first he asked "why me?" and felt lost. He attended the Twilight Visions Support Group in Odessa Texas and at that first meeting, the group gathered at a park to learn how to grill hamburgers. Mike recalls "I was hooked!"
Learning About Vision Rehabilitation Services
Soon after, he became a client at the San Antonio Lighthouse and began his own vision rehabilitation journey. He began to meet people in the visually impaired community and was exposed to local resources and networks. His own vision loss was the catalyst for a new passion-to support others who were living with vision loss. Today, Mike is an advocate who works tirelessly to bring information and resources to his neighbors and peers who are visually impaired.
Twilight Visions Support Group Activities
He now leads the Twilight Visions Support Group in Odessa. It meets at Asbury United Methodist Church at 4001 E. University in Odessa. Meetings are held the 1st and 3rd Thursday of each month from 1:00 pm-3:00 pm. Most participants are aged 50-80 years old and no longer working. They have had a variety of popular topics and speakers including: cooking demonstrations, home health agency reps, the local Area Agency on Aging, a wellness class presented by the state Independent Living Center, diabetes, the Kidney Foundation, eye doctors, Texas Workforce Agency (formerly known as DARS), and Verizon. Mike commented that often these agencies and speakers go away with a better understanding of what people with blindness need in the way of assistance and services. What a great way to increase the community's and stakeholder's awareness!
Special Events
The members of Twilight Visions enjoy special events like luncheons, trips to local theater and musical events. They participate in an ADA Celebration with other groups each year. And they host a White Cane Celebration annually. This year they walked around town with their canes and the mayor made an official proclamation of White Cane Day. Then they all headed to the mall and walked some more-using their canes and answering the public's questions. They ended their day with many of the members getting well-deserved pedicures-some for the first time in their lives.
Mike makes it his mission to network and volunteer in his community. He is a member of the American Council of the Blind Texas chapter, a board member of the ABLE Center for Independent Living, and a member of the Senior Center in Ft. Stockton. He does a weekly talk show on local radio and volunteers at the Radio Reading Library of West Texas. He is active in the Permian Basin Community Service Organization and works with the Texas Workforce Commission. He uses all of these activities to do outreach for his support group, find referrals and resources, and create public awareness around the challenges of living with vision loss.
Support Groups in Nearby Communities
Mike was encouraged to start other support groups in nearby communities. Four years ago, he launched Visions of Hope Support Group in Monahans, Texas. It meets the 1st and 3rd Wednesday of the month at Ward Convention Center. In 2015, Mike and Regina Garcia began another group in Ft. Stockton called Helping Hands, which meets the 3rd Tuesday of each month at Senior Citizens.
Providing Information and Sharing Resources
When Mike learns of someone who might benefit from a support group, he visits them personally to tell them about it and invite them. He also makes rounds to local senior living centers to help new residents who are visually impaired get oriented and connected to services they may need. He is known throughout his community as the one to call if information is needed.
He enjoys sharing about resources like the Talking Book Program and the Radio Reading Library. But best of all, he offers a warm hand in friendship, a big Texas welcome and hope to everyone he meets who is struggling with vision loss. His enthusiasm for serving others in this new-found work is inspiring and it is evident that he has a new purpose in life.
Thank you Mike for all you do on behalf of the visually impaired community in West Texas. It matters to many and you are making a difference. For more information, contact Mike Bates at: 432-234-2445 or email tmikebates403@yahoo.com