Vanderbilt Eye Institute Visually Impaired Support Group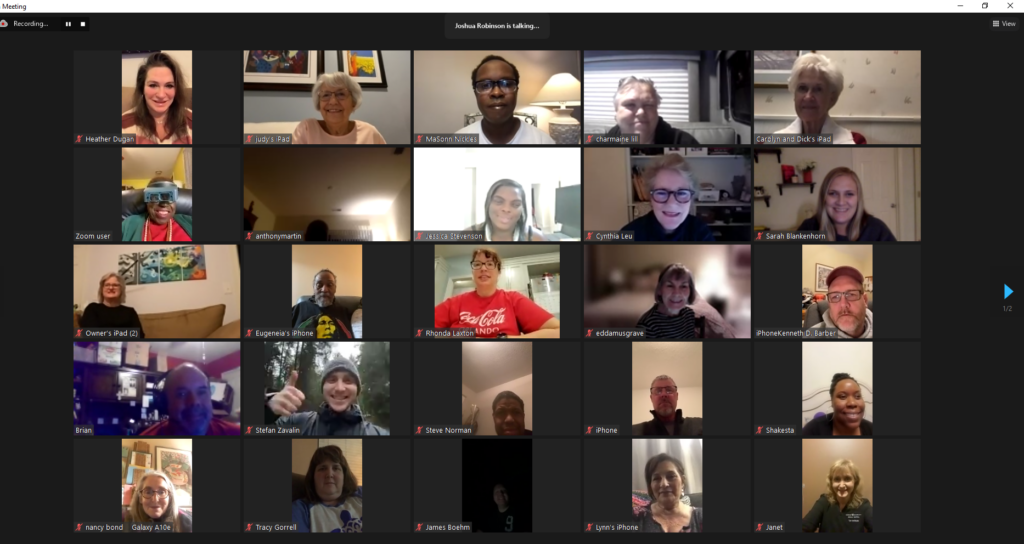 In early 2019, Janet Lemonis and Dr. Joshua Robinson, Director of Low Vision Rehabilitation, created the visually impaired support group at the Vanderbilt Eye Institute (VEI). Attendance has grown from five to ten attendees at monthly in-person meetings to 30-40 individuals from all walks of life. The transition to virtual meetings, caused by the COVID-19 pandemic, has allowed individuals to take part from far and wide. Those who are unable to attend can access the video recording and listen to the meeting later. In the future, they hope to adopt a hybrid model, to allow both in-person and virtual attendance.
The group typically meets on the final Monday of each month at 5:30 PM US Central time. Meetings feature one or two guest speakers from local, state, and national organizations serving those with vision impairment. The group has been fortunate to welcome some VEI subspecialty ophthalmologists, all leaders in their respective fields, to talk about their practice and the disease processes they treat.
The facilitators build Q&A sessions and time to socialize into each meeting, saying, "There are some wonderful cooks in our group, and we take every chance we can to have a potluck! We have fun getting to know one another and learning from every member of the group."
Who Can Join and How
The VEI support group welcomes anyone with any type of visual impairment. For more information, contact:
Joshua Robinson, OD, FAAO (joshua.robinson@vumc.org)
or Janet Lemonis (janet.lemonis@vumc.org)
More Information About Support Groups
Support Groups and Other Resources – VisionAware
Support Groups: Their Role in the Adjustment Process for People Who Are Blind or Visually Impaired – VisionAware