Support Groups: Their Role in the Adjustment Process for People Who Are Blind or Visually Impaired
Contributed by Audrey Demmitt, R.N., VisionAware Support Group Advisor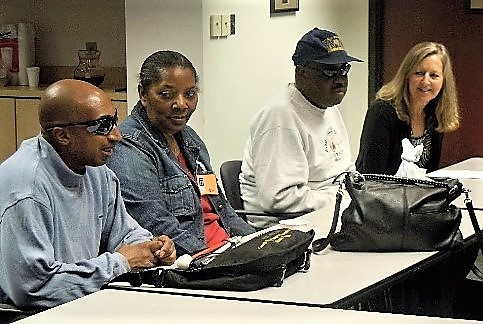 Support Groups Provide Additional Support
If you are new to vision loss, you may be feeling overwhelmed and in need of some additional support. Your adjustment to vision loss may be facilitated by participation in a support group. Support groups bring people together who share a similar life challenge. Members learn to cope and feel less isolated as they make connections with others who can relate to their situation. Friends and family members can also benefit from attending a group as they are often in need of support too. In a safe and confidential setting, members discuss their feelings, share experiences and offer mutual support. They exchange ideas and information. The support group experience can be helpful in moving members toward acceptance and adjustment to life with a visual impairment.
Support groups are not the same as group therapy sessions. They may be peer-led by a layperson with vision loss or someone who has an interest in it, such as a family member. In some cases, groups are offered through non-profit organizations, rehabilitation agencies or advocacy organizations and may be led by professionals like vision rehabilitation therapists, social workers, or nurses.
Some support groups are educational while others emphasize emotional support. The format may include topical discussions, guest speakers, hands-on workshops, and product demonstrations. Participants learn about resources and services for the visually impaired in their area. Group members share advice and strategies on living with vision loss. A support group can be a great place to socialize and often friendships are formed.
Benefits of Participating in a Support Group
Feeling less lonely and isolated
Gaining a sense of empowerment, self-confidence and control
Learning to cope in healthy ways and adjust to vision loss
Talking openly and honestly about your feelings
Managing stress, depression or anxiety
Developing an understanding of what to expect with your situation
Getting practical advice and useful information
Discovering resources, services, and devices that meet your needs
Having the chance to help and support others
Receiving inspiration and motivation from others' stories
Setting goals and preparing for the future with hope
Things to Consider When Selecting a Support Group
Is it geared toward a specific condition or age group?
Is the location convenient? Is there transportation assistance?
Who is the facilitator or moderator?
Is it confidential and comfortable?
Does it have established ground rules?
What is a typical meeting like?
Is it free, and if not what are the fees?
Does it meet your needs?
Getting the Most Out of a Support Group
The right group will help you feel supported and understood. Find one that fits you and is comfortable. At first, you may be nervous to share your personal experiences and feelings. But in time, participating and contributing to the group will be beneficial. Mutual respect, courtesy, and confidentiality among group members ensure a safe and supportive environment.
Finding a Support Group
Starting Your Own Group
When no group is available with which you are comfortable, the next option is to start your own group. The Hadley Institute for the Blind and Visually Impaired is a distance education school that offers two free online courses on participating in and establishing a self-help group.
MD (Macular Degeneration) Support offers The International Low Vision Support Group network with a directory of groups which meet all over the world. It provides materials and resources for leaders, archived audio-visual presentations and a Facilitator's Kit to get a group started. In addition, it hosts TeleSupport, a year-round program of monthly group support sessions held over the telephone. It is designed for low vision seniors anywhere in the US who have no access to the Internet or cannot attend a live support group.
For transportation resources in your area check out Living Well with Low Vision Transportation Directory.
Finally, meeting with others and learning how they overcome the daily challenges associated with severe vision loss can better prepare you for those challenges. Join a support group so you do not have to "go it" alone.