Lindy Timmerman: Coping with Life After Surviving Brain Tumors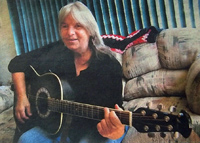 I'm a survivor of two benign brain tumors and that's how I lost my sight. I have found the problem to be twofold: adjusting to going from sighted to unsighted and relearning how to function with brain disability. It is different for everyone.
The main thing I wish to say is to "be comfortable in your own skin." It is a process that I've been adjusting to for over thirty years. We cannot compare ourselves with other persons who are blind or to those with other brain conditions. Through trial and error, we learn what works and what doesn't. Then, over the years, we must adjust to life with our various diseases. For me, blindness has remained the same, although my health has changed throughout the years.
I'm a 62-year-old woman with two grown granddaughters. What a challenge! I have had to learn to say "no" when I couldn't do things that would complicate my health. When they were small, it was difficult to even change their diapers. Now my eldest granddaughter is an accounting major in college and has invited me to see her campus. Another challenge!
Yet, for me, it is important to go to bed each night feeling good about myself. I do suffer from days of gloom, but at those times I have found that it is very important to not blame ourselves for something we cannot control.
I fly by myself on airlines a great deal, when my health permits, and have found that when I am open and honest with airline assistants, they will be glad to help. I've had to learn a great deal of patience, which I still haven't mastered!
I rest when I have to and love to hike, go horseback riding, and traveling. My brain dysfunction, though, forces me to rest a good month before and after my trips or outings. I have found this is necessary to protect my health.
Not all doctors will understand your needs, especially in this new healthcare age. So we must really know our bodies and sometimes take charge of managing our own health. Through research and asking questions of medical professionals, we can have a pretty good idea of what is needed to function.
As far as medications, I watch what I take because I feel that a good quality of life is more important than anything. At first the doctors had me on so many medications that I felt like a zombie, but over the years I have learned to have better control of what I take. Also, I recommend a healthy diet, which will help with cognitive and emotional issues as well as physical wellness.
What is my advice to others who have brain dysfunction? I recommend to never give up. Expect discouragement, tears, frustration and others to not always understand what your needs are. Be your own best friend, belong to a solid support group, and take one day at a time. Make plans sometimes months in advance and communicate with people. This is what you need to do.
Last of all, understand—we all have our disabilities, some seen, some unseen. Keep this in perspective as you go along through life. You will be an example to others, teaching them they need not fear brain injuries or blindness and that these problems can be managed.