Steven Wilson: Dagwood on the Water, In the Desert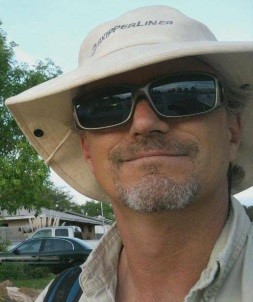 "Dagwood!" exclaimed Chris, as I sat down on an ice chest.
Chris just gave me my new nickname, aptly so for I had just created another sandwich, piled sky high with enough fixings to make even the cartoon character envious. The only thing missing was a green olive stuck to the top with a toothpick.
Life on the Water
Chris and I had just gotten off the river, along with tourists from around the world. After setting up tables, preparing lunch for the passengers, it was our turn to dig in.
It was high noon with the weather cooperating at a meager one hundred and two degrees. Within the Glen Canyon was the mighty Colorado River calmly flowing, beckoning all who wish to view its majestic beauty. With cliff walls over seven hundred feet high, noon time was the hottest time of day because only then could the sun shine down on the waters. Sunrise and sundown take forever in these lands.
After lunch I would show the tourists how to dive into the river using the pontoon boats we had ridden in on. To do this, I would simply step up on top of an engine and jump on to the inflatable raft. This would allow me to bounce high up into the air, allowing me to attempt my best swan dive. Now, the river is about fifteen degrees year round. The Colorado River is very cold. I was swimming in water that had not seen daylight in years; this cold life giving liquid sustenance came from the bottom of Lake Powell.
After diving into the water, I swam straight back to shore as fast as I could to get out of the freezing waters and return to the safety of the warm beach. I never understood why that was so incredible. Tourists from around the world clapped, they took pictures smiling while chattering away in languages unknown to me. Some of the tourists even attempted the same dive, Chris and I got to do this every day because we were Tour Guides on this picturesque river. Nobody got hurt, there were some fantastic attempts; usually splayed limbs could be seen in the air and loud guffaw accompaniments. There was never a language barrier when it came to good fun in the sun.
We kept buckets on the rafts for multiple reasons. We would dip buckets into the river and pour water over the rafts as the day wore on to cool down since the rafts would tend to get hot from the sun. We would also use the buckets to douse one another during our lunch breaks. Even while floating down the river, a raft floating too near another raft might become prey to a fellow prankster. Once the buckets were unleashed, everybody was laughing while somebody was dodging a plume of water. This helped everybody keep cool in the hot canyon.
Life as a Marine Mechanic
Ten years later, I had two small boys to care for; I was no longer a river pilot for day trips on the Colorado River. I had evolved to engine and boat repair. I actually loved this work, it fed into my self-sustaining independent attitude. I never liked having to rely on somebody else to fix things for me. Convincing my boss to send me to schools for marine motors was no easy task.
Once I became a certified marine mechanic, I was traveling around different states, attending schools for the different types and brands of boat motors. I got to see a lot of rivers and lakes, but more importantly, I got to work, play and experience a totally different kind of world. Dagwood was still making his sandwiches in motel rooms when traveling on the road to various different lakes and rivers.
"Dad! Dad!" yelled Trevor.
Trevor, my youngest son was hollering at me because the crows were taking off with our colored Easter eggs that were supposedly strategically hidden along the beach. Brightly colored decorated eggs placed under sagebrush and sitting under sandstone rocks, no egg was safe when it comes to hungry crows. The crows did not care what color the eggs were. Even though the crows made off with our eggs, we had a wonderful time camping in our houseboat. It was an Easter vacation like no other.
Not only did I have the crows to contend with, Mother Nature threw in her hand as well. The wind blew hard the whole weekend save for a few lulls in the mornings. I wound up having to do a four point tie off to anchor the houseboat securely to the sandy beach during our vacation. At every corner of the houseboat I had a rope tied off to an anchor. I had to bury the anchor deep under the sand. This was the only way to keep the houseboat from blowing sideways into the beach and getting stuck. One hundred feet of rope dangling across the lake gradually sloping down as it eventually met the dry ground made for some pretty interesting tripping hazards. Dagwood did not eat sandwiches on the beach that weekend.
Getting the Diagnosis
It was only six years ago when I found out the reason for having such difficulty seeing and constantly running into things. This was actually a blessing because I now finally understood what was wrong with me. Having been given the diagnosis of retinitis pigmentosa, I now have a new direction in life.
A New Chapter: Life as a College Student
Twenty years later, I'm now a college student at Pima Community College and thinking of becoming a rehabilitation counselor. As seen in the picture above, Dagwood is now in Southern Arizona sporting a bit of grey hair.
"Mr. Wilson!" called out Patty loud enough for me as a person with hearing loss to hear.
Starting Rehab Services
This time three years ago, I relocated to Tucson Arizona for rehabilitation services and to maintain the skills necessary to continue my independent life. Patty, my braille instructor had just called me into her room for another excruciating lesson in braille. This can only be understood when you are trying to learn what seems like a new language. In a sense, it is not really a new language, just a different way to read using your fingers instead of your eyes.
From being a Tour Guide on the Colorado River to repairing boats large and small across the United States, being a father and now a blind student, I can say with pride I have lived a rich, diversified life. Through my experiences I hope to share for others to learn while at the same time, I would very much like to learn about others experiences as well. No matter what your situation may be, I'd like to be the example to point out that, "Yes, you can!"
Dagwood Still Lives. Becomes VisionAware Peer Advisor
Dagwood still lives. He lives right here in Tucson and is happily eating his sandwiches on a comfortable couch in an air conditioned apartment. He has plenty of stories to tell and is more than happy to share. Pull up a chair, relax and maybe even put a smile on your face as you listen to the real life exploits of Steven J. Wilson.