Joe Lovett: Activist and Documentary Filmmaker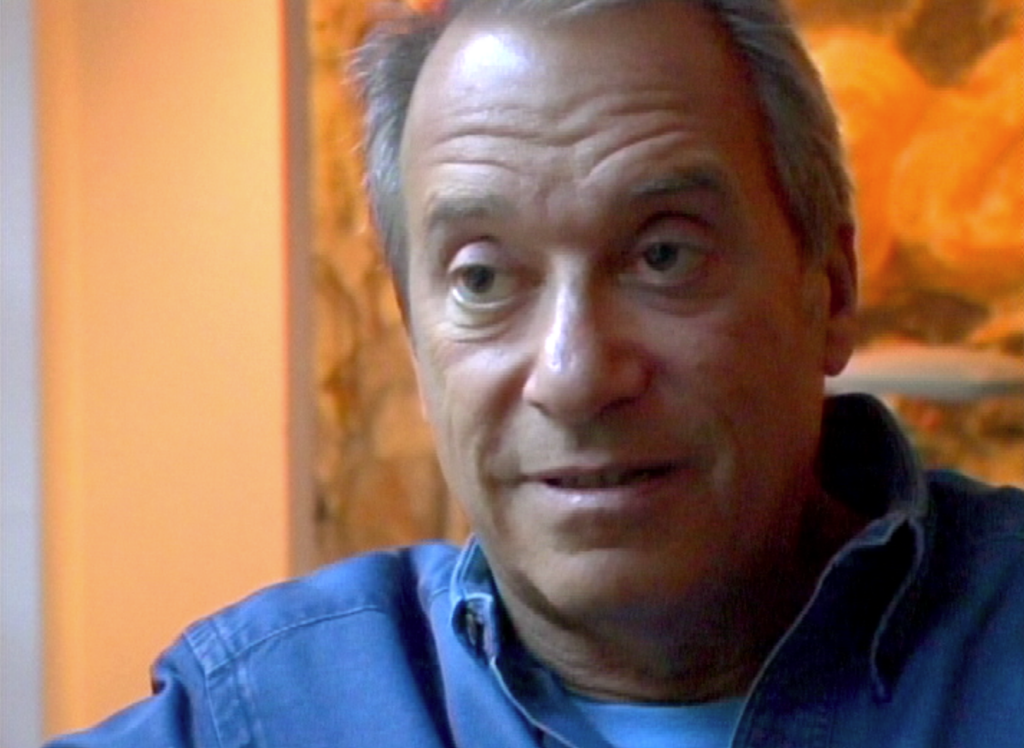 What Has Happened Since Going Blind Premiered
Editor's note: This personal story has been updated since it was first published to include what has happened in Joe's life since the premier of Going Blind. Keep reading to find out the whole story!
Meet advocate and filmmaker Joe Lovett, director of Going Blind, a documentary film created to increase public awareness of blindness, vision loss, and the vision rehabilitation system. Going Blind is also Joe's personal story of his struggle with glaucoma and his sometimes-difficult journey through the "secret world," as he refers to it, "of vision rehabilitation. Sighted people know nothing about it … and they should!"
If there were an award for "over-achievement in the face of adversity, filmmaker Joe Lovett would be a prime contender. Problem is, even if he won, there may not be room on his awards shelf for yet another accolade celebrating his action-filled and advocacy-laced career. Despite ever-increasing problems with glaucoma, Joe has produced numerous films dealing with such "under the rug" issues as cancer, AIDS, amyotrophic lateral sclerosis (ALS, also called Lou Gehrig's Disease), obesity, and crystal methamphetamine addiction. Joe loves a challenge.
He's an advocate for justice, awareness, and societal change; as a person with low vision, he's now launching Going Blind, a documentary film that increases public awareness of sight loss and low vision issues that profoundly affect the lives of more and more people and those who love them.
Joe's Path to Advocacy
Joe's advocacy began over 40 years ago when he was part of the student revolt on the campus of Columbia University in New York City. It was a revolt that inspired similar student uprisings across the country, and a time when he learned more about politics than filmmaking. According to Joe, perhaps this explains his "passion for producing health and social film and television documentaries that cover taboo or scary subjects and address social misunderstandings, conflict, and discomfort."
Joe's first documentary – What Do you Say When Your Kid Says He's Gay – was produced during a four-year stint at CBS News. "Prior to our show," he says, "every program ever presented on gay people presented homosexuality as an illness. This was the first time that network television presented homophobia as the problem."
After leaving CBS, Joe spent ten years as a producer for ABC News 20/20. At 20/20, Joe worked with Hugh Downs, Barbara Walters, Geraldo Rivera, and other correspondents on topics that ranged from pop culture to health to politics. In 1983, Joe produced the first network investigations into the federal government's inadequate response to the AIDS crisis.
After leaving ABC News in 1989, Joe founded Lovett Productions and continued to focus on health and social issues. To date, the company has produced over 39 hours of prime-time television specials. Joe went on to produce and direct In a New Light, an annual AIDS education broadcast that used Hollywood celebrities to showcase real stories of people's lives during the AIDS epidemic. The program aired for five years on ABC and won him The AIDS Action Foundation Leadership Award.
This was followed by his first personal feature documentary – The Accident – a portrayal of his own family's memoir shot over 25 years and highlighting Joe's story of witnessing, at age 13, his mother's death in a tragic accident. The film documents Joe's childhood and his family members' varying perspectives on love and loss.
Cancer also hit Joe's family hard: five members were diagnosed with the disease, and four died from it. That experience led to Joe writing, directing, and producing Cancer: Evolution to Revolution, a 2½ hour HBO film that described what people with cancer need to know to maximize their chances of survival and cope with cancer's daily life-and-death battles. The film won the George Foster Peabody Award in 2000, as well as an Emmy nomination and many advocacy awards.
In 2003, his film about AIDS, State of Denial, revealed the human experience behind the AIDS epidemic in South Africa. With five million people infected and nearly 2,000 new infections occurring daily, South Africa has the highest number of people in the world who are living with HIV. The film premiered at the Sundance Film Festival and aired on the PBS POV documentary series.
Other broadcasts include Born In My Heart – A Love Story, a Barbara Walters Special on adoption for ABC; Fat Like Me, on childhood obesity for ABC, Coming Home, a film about forgiveness for the Hallmark Channel, Blood Detectives on hematology for Discovery Health and Public Television, and, most recently, Going Blind.
The Glaucoma Diagnosis
Joe lives close to the taboo issues that concern him: AIDS, cancer, ALS, addiction, obesity, family loss, prejudice, and social conflict. One critical issue, however, has been with him since his early 20s when an ophthalmologist first told him "High (eye) pressure is normal for you. You don't have to worry."

Joe explains: "So I didn't. It wasn't until my early 40s when my new ophthalmologist was uncomfortable with my high pressures that I started to think a little differently. She sent me to Dr. Robert Ritch, one of the most respected glaucoma specialists in the country, at The New York Eye and Ear Infirmary.
"I started in the traditional way with eye drops but didn't take it too seriously. At that time I thought glaucoma meant that if you use the eye drops you'll be fine. Not necessarily!"
"Then my field tests started to become problematic, although I was still seeing well enough. Yes, there were 'holes' in my side (peripheral) vision – I could see them in the tests. Yes, I had the occasional accident, dimly lit stairs were difficult to navigate, and dark closets were impenetrable, but the doctors continued to say 'everything's fine.'"
"One evening I was out walking when a man suddenly appeared in front of me. It was, as they call it, a classic 'jack-in-the-box' moment: one minute my way was clear and the next minute, he popped suddenly into the middle of my field of view. I shared this experience with Dr. Ritch and he referred me to Lighthouse International in New York. It was here that I was introduced for the first time to a low vision therapist."
"She had me stand across the room from her and asked me to focus one eye on her nose and tell her how much of her body I could see. I couldn't believe what I saw. She only existed above the shoulders and below the hips. Her torso wasn't there. I literally felt sick. It was the first time the reality sunk in."
"The low vision therapist explained that my unconscious scanning and visual memory had probably kept me from noticing my scotomas, or 'blind spots.' She showed me where the 'holes' in my vision were and taught me, for safety reasons, how to consciously scan and bend my neck and look down at every threshold. I was devastated."
"The next day at my shrink's office, I sobbed for a full hour, unable to utter a single word. But after the session, for the first time in two years, I did not trip on the front steps. First time ever, because I now knew to look down!"
Living with Glaucoma
"My vision has since worsened. But it has generally not impaired my daily functioning. I can read, walk, and drive unaided and I've learned ways to navigate pretty comfortably. I still love bike riding through the streets of Manhattan, although I now avoid crowded areas – there are too many riders moving in and out of my field of vision to feel safe."
"I can still read, but I'm only able to keep three to five words in focus at a time. A short while ago I enlarged my computer font. I'm still 20/20 in both eyes, but my loss of contrast sensitivity makes small items on a store shelf annoyingly hard to see. I don't recognize longtime neighbors walking toward me as easily and quickly as I used to; inevitably, I'm much more deliberate than I used to be."
"At a certain point, when enough eye damage has been done, you say 'Whoa!'I'd lost a good third of my visual field to glaucoma and was fighting, through surgeries to reduce the eye pressure and medications, to save the remainder of my vision. I began asking myself, 'Supposing I lose all my vision, what do I do, how are others living with vision loss?'"
Going Blind: The Documentary
"In the same way that Cancer: Evolution to Revolution spoke of my family experiences, our current documentary-Going Blind-is my personal story of how glaucoma has had an impact on my life and how the film has changed my view of things."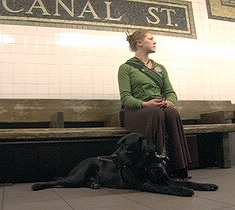 A scene from the film "Going Blind." A young woman sits in a subway station with her guide dog.
"I started meeting people who were living with vision loss. I interviewed them. I recorded their fascinating stories – stories I'd never dreamed of. I discovered a whole 'secret world' that sighted people know nothing about … and they should."
"I interviewed ophthalmologists and optometrists; vision rehabilitation specialists, such as low vision therapists, orientation and mobility specialists, and vision rehabilitation therapists; researchers; inventors; doctors conducting clinical trials – many of these professions were unfamiliar to me."
"Prior to making the film, I knew that agencies 'for the blind' existed, but I never knew what they offered. The field of assistive technology, for example, is doing so much for all of us – not just for those who have lost vision, but for all those living with the natural aging process: talking computers, talking voice dialing, talking phones, talking books, screen enlargers, color detectors, talking watches … the is endless. Most people are aware of these technologies and are aware that some people have vision loss – but we don't often put the two together. Rarely are we aware of what vision rehabilitation has to offer."
"I've learned that losing vision is not the end of the world. It's a challenge – a big challenge. But the biggest learning experience I had from making this film was that my anxiety at losing more vision has come way down. I see how the six people in the film who are living with severe vision loss have dealt with anxiety, travel, work, studying, and enjoying their lives. I'm knocked out by what they accomplish, and I understand that these are things I too can do."
Discovering the World of Vision Rehabilitation
"You know, prior to producing Going Blind, the world of blindness and vision rehabilitation was a secret world to me – one I knew nothing about. Even after making the film, I don't pretend to be an expert but my understanding about this area is that information about it is woefully inadequate. The biggest concern I have is that not enough people are being referred for vision rehabilitation."
"It was fifteen years before I heard of the existence of a vision rehabilitation therapist. I asked a young ophthalmic resident, 'At what point were you going to talk to me about how I function on a day-to-day basis with my vision loss?' The response 'That's something we are really not trained in, but usually that is not discussed until there is about 95% vision loss.' Well, if that is true, it's really criminal!"
"It seems to me that the needs of so many people living on the spectrum of vision loss are not being met. Ophthalmologists are generally not sending people with vision loss to vision rehabilitation services – they seem to see it as a professional failure. Also, many advocates who are blind are not interested in the medical model and view sight loss as a mere inconvenience – which is very difficult for someone with remaining vision, like me, to relate to."
"I don't think that vision loss is a walk in the park, but I think we definitely need better cooperation between the various groups – medical, rehabilitative, and advocacy – so that patients' needs are being coordinated and met and much more information can be used to help the patient and the caregiver."
Radical Changes are Required
"I think back to the AIDS movement that developed in the early eighties. I remember reporting on AIDS when nobody wanted to hear about it. Larry Kramer, the founder of Gay Men's Health Crisis (GMHC) and the AIDS Coalition to Unleash Power (ACT UP) was one of the most forceful advocates around. True, he could be obnoxious, loud, and insulting, but he never let up."
"Larry was around when I was trying to develop television programs about the AIDS crisis at ABC News. He beat on me so much about the need for AIDS reporting that I had to go back to ABC News and beat on them! If Larry Kramer was at a meeting, screaming and carrying on, other people, by contrast, would seem reasonable – so there was always some room for negotiation and change."
"We need a Larry Kramer in vision rehabilitation – somebody who will bang the drum and keep on banging! We need a movement that includes the most radical, most inclusive, best technically-minded, best-communicating people – sighted and with vision loss; in other words, true visionaries!"
"I feel I have one foot in one world and one in the other. Maybe I can help build a bridge between the sighted and unsighted worlds and initiate a dialogue and real understanding. We hope Going Blind plays a role in accomplishing this. We're preparing to showcase Going Blind at an array of national and international festivals and events. Our goal is to ultimately have it broadcast on the major networks with tens of million of viewers."
A Personal Plea from Joe
"There are too many people with vision loss who could benefit from much earlier diagnosis and intervention and dramatically increased awareness of what's possible in vision rehabilitation. I would ask that physicians don't wait until we've lost much of our vision before they talk to us about vision rehabilitation, including the services and resources that can help us live most effectively and plan positively for the future."
"Please refer us to these specialists and don't ever tell patients that there is nothing more that can be done! There are always new skills to learn. Enormous progress has come through the power of strong advocates. We have many disability role models who broke the rules and made stunning progress! We need to do the same to increase public awareness of sight loss!"
This is our challenge. Our hope is that our film, Going Blind, will play some small part.
What Has Happened to Joe Since the Premiere of

Going Blind

?

2021 Update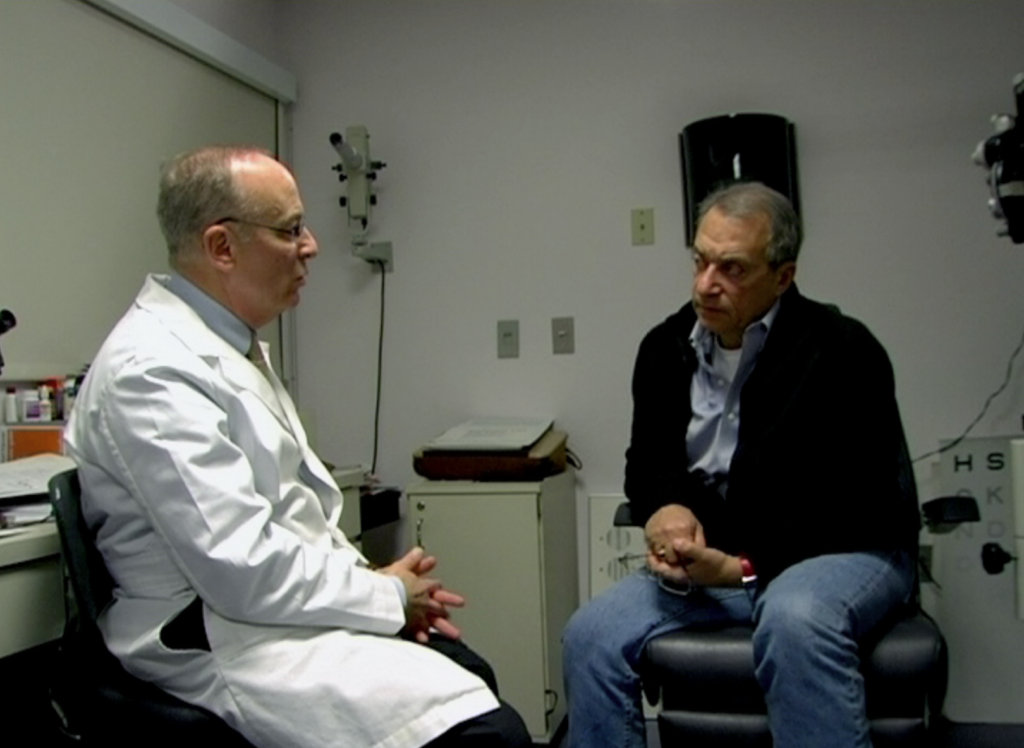 A lot has happened since Going Blind: Coming out of the Dark about Vision Loss premiered at the World Ophthalmology Congress in Berlin in 2010.  Since then, the film had a theatrical run in New York City with nightly talkbacks with the audience, two representatives from the New York chapter of the National Federation of the Blind and me. We have partnered with over 300 service organizations from all over the world that have gone on to have multiple screenings with their members.  We have presented the film to medical students, ophthalmology residents at hospitals, support groups, houses of worship and libraries.  It is available to buy on DVD or to stream for the web. Presently, Going Blind is at the beginning of its second 5 year run on Public Television.  You can call your local station and ask when it will be running. At the end of this article you will find some clips from the movie as well as a short documentary about what has happened in the interim since the film launched.
Outreach Campaign
We have been very successful with our outreach campaign, Going Blind and Going Forward. At almost every screening we have a panel to answer questions. Panelists typically include an ophthalmologist, a low vision therapist and a person who uses a cane or has a dog as a guide. I often moderate.
When we first started, we noticed that the New Hampshire Association for the Blind (now Future in Sight) was having numerous Saturday morning screenings at movie theaters around the state.  They were having so many screenings I called to ask why. They had gotten a grant from Citizens Bank of Boston to rent theaters and supply the audience with Dunkin Donuts and coffee. They found that they were filling the theaters because people who had been reluctant to seek help were willing to come to a screening and see what it was about. They invited me to one screening where it was clear that the dialog after the screening was incredibly helpful to the audience. The event wound up being a support group for many people, some with low vision, some family members and friends, who had never really talked about the issues they faced over vision loss.
Talkbacks Important
 

Aspect of the Screenings

The talkbacks were an opportunity for the ophthalmologists who volunteered to participate on the panels to hear at length from their patients and to hear about the help their patients could get from low vision training. I heard that often a participating ophthalmologist would return to their office Monday morning and say, "Did you all know that there is a low vision therapist two towns over and that our patients can learn …….?"  So, an understanding of what else could be done for their patients beyond the medical setting emerged organically within their own community.  We would love to see that replicated over and over again.  
Delivery Online: A New Form of Outreach
With more and more people now accustomed to Zoom and Facetime, much more information about how to live with low vision can be delivered to people in rural areas over the internet.  People who cannot travel several hours to see a qualified rehabilitation specialist can learn a great deal using the online meeting platforms. It can really be a revolution.
My Vision Loss Journey
As for me and my vision loss, I have had several eye problems since the film came out eleven years ago: some good, and some difficult and requiring considerable lifestyle adjustments. As one of my doctors says, "Glaucoma is like Whack-a-Mole."  But, because I met so many capable people while making the film, I've been comforted to know that whatever happens I can be fine.
Opportunity to Participate in a Medical Research Study
First, I was offered an opportunity to participate in a medical research study of a neuro-stimulation treatment in Germany.  Professor Bernhard Sabel at the University of Magdeburg. Bernhard came up to me at a reception after the Berlin screening and said "I saw your film and I have been working on an experimental treatment that I think you could benefit from. There are no guarantees of course, but it looks promising. If I can get our investigational review board to approve your participation, would you like to try?"
My reply was "You mean rather than just sit around and watch the water leak out of the bucket?  You bet I'd like to try it."
That was June,2010.  By October, I was sitting with Dr. Sabel, a psychologist and his colleague, Dr. Anton Fedorov, a Russian neurologist who had done the original research at the Human Brain Institute in Saint Petersburg, Russia. The theory was that neuro-stimulation to the eye and the brain could extend the life of dying neurons. Another thought was that the stimulation encouraged the formation of alternative pathways for synapses to occur, At the time my visual field was showing progressive loss at each visit. After two weeks of treatment a small but significant part of my visual field had been restored. 
Back in New York at my visual field appointment four weeks later, Mark, the tech at Dr. Robert Ritch's office was astounded.  He had never seen a visual field improve in all the years he had been working.
Not only was my visual field somewhat better, but so was my acuity. Perhaps it was just a placebo effect, but my mood was very much improved as was my mental sharpness. 
I returned to Germany several times for more treatment. I figured it couldn't hurt. The treatment has since been approved by the German equivalent of the FDA.
I introduced Dr. Sabel to Dr. Ritch and Dr. Joel Schuman who was then the new chair of ophthalmology at NYU, and Joel started a study of the neuro-stimulation technique, now call rtACS. It is still in clinical trials here in the states.
The Rest of My Journey
Find out about the rest of my journey in my blog post, Making Tough Decisions. And here is my personal plea:
"There are too many people with vision loss who could benefit from much earlier diagnosis and intervention and dramatically increased awareness of what's possible in vision rehabilitation. I would ask that physicians don't wait until we've lost much of our vision before they talk to us about vision rehabilitation, including the services and resources that can help us live most effectively and plan positively for the future."
"Please refer us to these specialists and don't ever tell patients that there is nothing more that can be done! There are always new skills to learn. Enormous progress has come through the power of strong advocates. We have many disability role models who broke the rules and made stunning progress! We need to do the same to increase public awareness of sight loss!" This is our challenge. Our hope is that our film, Going Blind, will play some small part.
Note: Going Blind was sponsored with funds from Reader's Digest Partners for Sight Foundation; The National Eye Institutes, Institutes of Health; the Allene Reuss Memorial Trust; The Gibney Family Foundation; Pfizer Ophthalmics; Allergan Foundation; the May and Samuel Rudin Family Foundation; the Fred A. Lennon Charitable Trust; plus, many individual supporters.
Where Is Joe Now? A Documentary
Video Clips from Joe's Documentaries 
Jessica Jones Art Teacher and Steve Baskis War Veteran