Kaye Olson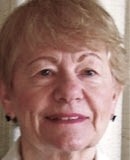 Kaye Olson is the coordinator of the Coping with Vision Loss Study, which investigated the wide range of coping strategies used by adults and older adults who are blind, visually impaired, or have low vision. Kaye has experienced her own personal journey through vision loss and has been a nurse and nurse practitioner; president of Working Well, a stress management consulting firm; and a faculty adviser and tutor.
Kay is also an accomplished author. She has written books on stress management and motherhood and has written extensively about vision loss coping strategies. Her latest writing projects involve World War II personnel and history.
Kaye's Early Years
I was born on September 4, 1940 as the third out of five children, with my childhood and teen years spent in Black River Falls, Wisconsin. We were a musical family. Since my father was the Black River Falls High School band and orchestra director, I started violin at age four, trumpet at age five, and later played drums and organ.
Our musical family group, called the Harmonettes, traveled throughout Wisconsin performing for reunions, schools, and church groups from 1946 to 1954. Entertaining was easy for me and I had no fear of audiences, because I would always remove my glasses before performing. With my poor eyesight, audiences were simply a blur.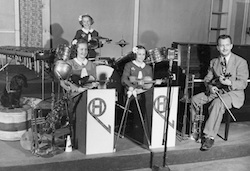 Throughout my childhood and early adulthood, I gave little thought to my own visual health, despite experiencing styes on my eyelids when I was a child and conjunctivitis in my 20s.
My earliest introduction to blindness came from occasional visits to my great-aunt Mary who was totally blind, due to glaucoma. As early as age four, I was fascinated with my aunt, because her eyes were always closed as she rocked in her chair and talked with me and my sisters during our visits. That image has remained with me.
Becoming a Registered Nurse
In 1961, after completing my registered nurse (R.N.) education in Oshkosh, Wisconsin, I worked in several hospitals. In the 1950s and 1960s, most nursing programs involved three intensive, continuous years of preparation without a break. When we graduated, we took a state examination to be certified as an R.N.
Marrying Erik Olson, my high school sweetheart, triggered an employment move to Lansing, Michigan following his college graduation. The births of our beautiful daughters Barbara and Debra over the next three years completed our family.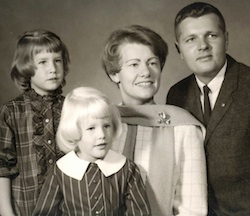 While working in Lansing's public health department, the administration sent me to Milwaukee, Wisconsin to complete a formal nurse practitioner program. Becoming a nurse practitioner opened up a wide range of professional opportunities for me.
I was also employed at the Michigan State University (MSU) health center. During the time I worked at MSU, I embarked on a four-year journey to obtain a master's degree, while working and raising our daughters.
A "Late Bloomer"
Educationally, I was a "late bloomer." I received my B.A. in Psychology from Aquinas College in Grand Rapids when I was 39 and my M.A. in Family Studies and Community Health Sciences from Michigan State University when I was 43.
After completing my education, conducting two health-related research studies published in national journals, and authoring a manual on stress management, my life took a new turn and stress management became my focus. In 1985, I accepted an opportunity to teach stress management at Lansing Community College (LCC) in Lansing, Michigan.
I would remain at the college for the next 17 years. Because I taught in the Student Development Department, many of my students had vision or hearing loss, or were challenged with chronic, progressive diseases, such as muscular dystrophy, cerebral palsy, or multiple sclerosis. In 1993, I was honored as the recipient of the college's Distinguished Adjunct Faculty Award.
During my time at LCC, I initiated my own stress management company called Working Well and delivered a multitude of services to organizations throughout the Midwest in my roles as a stress consultant, facilitator, and trainer.
All of these productive careers would end in 2002, however, when I developed a serious eye condition and resultant vision loss.
The Diagnosis: Branch Retinal Vein Occlusion
Similar to other adults with visual symptoms prior to a diagnosis, I said to my husband one morning, "I'm calling to have my eyes examined. I think I need a prescription change." I had covered each of my eyes separately and the left eye was blurred, but I wasn't yet concerned.
Initially, an ophthalmologist examined me at the clinic, but he told me I that I must see a retinal specialist within 24 hours. Following my eye exam with the retinal specialist, two statements propelled me into shock and disbelief: "You have a branch retinal vein occlusion (BRVO) with permanent complications, including vision loss," and "There is no known treatment for you." My physician compared it to a "stroke on the retina." This occurred on March 26, 2002.
Even as an accomplished nurse practitioner, I had no knowledge about a BRVO and I wasn't able to process how there couldn't be any help for me in such modern times. I felt anger rising within me.
As I learned, the complications from my BRVO were severe and pervasive: retinal hemorrhaging, retinal ischemia (retinal cells dying from lack of oxygen), and a scarred macula, which permanently destroyed the central vision in my left eye. Both of my retinas had a "cobblestone" appearance (a thinning of the retina) which put me at a much higher risk for retinal holes and tears in the future.
My second retinal specialist attempted several laser surgeries to stop the hemorrhaging over the next 17 months, but there was no improvement.
I was sent to Columbus, Ohio to a new specialist who performed a sheathotomy and a vitrectomy. He was able to open up the compressed vein slightly, so that a small amount of blood could pass through it.
I quickly abandoned the first retinal specialist for being disrespectful, patronizing, and failing to respond to my questions at a very vulnerable time in my life. Over time, I also left the clinical practice of the second retinal specialist. I knew I deserved better.
Finding the Right Eye Doctor—Finally
Where would I go now? I researched services in my area again and repeatedly heard of a University of Michigan retinal specialist who came into the area once a week. In desperation, I referred myself and with the help of clinical staff, I was accepted as his patient. It was August 4, 2004.
After he examined me and noted my retinal hemorrhaging, he took immediate action. Skillfully, he built an incredible "grid" on my retina with 239 laser shots. It was a miracle. The hemorrhaging stopped. Although it was too late to restore any lost vision, I wondered "Could my severe complications have been less had I been cared for by him initially?"
Nevertheless, for the first time, I had hope. I am still his client today. At each visit, I never fail to express my gratitude for his expertise and for giving me back some quality of life. Our relationship is special. He respects my persistence in learning about my BRVO and appreciates my questions.
Unfortunately, I also plunged into deteriorating health after my BRVO diagnosis. Despite my strong stress management background, I wasn't coping well, so I asked my clinic for a referral to a vision loss support group. I was told there wasn't such a group, but years later, I would learn that two helpful low vision support groups existed at that time.
Her Coping Strategies
Over time, and with much hard work on my attitude, lifestyle, health, and coping strategies, I improved slowly.
For coping, I created my own ritual combining three techniques: 1) directed deep breathing, 2) concurrent visualization, and 3) coaching statements.
The color blue represented the warmth and healing that was pulled into my left eye with inhalation; the color red symbolized the release of my eye disease complications with exhalation.
Coaching statements accompanied this process, such as "warmth and healing in" with inhalation and "eye disease out" with exhalation. These and other phrases eased my anxiety, soothed me, and provided a diversion.
I continue to complete this ritual three times a day. If I wake up at night, I repeat the three strategies, which ease me back to sleep. Even though I know this exercise cannot improve my lost vision, the point is that I am taking action. The techniques put me "back in control" instead of being out of control and feeling helpless. A sense of control is vital with vision loss.
Finding Support Groups and Developing the Coping with Vision Loss Study
By 2007, after much hard work, my health stabilized. Over the next few years, I participated in three different support groups and currently I attend a low vision support group in the Lansing area. This provides an opportunity for me to listen to the blind and low vision attendees and to exchange skills, coping mechanisms, and community resources.
Equally important, I learn about cutting-edge eye research and new visual aids, so if I encounter a serious eye condition with my good eye in the future, I will be better prepared with support and resources to handle the diagnosis. Uncertainty no longer holds me hostage.
Even though my health improved, I remained perplexed regarding my own reaction to my vision loss. I was plagued with a persistent question: "How do adults who are blind and visually impaired cope with their losses?"
It was then that I made a personal commitment to conduct a study on coping strategies to help other adults with vision problems. The resultant Coping with Vision Loss Study documented useful information on multiple topics for newly diagnosed visually impaired adults, eye care providers, and vision professionals working in the field.
Her Life as a Writer
Throughout my life, I've always used writing as a catharsis. Today, I chuckle at my childhood diaries and perceived conflicts. Now, I realize those were my carefree days.
In the late 1980s, I had a burning desire to write a book and chose the stress of motherhood as my focus. Our daughters were in their 20s, on their own, and my parenting responsibilities were fading. In my first book, Energy Secrets for Tired Mothers on the Run, I shared what I had learned as a mother and parent.
My second book, Surgery & Recovery: How to Reduce Anxiety & Promote Healthy Healing, developed from a journal I wrote before and after a major surgery.
For support while working on my books, I attended several writing classes and met an extraordinary woman. Linda Peckham, Professor of English at Lansing Community College, had the unique gift of coaching writers while simultaneously critiquing their work. Several years later, Linda became the editor of my two books.
Serious eye conditions would touch both of our lives in the future. Linda has managed a graceful recovery from five retinal detachments and remains an inspiration to me.
Writing about World War II
In the past decade, my writing focus has shifted from health and stress to World War II, a most unusual twist. In 2001, I was given the opportunity to examine the personal effects of my uncle who had served in the war with the 9th Infantry Division.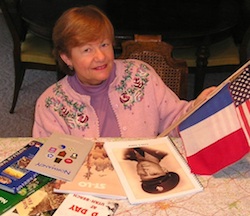 Staff Sergeant Lewis (Louie) Annear was killed in action on 7-11-44 near St-Lô, in Normandy, France. My husband and I intensively researched his military history, flew to Paris, and then followed his footsteps from Utah Beach until his death. It was an emotional journey.
Our story, France—following the footsteps of a soldier was published in International Travel News in 2004. I also wrote four articles on reunions of the WWII 9th Infantry Division that were published in Reunions magazine.
Taking my WWII writing a step further, I wrote the life stories of two veterans: "Ed," a Navy veteran who had served in the Pacific Theater and "Vi," who had served as a nurse in France. This was my way of thanking them for their service.
I donated Vi's life story to the Michigan Women's Historical Center and Hall of Fame in Lansing and also submitted her story for congressional recognition. On July 10, 2006, in Washington, D.C., Representative Mike Rogers recognized her. He read parts of her life story during a session at the House of Representatives and placed her tribute into the Congressional Record. Vi is now 98 and remains proud of this honor.
Life Is Good Now
My life is busy and full. Family remains number one in importance and I'm fortunate to have both of our daughters within an hour's drive. I've also played an active role in our three grandchildren's lives: visiting their classrooms, taking them out to brunch, shopping with them, attending their activities, and creating memories through an annual family vacation.
Since 1985, my husband and I have experienced diverse cultures by traveling to many parts of the world. To date, we've visited 49 countries, including Egypt, Russia, Yugoslavia, the Baltic States, Scandinavia, and most of Europe, including all of Great Britain. In 1994, we joined a special delegation to Konan-Cho, Japan to sign a "Sister City" Agreement.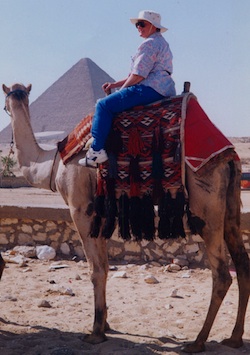 For the past seven years, I've been a volunteer with the Michigan State University College of Human Medicine's first-year medical students. I am their first patient. Two students come to my home every year to take a thorough medical history and perform a mini physical, including an eye exam.
This offers a wonderful opportunity for me to educate future physicians on the emotional, psychological, physical, and behavioral aspects surrounding visual challenges and coping strategies.
Family and friends are special. Reading, music, writing, and experiencing nature remain important in my life. Living on a river surrounded by trees opens up weekend opportunities. I relax by the water to pause, pamper myself, and appreciate what I do have.
Some final thoughts for VisionAware readers
When you receive a diagnosis of a serious eye condition, allow yourself to grieve the loss, feel the emotions, and connect with someone with a similar condition.
Be gentle with yourself. Reach out to family and friends, ask for help, and accept assistance if needed.
Advocacy groups and agencies, support groups, and vision practitioners can be a lifeline.
Finding the right match with a specialist is imperative. Keep asking and trying until you find the right one.
Mutual respect and good communication are essential. Be assertive. Ask questions, get answers.
Educate the public, your eye specialist, and other professionals working in the vision field. Share your journey.