Author Ed Henkler Helps Readers Support Parents with Age-Related Vision Loss
Interview by Mary D'Apice, COMS, peer advisor
A Diagnosis of Age-related Macular Degeneration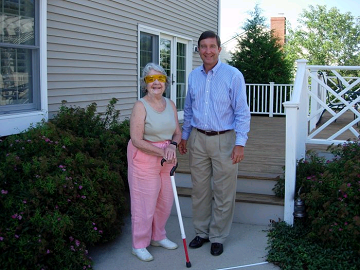 When Ed Henkler's mother, Jane, was diagnosed with age-related macular degeneration (AMD), he had never heard of the condition that caused visual impairment. As her vision loss progressed, Jane agreed to leave her full life in Florida to move closer to her son in Pennsylvania. But the family was apprehensive. Would Jane become homebound – trapped in a safe but restrictive cocoon? Would Ed and his wife sacrifice their own freedom to become caregivers?
Henkler was determined that AMD would not rob his mother of a meaningful life. But his expectations were surpassed when Jane embarked on a new chapter that held more than anyone in her family could have imagined. He writes, "If we are open to the possibility, losing something may re-engage us in life and help us better appreciate the wonders of life."
As word got out about Jane's successes, Henkler was overwhelmed by the number of friends and acquaintances clamoring for his advice. Now Henkler is able to offer practical guidance and hope to a much wider audience through his eBook, Blindness: Coping with Vision Loss From the Perspective of a Caregiver.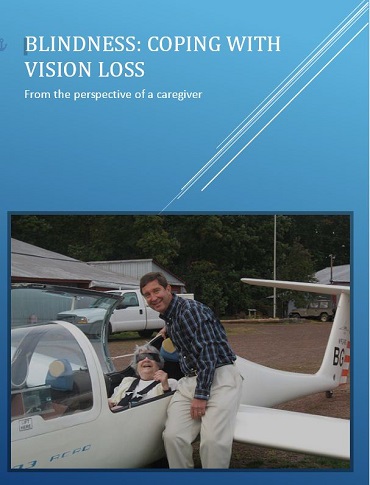 An Average Person Who Has Achieved Expertise from the Participant Perspective
In the book's introduction, Henkler emphasizes that he is not a medical professional, but "an average person who has achieved expertise from the point of view of a participant. Sometimes people want to talk to someone who is like them as opposed to an expert." The book is filled with useful tips and resources, but Henkler is also candid as he prepares families to navigate an emotional journey.
Henkler reviews the stages of grief as described by Elizabeth Kübler-Ross and reminds us that people reach acceptance at their own pace. Although well-meaning family members may be tempted to try to accelerate the process, Henkler stresses the importance of patience. Henkler also acknowledges that family members may need time and space to grieve as well. It can be painful to witness parents lose themselves as their roles change and they give up activities that once defined them.
Local Agencies for the Blind and Visually Impaired Can Offer Solutions
The family learned about the Montgomery County Association for the Blind when Jane moved into her new apartment and was provided with a list of local services. Henkler remembers how both he and his mother felt helpless walking into the agency, but grew increasingly optimistic as they demystified acronyms and were introduced to various professionals who would teach Jane new skills. He soon learned, for example, that what he first understood as "ONM" was actually O&M, Orientation and Mobility. The book includes a "Who's Who" among professionals who staff agencies for the blind, explaining that O&M Instructors, for example, teach people who are visually impaired to travel safely and independently.
First Steps in Adapting to Vision Loss
Soon after meeting with a social worker, Henkler remembers someone from the Montgomery County Association coming to inspect his mother's apartment and marking the dials on the stove with colorful paint for greater visibility. Jane, a former caterer who continued to cook at home, immediately took to these simple adaptations as well as assistive devices, such as a specially marked kitchen timer. But the most life-changing instruction was the training Jane received with her O&M instructor who taught her to cross streets safely and use a long, white cane.
Henkler's mother began mastering adaptive techniques but she had moments of self-doubt. She wondered if it was best to only venture out on the arm of friend or family member. When her son pushed back, she criticized him. "She didn't use the term 'mean' but I think she felt that I wasn't supporting her enough," Henkler recalls. "It's a delicate balance."
Often, there is a natural but uncomfortable role reversal when an adult child is responsible for helping a parent become self-reliant. And sometimes a dose of tough love is needed to steer the parent away from dependency. Henkler says he respected his mother's need for emotional support, but it was for everyone's benefit that she "spread her wings."
Jane built her confidence one neighborhood block at a time until she could do her own errands. A significant achievement was taking a solo bus trip to the Philadelphia Flower Show. Henkler describes the crush of crowds there as "mad," so indeed this was a landmark achievement worthy of celebration. Henkler admits feeling anxious about his mother's first independent trips, but he knew it would be unfair to wrap her in a protective bubble.
Aspiring to Thrive, Not Simply Survive
Henkler's expectations for his mother's quality of life were high. It wasn't enough that she survive vision loss; he wanted her to thrive. "If you set a trip to the supermarket as your goal, maybe your goal is too modest," he says. Henkler's eBook introduces his original concept of the six stages of thriving. The rubric delineates the stages, which progress from being able to accomplish basic tasks to living a life with no boundaries.
For inspiration, he presents role models including mountaineer Erik Weihenmayer, the first blind person to climb Mount Everest. "For some people, losing sight is the worst thing that could happen to them," Henkler believes. "So if you survived that, maybe the hurdles get easier."
Of course, it's up to the individual to define his own Mount Everest. A shy person might become an inspirational speaker, for example, or someone with modest business experience could become the founder of an important nonprofit agency. For Jane Henkler, her Mount Everest was traveling abroad. As someone who had never left the country before, joining a tour group to Germany was an exhilarating adventure.
Henkler's Website, The Blind Guide, Offers Additional Support
While his mother was a product of her generation and did not take to assistive technology, Henkler is excited about the incredible evolution of what he prefers to call "enabling technology." From talking books to accessible smart phones, technology has eliminated many barriers for those with visual impairments and more innovations are on the horizon.
Henkler highlights fascinating medical research which includes regeneration of retinal tissue and futuristic technology that uses the tongue to help people who are blind navigate their surroundings. Henkler's eBook can be purchased on his website, The Blind Guide, which includes updated information about emerging technology, links to companies that sell adaptive aids, and a blog.
Written with a generous spirit, the book and the companion website deliver advice in the reassuring voice of an old friend who has "been there." Initially, it may take courage, but seniors with an age-related visual impairment can move beyond surviving vision loss, regain their quality of life, and create a future without limits.