Brian: Paying It Forward and Giving Back
A Success Story from Bosma Enterprises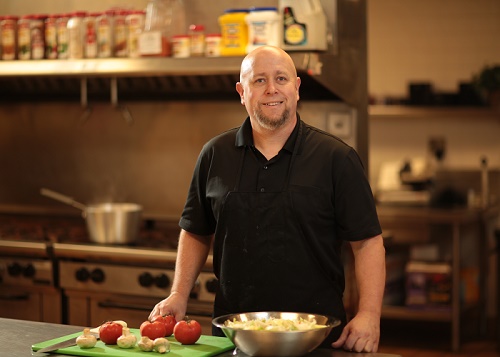 Brian was 35 when he began losing his vision. It came on suddenly: first in one eye, then moving quickly to the other. He was soon diagnosed with Leber hereditary optic neuropathy (LHON), a rare inherited form of vision loss.
At the time, Brian worked as a land surveyor. He was doing well and providing for his family. When he lost his vision, he lost his job too. But Brian refused to give up. He was especially determined to set an example for his teenage daughters. "It's very important in life to keep going – to keep pressing forward," he says.
Training at Bosma Enterprises
Brian began receiving training at the Bosma Enterprises rehabilitation center in Indiana. He learned how to navigate his vision loss and live daily life with independence. He learned how to use assistive technology. He received computer training. He learned how to cook safely. He excelled in orientation and mobility training.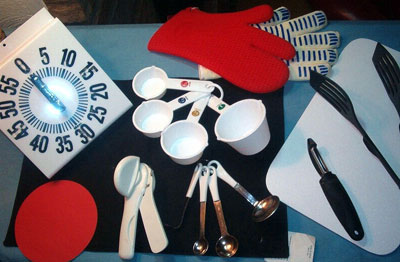 A selection of adapted items to help with cooking.
Learn more about kitchen safety and adaptations at Kitchen Safety 101.
"I got that independence and freedom back," Brian says. "I learned that I could do everything that I could do before."
Brian Returns to College
Inspired by his experience at Bosma, Brian went back to college. He then entered the Business Enterprise Program (BEP). This program is sponsored by the Indiana Division of Disability and Rehabilitative Services, Blind and Visually Impaired Services, which trains people who are blind or visually impaired to manage a business. Bosma Enterprises provides assessments and training for this valuable program. Today, Brian owns a successful food service company that operates out of the federal Air Route Traffic Control Center in Indianapolis.
Brian Gives Back
As Brian's business flourished, he realized he had an opportunity to give back. When he needed to expand his team, he turned to Bosma Enterprises to find a candidate and eventually hired Marty, who also has a visual impairment. Together, Brian and Marty make a great team. They appreciate their customers, and they enjoy working together.
"It's great to pay it forward," Brian says. "I think everybody deserves the opportunity. We can do it. We just need the opportunity."
Brian credits Bosma Enterprises with changing his life for the better. "Bosma changed my life in so many ways," Brian says. "To lose your vision later in life is tough. But through Bosma, I gained my freedom, my independence and my confidence."