Visually Impaired Poet and Songwriter, Dave Steele, Is Raising Awareness About Living with Retinitis Pigmentosa
By Maribel Steel
When Dave Steele learned that he was losing his sight to Retinitis Pigmentosa (RP), he took to expressing his fears, thoughts, and experiences through writing poems, songs, and verses. After only two years of writing, Dave has created quite a following with his book, Stand By Me RP, a touching collection of poems reflecting on his journey with vision loss. By sharing his personal story, Dave is raising awareness of what it is like to live with vision loss after being sighted. The message in Dave's poems can help those going through similar issues feel that they are not alone in what can be an isolating stage of vision loss.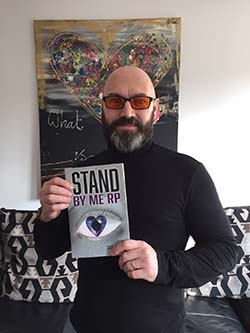 "I have always believed that music and poetry can make an impact, touch the heart, and heal the soul in a way like nothing else." —Dave Steele
Dave Steele: Living with Retinitis Pigmentosa
Maribel: "Hi Dave, can you tell us when you first learned of having Retinitis Pigmentosa (RP) and what happened at that point in your life?"
Dave: "Thanks for this opportunity to share my story. I live in Manchester in the United Kingdom, and I was officially diagnosed in April 2014 during a routine visit to the optician—since that day, my life has changed dramatically."
"Within the first few days, I was told I'd never drive again; I lost my job, and my family's life was turned upside down. In the following months, we were plunged in to poverty and eventually had to move home due to not being able to afford our rent."
"My eye sight started to deteriorate rapidly and with it went my confidence and independence. I became reliant on my wife and wouldn't leave the house on my own. For around eight months, I fell in to a cycle of depression and anxiety due to my lack of vision and a deficiency of support from the system that was meant to be in place to support families like mine. I was also consumed by a guilt that my children may have to suffer the same fate as me when they were older, with no way of knowing till then."
Solace in Song Lyrics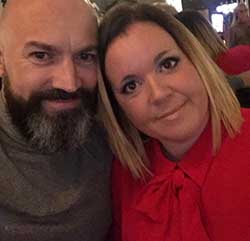 "Then one night, things changed for me. Lying in bed one night, I had the idea to use music and poetry to share my story with others. To let those like me know that they aren't alone in their struggle to come to terms with sight loss. Within 20 minutes, I had taken the popular song "Stand by Me" by Ben E. King and rewritten the lyrics to speak about the hopes and fears of those like me. The result was my 'Stand by Me RP' song!"
"I knew that night that this would be the start of something huge. For the first time in what felt like an eternity, I had a purpose again. In the two years that have followed since that night, my life has changed in ways I'd never imagined. I've told every step of my journey in the form of poetry and have written nearly 400 poems to date, which have been read and shared around the world by thousands of visually impaired people and their loved ones through my Facebook page."
"I continue to write every day to raise awareness and help others by talking about all aspects of living with sight loss. This has been the singular thing that has rebuilt my soul, and I know that I'm still only just getting started."
Embracing Life Again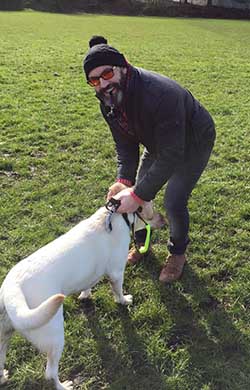 "I was matched and trained for my first guide dog in February 2016 after being on the waiting list for 18 months. In fact, I got the phone call to inform me of my potential match as my wife and I were driving to go to lunch to celebrate the release of my first book of poetry."
"I have discovered, too, that RP can be a blessing and a curse. Since losing the majority of my sight in the last two years, I still battle everyday with anxiety, fears for my future and the future of my children, while I seek acceptance from people who are full of misconceptions. I am constantly adjusting as my tunnel of sight continues to shrink—although, RP has also blessed me with the ability to realize the important things in life. I know I am never alone with this and have met the most amazing people within the RP and Usher community. Through my blindness, I have discovered a new found gift for talking about the things that a lot of us go through when faced with going blind."
Read Dave Steele's Poetry on VisionAware
Stand By Me RP by Dave Steele
Since Dave's book was released in 2016, it has been named a #1 release in the United States and Australia. Volume two has also been released.
Stand by me RP Volume 3, available on Amazon.