Ashley Nemeth: The Importance of Learning Life Skills
My name is Ashley Nemeth and I am from Saskatchewan, Canada. I am a 29-year-old legally blind woman. I was born visually impaired with ocular albinism, nystagmus, strabismus, and astigmatism. My vision has always been around 20/400.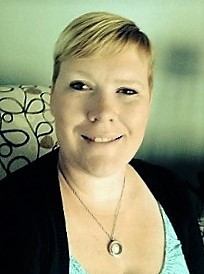 Vision Did Not Impede Me As A Child
As a child my vision never really affected me, I played sports, I rode a bike, I loved to ride horses and did many other things that all normal kids do. As an adult, my vision has been a lot more unstable and fluctuates a lot. I have found it to be more difficult to do things, and have had to learn to cope with deteriorating vision.
As an Adult, My Visual Disability Does Not Define Me
I am a very outgoing individual who will never let a disability stop me from doing anything. If I am told I can't, it makes me want it even more. My visual disability does not define me or what I will do in life; it is simply a part of me, a part I overcome daily.
I am a mother of three young children, ages 10, 7, and 6, and enjoy many hobbies, along with spending time with my kids and husband. For example, I love to go camping and hiking, reading (audio and braille books), and writing.
Independence has always been very high on my list of requirements for myself. From a very young age I did not want to rely on others for anything. I wanted to find ways to do it myself.
CNIB Helped Me Gain Independence
As a child I became involved with the CNIB (Canadian National Institute of the Blind). They offer many services to Canadians in way of helping gain the independence we all need and want.
Orientation and Mobility
I took Orientation and Mobility training, learning how to safely cross streets and navigate my neighborhood. I also learned how to find landmarks and gain the confidence to travel where I needed and wanted to go on my own. As was necessary I then learned many of the same skills and added a white cane as my vision deteriorated. These skills were absolutely necessary in building confidence and independence.
Life Skills
Life Skills were also instrumental in gaining my independence. The skills I gained through this service at the CNIB were basic cooking, cleaning and daily living skills.
Computer Skills
I gained computer skills using assistive technology in school that was provided by the CNIB. As well as Braille literacy. I have also been provided with many magnifiers and assistive devices through the CNIB that have been a life saver and made things so much easier for me.
Rehabilitation Services Made the Difference in My Life
The programs and services that are offered through the CNIB have been very instrumental in my ability to gain the independence that is so important to me. The support that they provide has given me the ability to raise my children and have a family, as well as gain employment, without the skills that they helped me acquire I would never have been able to have the confidence or independence that I needed to do any of the things I have accomplished throughout my life so far.