Interview with Peter Middleton, Producer and Director of "Notes on Blindness"
By Mary D'Apice
Recently, I had the pleasure of interviewing Professor John Hull, author of the acclaimed book, Touching the Rock: An Experience of Blindness. The book is based on audio diaries Hull recorded from 1983-1986 after he lost his sight and chronicles his journey from the world of the sight to the world of blindness. Insightful and probing, Hull's book is a theological, philosophical and sociological meditation on the state of blindness.
Now, more than 30 years after Hull's initial diary entry, filmmakers Peter Middleton and James Spinney are working to bring Hull's story to a wider audience as the feature film Notes on Blindness. I interviewed producer and director Peter Middleton about his artistic vision, his passion for Hull's work and his efforts to bring Notes on Blindness to the screen.
Mary: Tell us how you came to make the film Notes on Blindness.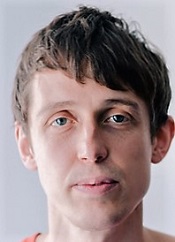 Peter: Back in 2010, we were researching for a short film on the blind and partially sighted experience of snow and adverse weather conditions. Initially we were interested how blind people cope in such conditions. In our search for blind subjects to interview we came across Touching the Rock. In the book there is a really interesting passage in which he describes how snowfall distorts his world — leveling out contours of his surroundings and removing all navigational markers. Underfoot, the different textures of the ground: grass, tarmac, paving, become indistinguishable — disarming him of his ability to navigate his daily environment safely and independently.
So we contacted John Hull and things developed from there. After making the film about snow we proposed to John the idea of a longer piece using the original audio diaries that Touching the Rock had been based on. In May 2011 we collected from John this dusty box of cassette tapes — 16 hours in total, which hadn't been played for over 20 years. It's an incredible archive.
According to John, the process of keeping the diary was a way of coping with the pain of adjustment — a sort of catharsis. He said at the time he would share with the tapes with what he felt he couldn't burden his family. This gives the recordings a real emotional rawness. We set about transcribing the material and within the first hour or so of listening we knew we had something very special on our hands that would make a really unique piece of cinema.
Mary: How do the diary entries translate into a screenplay?
Peter: Notes on Blindness has a documentary backbone in that the content is factual but we're aiming at something more cinematic, in which John's journey into blindness has the audience riding along with him. Our themes are family, his depression and the transformative experience of blindness.
We will be drawing from old photos, interviews, television appearances and the dialogs John recreates in diary entries. The audience will learn the story of how John went blind through the conversations he has with his young son, Thomas. The script gives his wife Marilyn an active voice, which takes the film out of the subjective (viewpoint) and really broadens the scope.
Mary: In John Hull's description of his loss of sight, what resonated with you?
Peter: John's recordings contain much rich, evocative imagery that resonated with us emotionally and intellectually. In particular, we were drawn to his descriptions of the neurological effects of blindness, especially where John reveals that his visual memories are beginning to fade and he is forgetting what his wife and children look like. He discusses how the recession of the visual memory also has an impact on his sense of self — impacting on the relationship between the body image and his identity — the "horror of being faceless," of forgetting one's own appearance — a "dematerialization of his body."
What is so fascinating about John's story is how over time he concludes that he can no longer live in 'the nostalgia' of visual memories. He decides to renounce the visual world, let his memories fade and to live wholly in blindness. It is a decision that will ultimately lead to his coming to terms with his blindness.
Mary: While he talks about the absence of sight, Hull's work is very evocative and full of visual images, particularly when describing his vivid dreams. What images strike you?
Peter: John likens blindness to a halfway state of consciousness, "the borderland between dream and memory." This phrase has really helped inform the visual aesthetic of the film: vibrant, stylized cinematography that complements his considered interrogation of the blind condition.
John's dream life throws up some really exciting cinematic possibilities. In the early years of his blindness, he goes through an intense period of dreaming — as his brain tries to compensate for the lack of visual stimulation. He has these powerful, "Technicolor dreams," which he embraces as a vital source of entertainment. For him, they are a means of "cognitive refreshment" and an escape from the intense boredom of blindness.
In particular he has a series of dreams about the sea — of being dragged down on a sinking ship and of huge waves crashing down and sweeping him and his family away. All of these are fantastically cinematic and we're really looking forward to getting our teeth into staging them for the screen.
Mary: Can a visual medium be faithful to the experience of blindness?
Peter: This is a really interesting question — and difficult to answer.
There have been some very successful films about the subjective experience of blindness, such as "Black Sun" by British filmmaker Gary Tarn, which follows the recollections of Hugues de Montalembert, blinded in a horrific attack in New York in the 1980s. There is also Derek Jarmen's "Blue," or "Blind Loves" by Juraj Lehotsky. These films illustrate the possibilities for effective examinations of blindness to be framed in filmic medium; that cinematic imagery can be powerful not only in terms of expressing John's struggle with the losses of blindness, the last vestiges of visual cognition in dream and fading memory, but in what John calls its 'riches.'
We recognize the creative sensitivity needed in approaching these subjects (often our use of visual representation has to suggest its own negation!) and the artistic challenges are significant. This is, of course, a large part of the attraction to the subject matter.
Not forgetting, too, the rich role of sound in the film, which we hope will go beyond supporting or augmenting the picture but become a world in itself, immersive and coherent in its own right, and one by which every viewer — sighted and non-sighted — might have a unique experience.
Mary: Why do you think it is important for Hull's story to make it to the screen?
Peter: Touching the Rock is a really important contribution to the social, cultural and scientific discourse on blindness as well as being an inspirational read for people going through similar experiences of sight loss. There are few who articulate their experiences with the same intelligence and precision as John does in his diaries. It's an astounding work.
Mary: Thank you for this interview. We look forward to the completion of the film.
Recommended Resources