Janice Cantrell, Volunteering and Dancing Bring Joy
Dancing Has Brought Freedom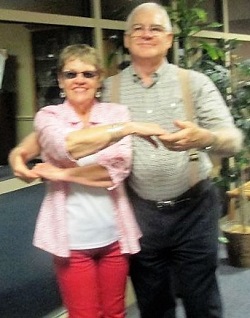 For Janice, dancing has brought her freedom and joy after losing her husband of 25 years. Born with retinitis pigmentosa, she had some vision until she was around 40 years old, when she became totally blind.
Getting Rehabilitation Services
When that happened, she contacted the Texas Department of Assistive and Rehabilitative Services (DARS) Division for Blind Services for help. Through them she learned braille, cooking, and cane skills. She also learned about Talking Books through the Library of Congress. Her kids were embarrassed about her using a cane, but she insisted that she had to learn to be independent.
She decided to do telephone work at the Dallas Convention Center and also worked on the switchboard at DARS. While there, her eye doctor brought people over to see her working as a blind person to help them understand that people who are blind can still work. She was a switchboard operator for 20 years; raised her family of three children; and was happily married.
When her husband passed away, however, Janice withdrew. One day she decided life had become too small and lonely. She decided to reconnect with life.
Janice Reconnects with Life
Now she has an iPhone with an app on it so she can use Talking Books on the go. She has even gone back to ballroom and country and western dancing four or five evenings a week. Many of the places she dances attract the same crowds each week, so Janice has made many devoted friends. Now, she does her own thing and her grown kids do theirs.
When she moved into her present apartment, which is a senior apartment, a friend who is an orientation and mobility instructor helped her with setting up her apartment. They unpacked everything together. Her friend helped with marking and oriented her to her new area. She also has a wonderful volunteer who helps her and takes her grocery shopping.
Her Volunteer Work is Key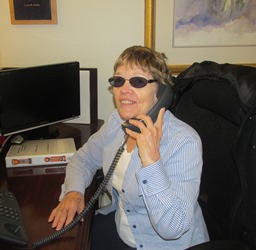 Janice volunteers as a receptionist for the AFB Center on Vision Loss twice a week. This involves greeting visitors to the Center and answering phone calls for AFB throughout the country! At the Center she feels she can inspire others who have lost their sight. She also volunteers with girls at her church, helping them learn to memorize Bible verses. For that, she uses her Bible Courier with earphones.
Janice's Advice
"People who are losing vision should not wait. They should start trying to locate help right away. She says, "Don't stop living. Keep going. If you find that your vision is changing, seek help. Don't let yourself go into a shell. Let yourself be open. Talk to someone who is visually impaired. Through being open about my vision loss, I can help others, including my granddaughter who is ten and is blind from optic nerve hypoplasia. But she plays piano, drums, and lets nothing stand in her way of her music!"