Tuesday Night Tandems: An Opportunity for Fun and Fitness
So it's snowing outside and you are bored and feeling out of shape. What comes to mind? Probably not tandem biking! But according to tandem bikers Bob Hartt and wife Bonnie O'Day, maybe it should! Or at least you should be preparing for it, such as taking a spin class. You'll find out more about that in the interview below!
In this interview, Bob, who has retinitis pigmentosa, and Bonnie, who has been legally blind from childhood, discuss starting Tuesday Night Tandems, a tandem bike club in our nation's capital for bikers who are blind or visually impaired. Very successful, their club has already been featured on Voice of America! (Listen to the audio version of the Voice of America video or read the transcript).
Both are recent retirees. Bob was manager of legislative affairs and program outreach at the U.S. AbilityOne Commission and Bonnie was a senior health researcher at Mathematica Policy Research.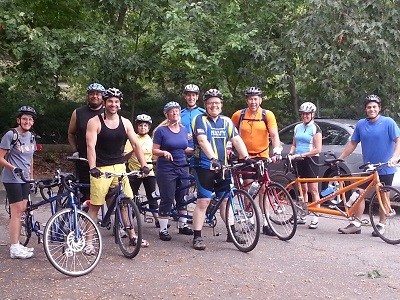 Tuesday Night Tandem club members with their tandem bikes
The Importance of Physical Activity
Pris: What is the most important point you want to get across to the VisionAware audience?
Bob: To me, one of the most critical things is the importance of physical activity. We call volunteers who ride in the front "captains" or "pilots" and we are called "stokers". The kind of riding we do is not super competitive. But it's sometimes hard to attract captains if you don't have a minimum level of physical ability and stamina. So, that's one reason why we do this. It forces us to keep in shape. In the blindness community, obesity is just as much, if not more of a problem, than it is in the general population. So to me, the point is to choose to maintain some physical activity even during the winter to keep in shape.
Bonnie: People with normal vision are used to recreational activities that you have to see to do or we have to do with major modifications. Maybe they played golf; maybe they played tennis; maybe they were in a baseball league. But, when they begin to have problems seeing the ball, they think they can't continue to play. So, part of the message here is there are still many opportunities to stay active.
Bob: You need to think of what you've always enjoyed with better vision and how you can make modifications to still enjoy those activities. I'll give you two examples:
I grew up with pretty normal vision. I had retinitis pigmentosa. I drove for almost 20 years and I used my vision a lot. I grew up in Massachusetts and I was an avid skier. I started to do some cross country skiing in college. Then I got busy with the job search and getting married and having kids. As I lost more vision, I felt it was going to be really hard for me to continue to ski. I had to find people to help me with skiing. I couldn't drive and it's hard to get to the ski slopes. Through an article a friend wrote, we found out about "Ski for Light"." Cross Country skiing is a way for me to keep doing something. So with the patience and support provided through Ski for Light, I'm able to continue skiing. We've made many good friends, both sighted and blind, that we now visit in different states. We go skiing with them on our own outside of the regular Ski for Light program.
The other one is tandem biking. I used to ride a single bike when I was growing up as a kid all the time. Thus, I thought that tandem biking would be a way for me to get back into cycling. So we decided to get a used bike and try it out. We put a message out on a listserv of a local bike club looking for volunteers, and that's what led us to start this group. And, just like Ski for Light, it's led to many great relationships, aside from the fact of getting the physical activity we were seeking!
Starting a Group
Pris: So if people don't live in your area or don't have a tandem biking group in their own area, would you encourage them to start a group? And, if they did that, what factors would they need to consider if they wanted to start something in their own community?
Bonnie: We struggled a bit about what to do first. We weren't sure if we should buy the bikes first or find the captain first and then think about investing in the bike. Also, we needed to buy two bikes because we're both visually impaired. We decided to buy a tandem first. So when we looked on Craig's list, we happened to find a seller who was selling two bikes. We found an old Huffy, which they sold for about $200, and an old but nicer Trek, which they sold for $800.
Bob: The $200 was really a bargain. I'd say you may need to spend probably $500-$800 or even more for a good used bike.
Bonnie: After we got the tandems, we started looking for tandems ourselves. We advertised and said we had our tandem bikes. We thought that tandem riders would be our best recruiting source. But we found that people who ride tandems already have a partner. So it was easier to find people who rode a single bike and who were interested in a new challenge and a new experience.
Bob: We hooked up with a local bike club who did some advertising for us. That's how we got started with a group of single bike riders who wanted to try tandem riding.
Finding the Right Bike
Bob: People need to be aware that there are different size bike frames when buying a bike. I would recommend going to a bike shop and get a fitting of what size bike works best for you. Also, we often ride with different volunteers. One person isn't always available when you are, and we've built up a network of people with different heights and different weights. So, it's helpful to buy a bike that's pretty adjustable, e.g. the seats go up and down and the handlebars fit you in the back and your captain in the front. After we learned all of this and felt sure we had enough captains to ride regularly, we upgraded the Huffy to a Co-Motion and donated the Huffy to the Columbia Lighthouse for the Blind.
Becoming a Tandem Bicyclist
Pris: Do most of the tandem bikes today have gears? I am only familiar with the old one-speed type.
Bob: Today they have 10 gears or more. They come now with a lot of different gears. The gears have made it easier to pedal when you're on
Pris: Would a person already need to know how to cycle before attempting tandem biking? Is balance important?
Bob: A lot of it is communication with your captain. The most important thing to know is to keep yourself centered on the bike. You don't want to lean from side to side or shift your weight because it can throw the bike off.
Bonnie: Some people say that it's easier to ride with people who are blind or visually impaired than it is to ride with sighted people because sighted people do automatically lean as if they were steering. And we don't tend to do that unless the captain tells us to.
Pris: Good point. It's kind of like dancing. The partner is the one who should lead; that whole concept.
Bob: Yes, in starting the bike after stopping, some captains push off with their right foot and some with their left foot. It takes a little longer to get the tandem bike rolling than it does a single bike. So the hardest part is starting and stopping. Successful stops and starts depend on the communication between you and your captain.
Bonnie: There's a really good video of the Blind Stokers Club in California. While the rides occur in California, they have a nation-wide data base that matches sighted captains with blind stokers. We've found a couple of captains through them. Readers may want to view their 2-part training video for stokers and captains. Each part is 26 minutes and was shot at the Challenged Athletes Foundation Clinic Festival during the San Diego Triathlon Challenge, Celebration of Abilities weekend in October.
Importance of Getting in Shape
Pris: Any other pointers to share?
Bob: One thing that we mentioned at the beginning of the interview is that it's important to get in shape. One of the things we've done is to sign up for a spin class. Spinning is similar to using a stationary bike. On a spinning bike, you lean forward when you ride rather than sitting upright like you do on other exercise bikes. Most health clubs have them. These spin classes are oriented more towards younger people and they play loud music. So some older people might find taking these classes difficult.
We've tried different classes at different health clubs before finding the one we like. You need to talk to the instructor before the class to clarify what the instructor means when he gives an instruction. In one class we took, the instructor just yelled out, "Ok, position 3," without explaining what he meant. Sighted people can see what the instructor does, but people who are blind or visually impaired need more explanation to understand what "position 3" means. In position 3, you stand up on the bike and lean forward as though you were climbing a big hill. I would suggest people might want to try a spin class or some type of exercise to get in shape for cycling if they want to do it seriously.
Where and When
Pris: Do you plan your rides ahead?
Bonnie: We have a specific time and place where we all meet and then decide where we want to ride that week. It can depend on the weather and how long we will have daylight. Most bikers are employed, so we meet after work.
Pris: Where do you ride?
Bonnie: We ride trails. We ride the Washington and Old Dominion (W&OD) and the Mount Vernon trails in Alexandria.
Bob: There's a whole network of trails that we ride in the Washington area. Sometimes we ride out to Bethesda. There's a trail called the Crescent trail. And there's a new bridge they built over the Potomac River called the Wilson Bridge. We also ride over to a place called the National Harbor. But there are a lot of trails in this area.
In addition to our regular weekly ride, we plan longer rides that are out of the area. For example, there's a ride organized by the local bike club called the "Great Pumpkin Ride" in Warrenton, Virginia. It's about an hour away from Alexandria and it has different options for the length of the ride of 15 miles, 30 miles, or 60 miles. Going on these trips takes a little more planning because you have to have volunteers with appropriate bicycle racks on their cars to transport the tandems. But we do work that out. We go to the Eastern shore or to Northern Virginia. Usually not as many people can go on those trips, but we really enjoy those rides too because we are riding with hundreds of other bicyclists.
Pris: So you join in with a larger group of people?
Bob: Yes. Sometimes the rides are fundraisers. The water conservancy group on the Eastern shore hosts a big bike trip every year to raise funds.
Recruiting
Pris: Are you presently recruiting or accepting any more members?
Bonnie: We have a list of eight or ten stokers and a similar number of captains who have expressed interest. We have two coordinators: one for the stokers and one for the captains. Our captain coordinator sends out an email each week asking who wants to ride the next Tuesday. He then matches the visually impaired person with a captain.
Sometimes we don't have enough guides for the number of visually impaired people so not everyone can ride each week. And not everybody wants to ride every week. Also, we're not really riding much in the winter of course. But in the spring, if we have some spots available, we would be happy to talk to people who might be interested.
Pris: If people want to join your group, how would they go about getting in contact with you?
Bonnie: They can contact us by email at bonnoday@gmail.com. They can also contact us if they want to start a group in their area and have questions for us.
Pris: Thanks very much for this very informative interview. I hope to see you next "in the saddle"!
More Information about Tandem Biking
---
Audio of Visually Impaired Couple Takes to Bikes on Voice of America
Audio Transcript
Reporter: Bonnie O'day and her husband Bob Hartt have caught a cab to the house on a quiet tree-lined street where the Tuesday Night Tandems are meeting. Bonnie has been legally blind since childhood. Bob was blinded by a progressive eye disease and walks with a light cane. Mark Mulligan pulls up with their bike locked onto a rack on top of his car.
Mark Mulligan: Ok this is gonna come pivoting out so…
Reporter: Mulligan carefully unloads a 3.2 meter long seater three-seater to accommodate the couple and himself.
Bob Hartt: Is there something here I have to be careful about?
Mark Mulligan:Yeah, there's a camera right here, right there. Come on so I can lean it towards you.
Reporter: On the other riding team, Jim Durham suffers from hearing loss. He adjusts a two-way radio headset so he can better hear his partner Marvin Delanska who is blind.
Jim Durham: This could work.
Margaret: Let's try it and find out.
Jim Durham: Can you hear me?
Reporter:Durham has carefully mapped out the route—one that the riders are familiar with.
Jim Durham: We have great weather. We go down Ft. Williams, cross 6th Street and down to Homefront Trail and we are going to stop at the stop sign and make sure…
Reporter: The bikes pick up speed as they move downhill out of the neighborhood. As they approach city streets, they are careful to obey traffic lights and stop signs.
They turn on to a bike trail that leads them into a park along the Potomac River in tandem lane with Mulligan as team captain. His job is to make sure there are no surprises for the blind riders that sit behind him. They are called "stokers".
Mulligan: You are supposed to tell them what's coming up, what's going on. The difference is learning to actually describe what we are doing. I call it the cruise director. You are trying to describe the sights as you're going on.
Reporter: After dozens of tandem rides, the three work together like a well oiled machine, acutely aware of one another and their surroundings. Hartt says the ride is like a choreographed dance.
Bob Hartt: It just feels great. You've got your speed going. You're going around some curves and you're all in sync. It's really a great feeling. You get that breeze.
You get a little wind chill and it cools you right off. It's a lot of fun.
Woman: How about you, Bonnie?
Bonnie: I get to be out in nature doing something faster than walking, which is really good. And as I go by things, I get to smell them. I get to experience the wind in my face, and the smell of the flowers and the bakery, if you happen to go by one.
Hartt: Like we did today…
Bonnie: Like we did today (laughs)
Nearly three hours later, the bikers head down the home stretch—tired, hungry but happy, just like any cyclist who has just ridden 40 kilometers like O'day says.
"You know we are not unique in any way. There are a lot of blind people that ride tandems and of course, when we are riding, the people who are around us don't know that we are vision impaired. So, we are just out there doing a regular thing, just like everybody else. And I think that's good."
Reporter: The teams pull into the driveway where they started their ride. Hartt and O'day dismoount and give each other a hug buoyed by a sense of confidence and camaraderie carry back into their daily lives. Roseanne Skrible, VOA News, Washington.
Bob Hartt: Hey Mark, give me five.
Mark Mulligan: Thank you. Good ride.