The Triumph of Relentless Romero: A Legally Blind Ultra–Runner Crosses America
A Legally Blind Ultra–Runner Crosses America
By Mary D'Apice, MA, Itinerant Rehabilitation Teacher for Bosma Enterprises in Indianapolis, Indiana.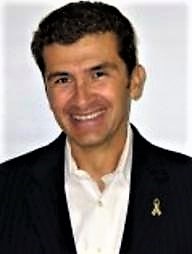 On May 23, 2016 at 8:30 p.m. a small crowd cheered as the battered and nearly delirious Jason Romero hobbled up the steps of City Hall in New York City to complete the final steps of his 3,000 mile run across America. He had left Santa Monica Pier in Los Angeles only 60 days earlier, traversing 13 states, three mountain ranges, and two deserts at an average rate of 52 miles a day. Only six other athletes have crossed the country at such a remarkable speed. And they had the benefit of being fully sighted.
Romero says his sense of smell and hearing have sharpened since he stopped relying on vision alone. He says the soundtrack of America is both the roar of the highway and distant sound of a tractor rumbling across a field as birds chirp in a nearby nest. America smells of exhaust, methane fumes from cattle farms in Texas, and an afternoon shower in the Alleghenies, Romero explains. "America is the land of the free, and I guess that is why it can smell and sound so differently."
Romero has tunnel vision, reduced acuity, and night blindness caused by the degenerative condition retinitis pigmentosa. Following a diagnosis at age 14, Romero shook off the dire predictions of impending blindness and refused to set limits for himself. He excelled at high school sports, went on to earn degrees in business and law, founded a nonprofit organization for autistic children, and climbed the corporate ladder.
For most of his life, however, Romero took pains to hide his visual impairment. He recalls a time when workdays were spent just rearranging paperwork because he couldn't see well enough to read. Preferring to use his magnifiers in the privacy of his own home, he'd bring mountains of legal documents home to read well into the night. "I'm not blaming society. I put myself in the closet," he said.
Romero resisted being identified as the blind Dad or the blind corporate executive. But he quite literally embraced the label when he embarked on his epic journey, VisionRun USA, proudly wearing a fluorescent yellow runner's bib emblazoned with the words legally blind. "I wanted to show the world what blind people could do if given the chance," Romero said.
The Making of an Ultra–Athlete
Beyond marathons, beyond triathlons, lies the world of ultra-running—extreme tests of human endurance that would make even a Navy Seal shudder. As a kid growing up in Colorado, Romero once watched in fascination as an uncle ran around an indoor track for 6 days to see how far he could go. Romero laughed, "Now I've reached 'crazy uncle' status."
Romero ran his first marathon in law school but did not pick up running again until 14 years later while working in Puerto Rico as a general manager of General Electric. Raising a family and running a nonprofit for autistic children left little time for exercise. Romero hadn't realized how much the corporate lifestyle of rich meals, alcohol, and cigars had caught up to him until he was invited to join a casual walking club. The members' paunchy profiles made them easy to underestimate, but Romero was stunned when the men left him in the dust on the indoor track. He trained in secret, rejoined the group weeks later and then started running seriously. His competitive streak ignited, Romero went on to compete in marathons and triathlons, all the while viewing each course through tunnel vision.
Following the six-year stint in Puerto Rico, Romero returned to Colorado with his wife and three children. But his marriage was falling apart and he turned to running as a form of therapy. On New Year's Day, the year he would turn 40, Romero decided he would run 40 miles at a stretch. The New Year's run was the gateway to a series of grueling competitions which included Badwater, a 135-mile run through Death Valley in July, and the notorious Leadville 100, in which participants complete 100 miles in 30 hours through the Rocky Mountains.
Navigating Races with Night Blindness
Although Romero says he stumbled a lot, he was able to avoid serious spills during daytime races by carefully previewing routes and memorizing the terrain. After dark, however, he experienced severe night blindness. Not only did the Leadville race present the challenge of a 10,000 foot summit, but the 30 hour time limit required he run straight through the night.
Romero learned to use trekking poles to help feel the terrain and wore a bright headlamp. He was often aided by guides who wore reflective ankle bracelets and ran just ahead, alerting Romero to obstacles like boulders or tree roots. Romero much prefers paved roads to trails because he can run swiftly when he is able to follow a painted line. When a line fades or disappears entirely, Romero sometimes has to crawl to feel for the edge of the road and regain his orientation.
Romero is Called to Run Across America
Following his divorce, Romero left corporate America to head a school for autistic children and care for his children part-time as a single Dad. His life was already in major flux and the earth seemed to move under him in 2013 when his eyesight deteriorated dramatically. Romero voluntarily stopped driving because he feared he would be unable to see pedestrians in his shrinking field of vision. Running didn't seem possible when he routinely tripped and stepped off curbs when on nighttime walks with his children.
The high-achieving executive found himself unemployed and began collecting disability. His mood darkened as he was crushed under the heavy loss of his marriage, job, and eyesight. "I ended up in bed, flat on my back for three weeks until my mother convinced me to see a doctor." When Romero refused medication, his doctor suggested he could stimulate the mood-altering brain chemicals that defeat depression by getting his heart rate up four times a day. Romero was buoyed by the possibility that he might be able to run hard and fast enough to break out of his debilitating condition.
Seeking the advice and support of other visually impaired runners, Romero joined the local chapter of Achilles International, an organization that provides volunteer guides for disabled athletes. It was a revelation. "I was running with people who had never had any sight," said Romero. "To them it was no big deal."
During his recovery, Romero volunteered at a homeless shelter, checking people in for showers once a week. He remembers looking at the list of names on his clipboard when he was overcome by the notion that he would run solo across the United States and show the world what blind people could achieve. "The idea came from nowhere, and it was so overwhelmingly powerful that it scared me." Romero said, "I knew I had to tell someone before I could pretend it didn't happen. I texted my Mom, "I'm going to run across America and in five minutes she replied 'I'm in'."
The Race to the Starting Line
And so began the 18-month journey to get to the starting line. His 70-year-old Mom agreed to pilot a 12-year-old van as his sole crew member. Romero steeled himself for the challenge of raising thousands of dollars, planning the trip, and training for the run of his life. All the while, he had to muster the courage and conviction to tune out the naysayers. "Some people laughed at me," Romero said. Other well-meaning people warned him that the stunt would put the divorced Dad at risk of losing custody of his children. But for every doubter, Romero was touched by how many "angels" had his back.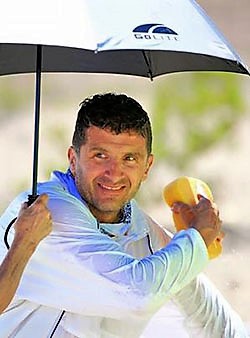 Romero tried to use Google Earth maps to chart his course but he struggled because his shrinking field of vision prevented him from seeing the entire computer screen. "At that point," Romero recalls, "I practically had to climb poles in order to read each letter of a street sign." So his friends at Achilles International designed a route he could complete at an average rate of 52 miles each day running 12-13 hours at a stretch while minimizing night runs. Romero also enlisted the support of the United States Association for Blind Athletes to attract media attention. "I wanted people to read the headlines and talk about 'that blind guy' running across America."
Romero proved to be an adept fundraiser, rallying the financial support of donors and corporate sponsors who donated products such as lighted vests, clothing, and granola bars. One company gave Romero a baby stroller so he could attach headlamps to the front and use it as a mobility device. "If the terrain changed, I could feel it and would catch myself before a fall," Romero explained.
The Kindness of Strangers
On March 24, 2016, Romero left the Santa Monica Pier with a bold mission and a heart full of hope. For the next 3,000 miles, he would brave wild animals, menacing teens with firecrackers, and excruciating pain. Romero was hit by a car once and had too many heart-stopping near misses to count. Though the journey was not without adversity, Romero still gets emotional when he thinks about the goodness he encountered. "There is a lot of wonderfulness out there."
Alarmed by the sight of Romero prone on the side of the road while his mother massaged his legs, strangers stopped and offered to call 911. Trains tooted their horns in support as he raced along the tracks and numerous strangers offered their prayers. Drivers would see Romero running, assume his car had broken down, and stop to give him a lift. When they heard Romero's story, they would press cash into his hands. "People would tell me, 'whatever you do, make it to New York'."
On occasion, strangers who had read Romero's story on the Internet or saw his photo in the local paper would appear to run by his side. One man dressed only in a t-shirt and shorts accompanied Romero in a downpour, as semi-trucks splashing through puddles caused tidal waves to wash over them. The stranger refused to accept a ride in the van and forged ahead until they arrived at a restaurant where the man's mother served Romero the best cinnamon roll of his life.
Romero recalls the time he crossed the New Mexico state line and was mystified to find a woman and her daughter standing by the side of the deserted road. When she called out, 'It's Destiny!" he realized that this was the waitress from the diner he had visited on the drive from Colorado to the starting line in California. She had promised to bring him food, and there she was with his previous order, a carne asada burrito with no sour cream. Stunned and grateful, Romero said he literally dropped to his knees.
Lifelines and the Lonely Roads
On his solitary quest, Romero found little distraction from thoughts in his head that alternatively tormented and comforted him. Sometimes he used music to drown out the din of painful memories, regrets, or feelings of despair. Other times he welcomed quiet meditation which brought insights – the need to forgive oneself and others, the power of faith, the importance of greeting each day with hope. And every day was a brutal battle of wills: Romero vs. Romero.
"I wanted to quit multiple times a day," Romero admitted. Yet he trudged on with the sound of his breathing and footsteps, a metronome, marking time until the next meal or good night's sleep. "I had to go on because the run wasn't just about me. I was part of something bigger."
Romero says Facebook was a lifeline on desolate roads and each day he would dedicate a post to someone like Destiny who had kept him going through the pain, fear, and loneliness. Other times he would write about the people he met who had been touched by vision loss. There was the tow truck driver who told him about his legally blind wife and the police officer whose father was working as a chiropractor but struggling with retinitis pigmentosa. Romero was heartened by a group of elementary school students who helped him celebrate the 1,000th mile by drawing posters that featured his battle cry "Onward!"
Approaching the Finish Line
The last day of VisionRun USA dawned at 3:00 AM on May 23 and ended with a cinematic finish through the streets of New York City, although it wasn't the script Romero would have chosen. As usual, he planned to avoid running in the darkness. But by late afternoon, the rain and looming skyscrapers blocking the sunlight conspired against him.
Fearing traffic jams, Romero's Mom had driven ahead and left him to run the remaining 11 miles alone through lower Manhattan until he was met by a group of runners. "It was like a scene from Forrest Gump," said Romero of the swarming fans. But he knew he had to outrun the sunset because he was without his headlamp and reflective vest. He ducked into a store to fuel up on Ding Dongs and Mountain Dew and sprinted into a 7-minute mile as his entourage fell behind.
Navigating crowded sidewalks is tricky with tunnel vision, so he ran in the street until dangerous traffic drove him back onto the sidewalk and into the protective glow of storefronts. Running down Broadway, Romero was surprised by a group of friends who had flown in from Denver and suddenly burst onto his path.
But their dream of a ceremonious finale was dashed when they found that the gates to New York's storied City Hall were locked and the building shrouded in darkness. Fortunately, someone from the Association for Blind Athletes contacted local police so the momentous achievement could be marked with proper fanfare. Romero was able to climb triumphantly to the top of the stairs and pose for photographs, raising an American flag above his head.
Romero's Run Reverberates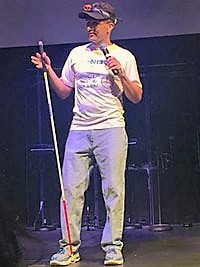 Earning the moniker "Relentless Romero," the record-breaking Paralympian continues to inspire others through his Relentless Romero website. The run is over but Romero hopes his achievement has a ripple effect. He loves to share his story with children who are visually impaired and his advice to adults experiencing vision loss is not to go through it alone. "Build a support team—your friends, your family, your employers and the community at large." Romero adds, "So many people fear blindness, but you can show them how to turn that perceived curse into a blessing."
Romero is a compelling motivational speaker whose audiences at corporate events are hungry for his recipe for overcoming adversity. The trick is not to let fear paralyze you, he tells them, but to accept it as part of the process. "Whether you're talking about parenting, a business career, vision loss, or a run across America, failure is not an endpoint but a path to success."
Romero has made his blindness public, but contends that each of us is fighting our own private battle. "I don't ask people 'Why aren't you wearing your depression bib or your alcoholism bib today?' I'm no different than anyone who has fears and vulnerabilities." Romero is confident that the secret to success is putting aside self-doubt and taking on new challenges. "We all have the capacity to do some really amazing things."