Alena Roberts

Meet Alena Roberts, "a blind blogger who has an opinion about everything," and she certainly does!
Tell us about yourself. What is your background, family, and education?
I am the daughter of two retired educators. My dad spent most of his career as a school counselor and my mom taught English as a Second Language, or ESL. I have one older brother who now lives in Utah with his wife and three kids. I grew up in Las Vegas, which isn't as exciting as you might think. To me, it was just like living in a big city that happened to have more gambling.
After being diagnosed at the age of three with retinitis pigmentosa (also called RP), my parents looked into special school programs for me to attend. I participated in a pre-school program for children with visual impairments for two years.
After completing pre-school, however, it was determined that I wouldn't need to be in a special class, so from then on I attended regular schools, all the way through high school. My middle school included the "visually handicapped" program (as it was known until the late 90s), but I didn't really utilize their services.
I remember going on field trips with the other visually impaired students, but I don't think I had classes with any of them. Part of the reason why I didn't need much help in classes back then was because I could still read regular print at that point.
For high school I attended the Las Vegas Academy of International Studies, Performing, and Visual Arts. I was a band major, and I played the clarinet. It was in high school when my vision started getting progressively worse. I needed large print by my junior year, and by my senior year I was using books on tape. I learned braille during my sophomore year.
Even though I learned braille, I haven't incorporated it all that much into my life. My reading speed is still too slow for it to be useful, although I am working on improving my braille skills now, since I realize how important it will likely be in a work setting.
After high school, I moved to California where I attended Azusa Pacific University (APU) for my first two years of college. College was the first time I used a cane for mobility on a regular basis. It was also, for me, my chance to really be independent. I decided after my second year, however, that APU was not the right fit for me, and so I moved to Eugene, Oregon and attended the University of Oregon for my last two years.
Since I knew that Oregon was a much bigger campus, I decided to get a guide dog. I received my first guide from Guide Dogs for the Blind's Oregon campus in the summer of 2002. His name was Rico, and he was a big male black lab. My mobility instructor in high school told me that if I ever decided to get a guide dog, Guide Dogs for the Blind (GDB) was the place to go.
Since I knew the most about them, and they had a campus in Oregon, I decided that GDB was the school for me. Training with Rico was a four-week process, which included working in as many different traveling situations as possible, as well as learning how to care for my new guide. After two years at the university, Rico and I graduated from college. I have a Bachelor's degree in psychology.
After college I tried to find work in social services and pretty much was told that because I couldn't drive I wasn't employable. I have a lot of volunteer experience including two years as a crisis counselor and two years working with youth, but very little paid work experience. To this day, I have only worked full time for a year and two months out of the five years that I've been out of school.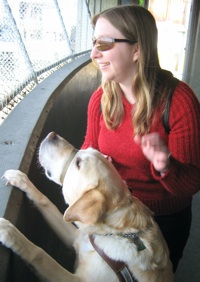 Alena and her guide dog Midge
Finding employment is a great challenge for most people with disabilities. There is currently a 70% unemployment rate amongst the working-age blind population. I think for me most of the challenge is trying to convince employers that I am the best candidate and that my vision problem won't hinder my ability to work for them.
Other challenges include inaccessible applications and finding reliable transportation to and from interviews. I think employers need to understand that the blind and disabled are reliable and good workers. We need some accommodations, but we really do want to be able to earn a living.
I met my husband in 2005. That was also the year my first guide retired due to behavioral problems, and I got my second guide. Rico was having problems with other dogs. He was fine if the other dogs were indoors, but if we were out walking he would randomly lunge at other dogs that were walking with their owners. Since his problem behavior was random, the trainers at GDB and I decided that we couldn't overcome this issue.
Midge, my second guide, is a small yellow lab. She and I have been a successful team for four years now. We moved to Corvallis, Oregon in 2006 when I got a job as an Americorps VISTA member working as a volunteer coordinator. Our move meant my husband wouldn't have to commute anymore since he works for Oregon State University. We got married in 2007, and we bought our first house last year.
What was it like to grow up with a visual impairment?
My mom started noticing that there was something wrong with my eyes when I began crawling and would run into things. My parents took me to an ophthalmologist and I got my first pair of glasses before I was six months old. I was officially diagnosed with retinitis pigmentosa (RP) when I was three.
RP affects everyone differently, but it almost always affects peripheral/side vision and night vision. I had a fair amount of usable vision until about the age of 18. After that point, pigment deposits were forming on the central part of my retina, which started affecting my focusing ability. I had to stop reading print, not because I couldn't see the words, but because I couldn't see them long enough to register what they were. I have less than 5% of my vision left now, so I hardly use my eyes anymore.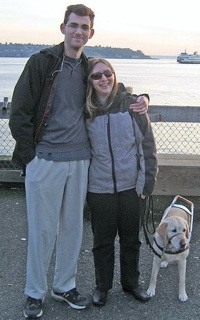 Alena, her husband Steve,
and Midge
Growing up with a visual impairment had its ups and downs for me. I spent most of my childhood being teased and picked on by other kids, but I did my best not to let that get me down. Since I had pretty good vision when I was younger, I had the chance to be a clogger and get involved in music. Clogging is a type of tap dancing, but there are taps on both the toe and heel instead of just one, as in regular tap dancing. I had a chance to dance to a wide range of songs including "Can't Touch This" and "Black and White."
My parents were always encouraging. They wanted me to participate in anything I was interested in, and I really am thankful for that. My mom is a little over-protective, but I don't think she ever stopped me from doing something because of my blindness.
I would say that living with a disability is a little easier now that I'm an adult. I still think the biggest reason I don't have a job is because I can't see, but the people around me don't really see me as "that blind woman," but simply as their friend or acquaintance.
I think having a guide dog helps me to be more approachable, and I feel much less self-conscious as an adult then I ever did as a kid. Part of why I think it has gotten easier is more education of the public. I also think my independent attitude is why I'm respected amongst my peers.
What are your interests? What do you love to do?
I am interested in a lot of things, which sometimes means there just isn't enough time to learn all that I want to. Some of the things I really enjoy include knitting, playing board games, spending time with friends, having interesting conversations, watching well-written television shows, reading, meeting new people, and connecting to people using social media.
I have been knitting for four years. I have taken that love to the classroom where I teach beginning knitting. I currently have about eight students, and I am teaching through the parks and recreation department of my city. It really makes me appreciate my craft, and I've never had a student question my abilities because of my blindness, which has been really great.
As for board games, I play with a group of friends who have introduced me to games I never knew about, much less thought could be played by someone who can't see. I've purchased one of my favorites, called Stone Age, and added braille to the game cards. When we play games that aren't modified, I just ask questions and hold most of the information in my head. I have been blessed with a good memory, which is not always a blessing, but in this case it makes gaming really fun.
Tell us about your social media life.
I started my first blog, called Perspectives from a Blind Point of View, just over a year ago. I can't remember exactly what inspired me to start it, but I had been unemployed for over a year, was really bored at home, and was just starting to get involved in the blind community through email lists. My husband encouraged me to write about what I knew, so I decided to write about what it means for me to be a young adult who is blind and to write about things that I would think the blind community would find interesting.
When I started the blog I was also facing a struggle with the Social Security Administration (SSA), and I felt like I had to write about my experience. The SSA had accused me of being overpaid because my husband's income was too high. I was unaware that my husband's income would affect my benefits, so I didn't feel that the overpayment was my fault. We appealed their decision and thankfully after reviewing my file they decided that it wasn't my fault and that I didn't need to repay.
As far as Twitter goes, I actually got inspired to join by our realtor. I joined thinking that Twitter would be another place that I sort of invested in, but I wouldn't get much out of. I was wrong! Once I started finding other people with vision problems, Twitter became a whole new world for me.
Twitter is great for the blind because it's so easy. It's also a great way to meet people from all across the world, and I have followers in numerous states and countries. For me, Twitter is a way to bring communities together. Since blindness is relatively rare, the web is a great way to find other people who are like me. I still haven't met in person very many people who are blind, but I know a lot of people, thanks to social media sites like Twitter and Facebook.
My investment in social media has landed me two paying positions for assistive technology companies, which makes it even more valuable. The trick is figuring out how to convince these companies to use social media in a way that will benefit their companies' overall mission.
My goal in any job that I do is to bring knowledge to people and help them achieve their full potential. Most of my background is in social services, and I hope that I will continue to get the opportunity to invest my time in helping people help themselves.
I think the Internet and social media are very powerful tools, and that is why I encourage companies, especially those that work with niche groups like the disabled, to invest in social media as a way to reach their end users. I also have a strong passion for the blind reaching their full potential, which is why I am considering a career as a teacher for the blind and visually impaired.
Where you can find Alena online:
On her blog: http://www.blindgal.com
On Twitter: http://twitter.com/blindperspectiv
On Facebook: http://www.facebook.com/alena.roberts