Darrell Shandrow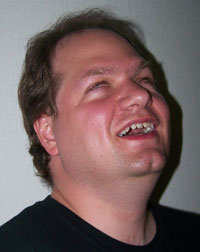 Meet Darrell Shandrow: accessibility evangelist, amateur radio enthusiast, and technology specialist. Read about Darrell's life journey, from his earliest days as a deaf-blind infant, through his struggle to be educated in a mainstream public high school, to his current life as a journalism student, blogger, radio host, and passionate accessibility advocate.
The Early Years
I was born in Champaign-Urbana, Illinois in 1973 and moved to Tucson, Arizona with my family when I was seven years old. My biological mother had the rubella form of the measles (also called German measles) during her pregnancy with me. As a result of contracting the rubella virus, I was born blind and profoundly deaf, with a bone deficiency and a heart murmur.
My 17-year-old biological mother wasn't able to handle the needs of a disabled child at her young age, so she gave me up for adoption when I was two days old. (Hereafter, the person I refer to as my mother or as "mom" throughout this story is my grandmother, who became my adoptive mother.)
Doctors told my mother to give me up to a state institution because I would likely be "mentally retarded," wasn't expected to even be able to sit up until age five, and probably "wouldn't amount to much." Thank goodness my mother was more enlightened than the advice she received, and decided to take a different road.
My blindness was caused by congenital glaucoma. My early days were apparently filled with many eye surgeries, all to no avail: I lost all of the sight in my left eye at age three. The third attempt to insert tubes into my ears to relieve a fluid buildup succeeded, resulting in my gaining full hearing at age five. Of course, I don't remember any of this.
(My right eye no longer really functions, either. I had a small amount of sight in it, which I finally lost after a couple of failed cornea transplants and retinal surgeries in 2007. Sometimes, I think I still see some light, but I can't always be sure it's not "phantom sight.")
Reading Braille and His Early (and Great) Interest in Radio
From as far back as I can remember, I have always enjoyed reading a variety of fiction stories and nonfiction books on a wide variety of subjects. I was able to read as much as I did because I was fortunate to have been taught braille at an early age. I think it is an absolute tragedy to see today's blind kids failing to receive early braille education because many educators of blind and visually impaired children still fail to grasp the necessity of teaching braille.
At age ten, I became intrigued with radio. I thought it was amazing that AM radio stations from several states away could be heard at night, while that same AM radio band was restricted to local stations during the day. FM radio, on the other hand, produced much higher audio quality, but the range was always short at all times of the day or night. Because of these limitations with AM and FM radio, I quickly graduated to listening to shortwave radio bands, which allowed me to hear radio broadcasts from all over the world.
In the midst of all of this worldwide radio listening, I met an older kid on my school bus who was talking on his hand-held ham radio with his friends around town. He told me he had a larger radio at home that allowed him to actually talk with (and not only listen to) people all over the world. I was hooked on amateur radio from that point on!
(Editor's Note: Amateur radio, also called ham radio, is both a hobby and a service in which participants, called "hams," use various types of radio equipment to communicate with other radio amateurs.)
I started taking amateur radio classes; read books about antennas, electrical theory, radio waves, and government regulations; and learned Morse Code. Shortly before my twelfth birthday, I passed the Novice Amateur Radio license test. Seven months later, I achieved the highest possible Federal Communications Commission (FCC) amateur radio license class by passing my Extra Class exams, demonstrating an advanced proficiency with theory and the ability to understand Morse Code at 20 words per minute.
I didn't only sit at home talking on the radio, however. I also attended radio club meetings, spent time with adult friends, and enjoyed many hands-on experiences with computers, radios, and other similar forms of electronic equipment.
It is this early work with amateur radio that guided my social development and has dictated my professional interests in the use of technology as a means of communicating and accessing information. Although I do not get on the radio bands very often nowadays, I keep my amateur radio license current by renewing it every ten years, as required by the FCC.
Oh, and that kid on the school bus? His name is Jeff Bishop and he and his wife Keri are among my closest friends today.
His Early School Years
Unfortunately, many aspects of my life have not been so fun-filled or peaceful. My life has been a fight from the get-go!
From age three to six, I was in a customized public school program where I received specialized instruction. After that, I attended the Arizona State School for the Deaf and the Blind from second through eighth grades.
My parents always told me I could do whatever I set my mind to, and I have tried to make my life an example of that thinking. My mom always made sure I received every possible opportunity. She had a reputation with school administrators of being my fierce advocate and she persisted in making sure the school provided me with teachers who would work with me interactively and provide me with the best possible education.
When I began seventh grade, my mother and I decided it was probably way past time for me to be mainstreamed into a public school setting. I needed much more academic stimulation by then, because my verbal skills were already at a tenth-grade level and my reading comprehension was at the twelfth-grade level.
My school's superintendent and my local school district's administrators promised that they would do whatever it took to make the transfer into a mainstream school setting happen for me, if we waited until the following school year. But come the following year, that didn't happen.
Thankfully, mom did a number of things, both inside and outside the legal system, to force a positive change. On the legal front, she worked with the National Federation of the Blind (NFB) and an attorney was hired to fight our education battle in court.
High School at Palo Verde High
While the legal battle was occurring, mom and I decided to move across town to another school district so I could start my freshman year in a public high school setting. We had to move into a small apartment away from my childhood home in order to establish residency for me to attend public high school.
I attended Palo Verde High School in Tucson. In addition to achieving a 4.0 GPA at the end of my freshman year, I made friends, attended parties, danced, and enjoyed many of the other experiences a typical teenager would have at the age of 14. I proved my ability to thrive in a mainstreamed environment with my sighted peers, despite the "naysayers" who predicted (wrongly) that the other students would make fun of me and that I wouldn't be able to participate in most school activities. One educator even asked how a blind person went to the bathroom and ate lunch!
Finally, the court ruled in my favor. My local school district no longer wanted to enroll me, however, so they paid for me to finish my education at Palo Verde High. I had the life! I got a ride to school every day in the front seat of a car with my own driver, a nice gal who was interesting to talk with. No school bus for me! Plus I got all of the assistive technology and braille books I needed!
In addition to a resource teacher, I had the most awesome teacher's aide named Gloria who really was the one to teach me many things about the real world and how to socialize with others. Gloria was from Burma, and she told me many stories about the oppression of her people, the Karens, by that country's government. I'm sure Gloria was a key factor in solidifying my views about fighting discrimination and tyranny around the world, and promoting human rights.
Thanks to my own efforts, along with the efforts of my mom and a number of wonderful friends and teachers, I graduated from Palo Verde High School on time with a 3.82 GPA! I learned many things from this period in my life, including my conviction and ability to advocate for what is right the best way I know how.
His (Very) Early Interest in Computers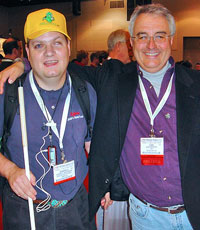 Darrell with podcaster, broadcaster, and tech pundit Leo Laporte
As I was going through high school, I became interested in computers. In 1987, my mom bought me my first computer, an Apple IIe. My first inclination, however, was not to learn how to program the computer or even how to use the word processing software to write book reports and complete other homework assignments, though I did do all those things in time.
Instead, the first thing I did was locate a program called TermTalk and go online with a 1200-baud modem! For the uninitiated, a 1200-baud modem received and transmitted text over a telephone line at approximately 120 characters (letters, numbers, and punctuation marks) per second. In comparison, today's much faster broadband Internet connections can exchange approximately one million or more characters per second!
I also discovered the world of online bulletin board systems, where I could exchange ideas with people using message boards, send and receive private notes, and download files. Since bulletin boards were all text-based in the 1980s, everything was 100% accessible to my basic screen reader called TextTalker and a robotic-sounding voice synthesizer called Echo.
In short order, I learned how to access bulletin board systems that allowed me to communicate around the world in a couple of days. I quickly extended this communications access to my amateur radio hobby by connecting a device to my computer and my radio so that I could exchange information with other "radio hams" electronically.
In addition, via these radio bulletin boards, I could also find out who was talking to people in obscure parts of the world by connecting to a special kind of station running software known as a DX Cluster. Whenever someone would "spot" a rare contact on the worldwide high-frequency bands, they would post the spot on the cluster, which would be immediately passed along to those of us who were connected at the time.
It was the earliest days of instant messaging, and I was right there! I found the ability to communicate around the world on equal terms to be a tremendously liberating experience.
College and (In)Accessibility
I hit my first experience with true inaccessibility of information as soon as I started college at Arizona State University, which caused me to squander the full scholarship I received as a result of being number five in my high school graduating class.
I was uninformed and had no clue what to expect. Whereas I got most of my books in braille throughout high school, I quickly learned there was no such guarantee of accessibility in college. Instead of reading braille, I had to endure listening to books on tape and, in some cases, I had to miss out on a book altogether if Recording for the Blind (now Learning Ally) didn't have it available.
Although I enjoy a good audio novel, I am not really an auditory learner. I prefer to communicate in written form about all important matters. When reading a book in which it's important that I comprehend the details, I need that material in braille or, at a minimum, in a form I can read on my computer so that I can get the correct spellings of words and navigate throughout the document or book independently.
Due in large part to a lack of textbooks and other related materials in braille or electronic formats, I withdrew from most of my classes and virtually bombed out my first two semesters in college.
By the time I entered my third semester, I had found a way to get it together and I started receiving my books in braille and electronic formats, thanks to a cooperative project between the university's honors college and the Disability Resource Center. Student workers scanned, proofread, and embossed the books into braille. I was able to move from a virtual inability to complete college-level work to receiving As and Bs immediately.
Getting this level of accessibility required a great deal of advocacy on my part, and this experience demonstrated to me both the barriers to accessibility and the willingness of some individuals to work with others to do the right thing.
After two successful years in college, I decided to move from the dorms to my own apartment. This turned out to be another disaster, because I lacked the necessary daily living skills to live on my own as a blind person.
Enrolling at the Colorado Center for the Blind
After only a month, I decided I needed to do something about my apartment living situation in a big hurry. With the encouragement of a close blind friend whom I met at a national convention of the National Federation of the Blind (NFB), I decided to attend a two-month summer program for college students at the Colorado Center for the Blind in Denver.
During the summer of 1994, I moved into an apartment in Denver with three other blind college students, took a class at a local community college, and began learning how to cook, clean, and manage practical daily living situations as a blind adult.
The training program there is based on the wearing of sleep shades (also called blindfolds) by students with any usable sight and a "structured discovery" approach, in which the student is encouraged to learn as much as possible by doing and performing actual daily living skills, rather than by being taught in a more conventional classroom setting. In many cases, the students actually taught each other critical skills outside the center.
One thing I learned shortly after starting my training at the Center was the concept that butter shouldn't be heated in a Styrofoam bowl. A recipe I was trying to make called for a stick of melted butter. I placed the stick in a Styrofoam bowl and heated it in the microwave for two minutes. Yikes! When I opened the microwave, all the butter came running out in liquid form! Ewwww! What a mess! The bowl was also partially melted.
I ran to tell my daily living skills instructor what had happened, and, after some laughter from her and my fellow students, she calmly told me to find the cleaning supplies in the kitchen, get it cleaned up, and finish the recipe.
On my second day in the program, I met Mary, a student in the full-time program who had established herself as a positive role model for those of us who were struggling with the realities of living on our own for the first time.
As the summer wore on, Mary and I became close friends. She helped me, but I also helped her cope with issues surrounding her participation in more challenging recreational activities as a person with a severe physical disability in addition to her blindness.
This structured discovery approach worked for me to some extent, but a two-month summer program wasn't nearly enough time. The relationship between Mary and me was also getting more serious and I just wasn't ready to leave Denver.
Graduation and "The Drop"
I didn't return to Arizona State University in the fall of 1994 as originally planned; instead, I transitioned into the Colorado Center's full-time program, where I graduated in the summer of 1995.
As part of my graduation requirements, I was blindfolded, put in a car, driven around for over an hour, dropped off somewhere in the city, and expected to find my own way back to the Center. It turned out I had been dropped off out in Lakewood, about 12 miles from Denver. After riding two buses, listening to the drivers calling out the bus stops, and asking only one question near the end of the route, I found my way back independently. My completion of "the drop" represented a huge sense of accomplishment for me.
Completing "the drop" wasn't the only graduation requirement. I also cooked a meal for approximately 40 staff and students. I made a simple salad, baked chicken, and a pecan pie, and passed that graduation requirement with flying colors! I was recognized for my accomplishments and given a "freedom bell," engraved with my name and graduation date. Mary and I were no longer together, however, though we maintained phone contact from time to time.
Meeting Karen
In January of 1995, while still in the Colorado program, I met Karen on her first day as a student there. Karen and I quickly hit it off and we spent a lot of time together. We were struggling with our own adjustment to blindness issues, coping with learning to live on our own as independent people, and enjoying an on-again/off-again relationship for about a year.
None of our friends would have ever guessed that Karen and I would later come back together and get married many years later. But I'm getting ahead of myself. That's a story for later.
An Early Adopter Gets His First Job
After graduating from the Colorado Center, I began to seriously seek gainful employment. I knew this would be absolutely necessary if I wanted to remain in Denver and not return home to Phoenix.
Being one of the early adopters of just about everything on the Internet, I used this skill to land my first job. In October, 1995, I began working for a small Internet Service Provider called Stonehenge Internet, where I provided telephone-based technical support to dial-up customers and cut my teeth on Linux system administration.
Although I enjoyed this first job, I really wanted to return to the Colorado Center as a technology instructor, where I thought I could make a positive difference in the lives of blind people.
Returning to the Colorado Center for the Blind
In February of 1996, I was invited to do just that, and I accepted a position as a computer teacher. (While this position worked out well in many respects, hindsight says I wasn't quite ready and it would've been better had I spent another six months to a year at Stonehenge Internet.)
By the summer of that same year, I was promoted to the position of technology specialist. This involved my traveling throughout Denver and the state of Colorado, providing training and technical assistance to clients and various agencies.
During this time, I visited NFB's national headquarters in Baltimore; worked with a woman in Pueblo, Colorado who was tasked with providing assistive technology support at a community college; helped a blind vendor learn how to integrate technology into his business operations; and had many other rewarding experiences.
During this same time, which I still sometimes refer to as my "day in the sun" or my highest level of success to date, Mary returned to Denver and we became a couple again. We moved quickly toward marriage during the remainder of 1996. Looking back, I could never have imagined all that the next year had in store for me.
Trauma and Sadness in Denver
On Feb. 27, 1997 (I remember the date very clearly), I was heading to my office at the Colorado Center for the Blind in Denver. Mary and I had just stepped off the bus. The weather on that morning was chilly and cloudy, with light snow flurries.
I began crossing the street when something very unusual happened. I felt a hard push and all of a sudden I was sitting on the road! When I started to get up, I found my situation to be rather serious.
My left leg was broken in the middle of the thigh and it was at a somewhat odd angle! I wasn't able to get up and cars were still moving all around me. The excruciating pain that was to follow was delayed for a few minutes, fortunately.
It turned out I was hit by a truck and thrown about six feet down the main street. I don't remember the actual moment of impact, however: one second I was crossing a street and the next second (or maybe just a millisecond) later, I was on the ground. Within about three minutes, an ambulance was on the scene and I was immobilized and taken to the hospital. It was the first, and hopefully only, time I experienced the inside of a trauma center.
My left femur was broken. Doctors performed emergency surgery to fuse it together with a metal rod. I was able to leave the hospital in a week, and the physical injury healed with little fanfare. The psychological impact was more severe and longer-lasting, however.
I suffered severe post-traumatic stress disorder (PTSD) related to the accident. It was so severe that I could not cross streets. Any attempt to cross a street alone would cause me to panic and have flashbacks about the accident. Each time I attempted to cross, I feared that this would be the street crossing that ended my life. I became deeply depressed.
Although Mary and I were married one month later, my continuing PTSD contributed to our separation and divorce the following year. I also lost my job and, sadly, returned to Arizona in utter defeat. My mom met me at the bus station and I stayed with her and my stepfather for a couple of weeks.
Darrell Rises Again
In time, I moved to Tempe, Arizona, got an apartment, and began another job with an Internet service provider doing technical support. This gig lasted six months and I continued struggling with how to live after my accident, which I had allowed to strip me of my independence.
As 1998 neared its end, Karen and I started talking on the phone again and we decided to give our relationship another try. By May of the following year, she moved out to Phoenix and we decided to make it long-term this time around.
Later that year, I had improved enough to take a position as a technical support agent with another Internet service provider. That position turned into a job with greater responsibility as a network administrator. Along the way, I taught myself advanced UNIX administration skills and quickly learned how to maintain Cisco routers, Lucent terminal servers, and similar types of networking equipment. Since my early days as a ham radio operator, I've had the aptitude and ability to take a "self-teaching" approach to learning and applying technology.
Throughout the first decade of the 21st century, I held technical positions of increasing responsibility, but accessibility problems also began to rear their troublesome heads with increasing frequency.
I especially enjoyed my work as a knowledge base administrator, creating and editing technical documentation and moderating an active online forum regarding usage of our company's product. Although I was repeatedly recognized for excellence and earned an employee of the month award, I lost my job when my company was sold and the knowledge base was reorganized.
Ultimately, I filed a charge in 2008 with the Equal Opportunity Employment Commission (EEOC) regarding the inaccessibility of software programs that contributed to the loss of my position. I am still awaiting the outcome of that filing.
Since the economy was in the process of tanking when I lost my job, I decided to return to Arizona State University (ASU) to complete my degree. This time, I chose journalism as my major and enrolled in the Walter Cronkite School of Journalism and Mass Communication at ASU. I have another two (or so) years of work to complete at a slower-than-average pace, since I am trying to secure part-time employment in order to earn some much-needed income.
Life Remains Good
The best part of my life is that Karen and I eventually married on June 3, 2006, in Boston.
Two years ago, I began working with an orientation and mobility instructor to help me regain my confidence with street crossings. As my instruction progressed, my confidence began to increase and my fear began to decrease. I began to go to school independently, participate in extra-credit activities in the evenings, and take other trips completely on my own that I wouldn't have dreamed of just a month earlier. It feels great!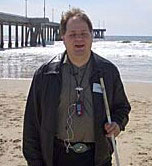 Darrell at the Pacific Ocean
My friends and my accessibility advocacy work are the most important parts of my life today. I still enjoy amateur radio operation once in a while, and I also enjoy a little hiking, rock climbing, and swimming. It's especially important to swim in the summer time here in "Furnace," Arizona. I also try to keep track of news, politics, and other important current events.
A Passion for Advocacy
In addition, I decided to channel my accessibility advocacy into a blog, called Blind Access Journal. Karen, myself, and an increasing number of other individuals use our blog to develop podcasts and write articles about accessibility issues that continue to have an impact upon the blind.
For most of my life, I have viewed computer technology as a potentially liberating force for independence among blind and visually impaired people – as long as it is made accessible to us. We have lost and won many battles for accessibility throughout the years, and I still firmly believe that people in the technology industry fail to pay enough attention to the accessibility needs of people with disabilities.
Here are some of the successful accessibility advocacy efforts of which I have been a part:
In 2006, I initiated an online petition, called the Google Word Verification Accessibility Petition. It requested that Google make its visual CAPTCHA feature accessible by means of an audio playback. The petition, which received 4,725 signatures. I was part of a small meeting with a Google official at the 2006 California State University, Northridge (CSUN) conference in Los Angeles, California, and, in May of that same year, the company rolled out an accessible CAPTCHA with audio playback. Other blindness organizations, including the National Federation of the Blind, also were involved in an advocacy role to help make this happen.
I participated in a lawsuit against Arizona State University (ASU) over the university's distribution of inaccessible Kindle e-book readers. The results of that advocacy were a qualified success. A settlement was reached by ASU stating they would not use inaccessible e-book readers. Amazon's Kindle 3 now contains more accessibility features, though the jury's still out on whether or not they provide an acceptable level of accessibility.
Most recently, I have become involved in advocacy to ensure that developers of applications for Apple's iPad, iPod Touch, and iPhone are aware of Apple's VoiceOver solution, and to ask that they make sure their applications are accessible to the built-in screen reader provided by Apple as a part of its operating system.
Ever since I entered journalism school, my approach to advocacy has changed slightly. My typical approach now is to contact a company's media relations or press relations department and ask to be put in touch with someone at the company who can speak about the company's plans for making products and services accessible to customers who are blind or have low vision. Sometimes, the resulting interviews lead to short stories on BlindAccessJournal.com and ultimately to positive change and greater accessibility.
Whether or not we have equal accessibility to modern technology as blind and visually impaired people relates directly to whether or not we learn, work, and are able to participate as productive members of a technological world in the 21st century.
I believe strongly that it is our obligation as blind people who desire full participation in society to advocate as best we can for the equal accessibility we deserve. We must tell the world that accessibility represents inclusion, and, therefore, inaccessibility is nothing less than exclusion of an entire class of people. Accessibility is a human right, just as is gender and racial equality.
Where you can find Darrell online:
On his website: http://www.blindaccessjournal.com
On Twitter: http://twitter.com/darrell
On Facebook: http://www.facebook.com/darrells
On ACB Radio Interactive, as co-host, with his wife Karen, of "Desert Cafe": www.acbradio.org