Gus Chalkias: Assistive Technology Instructor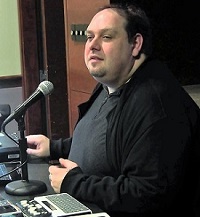 Konstandinos (Gus) Chalkias is Greek by parentage, was born in Germany, and at the age of four migrated to Astoria, New York, just across the river from Manhattan. To this day, at age 41, he still makes his home in Astoria. "I love Astoria," he says. "As a child, we lived right across the street from a junior high school, so you could walk out your door and always find something to do. You could never be bored."
Gus lived with his sister and parents and grew up as a sighted child. At the age of 17, he was diagnosed with retinitis pigmentosa (RP), an eye condition that gradually takes away vision. In the end, most people with RP lose most or all of their vision.
"I was born with RP," Gus says, "but it didn't show itself until I was 17 years old and a freshman in college." RP first manifested itself as severe night blindness. But during the day for the first several years, Gus says he actually maintained 20/20 vision. Then at age 28, his vision changed drastically leaving him legally blind. He worked as an accountant, until this radical change in his vision forced him to seek help from Lighthouse Guild International in New York City. "I really had to relearn how to function and how to live." He connected with the New York Commission for the Blind and his counselor referred him to the Baruch College Computer Center for Visually Impaired People (CCVIP) in 2001.
"I came to CCVIP for an Excel class because I needed experience with spreadsheets, as we did much of our work in a specialized program when I worked as an accountant. I started Excel using ZoomText but with some gentle nudging from my instructor, I started to transition to JAWS.
This was my first learning experience as a blind student and I was nervous coming into the class. As a result of completing this class, I felt more confident about my abilities and about my potential for employment. I was offered a position as a tutor, my first employment opportunity after losing my vision. I loved working with the students and helping them as they learned. During the time I was tutoring, I also took an Access class and realized that education was something I really enjoyed, so when CCVIP offered me the opportunity to be an instructor, I jumped at the chance.
The skills I learned at CCVIP were foundational for me. Everything I have done since my first day at CCVIP has been built on the training I received there, but also on the confidence that was built by participating as a student, a tutor, and then later an instructor.
CCVIP gave me tools to do work but more than that it helped me feel good about myself and realize that I had a future; a future of my own choosing and not one that was dictated by this new circumstance called vision loss."
Gus discovered that he really enjoyed helping others to learn. "I was drawn to being an educator and empowering people." He has been doing just that for seven years at the Lighthouse with their youth programs, as a volunteer at Landmark Education, and at CCVIP as an instructor, and now Coordinator of CCVIP's Assistive Technology Demonstration Center. In September of 2011, Gus entered the Master's Program in Rehabilitation Counseling at Hunter College, City University of New York.
---
Baruch College's CCVIP Assistive Technology Demonstration Center
In 2009, CCVIP launched the Assistive Technology Demonstration Center. The Demo Center introduces individuals with vision loss to the possibilities inherent in assistive technology to simplify their lives and increases awareness within the community of the resources available to people with low or no vision. Through the Demo Center, people who are new to vision loss can talk with center staff and get an up-close preview of what assistive technology is and how it might enhance their lives.
Free, one-on-one appointments to discuss individual needs can be scheduled with the Demo Center Coordinator at 646-312-1422. The Coordinator can introduce individuals to services designed to help with maximizing vision, independent travel, managing home activities, and preparing for employment or reemployment.
For the community, the Demo Center's quarterly workshop presentations feature people using apps and other "tech tools" to make their lives easier and more enjoyable. For example, recently the Demo Center presented three different ways that people with low or no vision can stay current with the latest news without needing to read standard print. These workshops demonstrate how the right technology, when understood and properly used, can bring huge improvements into the lives of people with low or no vision.
Finally, the Demo Center has developed a wide variety of online resources at CCVIP's YouTube channel. The channel has all of the past Demo Center workshops, and a variety of short videos demonstrating use of devices and phone apps designed to ensure that you can continue to live fully, even though you're now doing so with reduced vision.
Instructional Program
Once individuals have come to the Center, either through our Open House or our Demonstration Center, they can enter the instructional program through one of two tracks: either they move into learning the Microsoft suite of programs or they are interested in focusing on iOS products such as the iPhone or the iPod Touch. We also offer MAC training.
Generally, we encourage individuals to develop some skill at the keyboard before taking computer classes. We offer a keyboarding class once a week and students can practice throughout the week at our state-of-the-art learning lab. Keyboarding skill allows students to concentrate on learning the computer applications and assistive technology required to access them, without being distracted by trying to remember what is where on the keyboard. In our experience, even students with low vision who use the mouse regularly find that facility with the keyboard is often critical to effective computer use.
PC-based classes include two levels of Using Microsoft Word, Surfing the Internet, Outlook, Excel, and Access. Individualized training can be arranged on any of these topics or in specific areas within them.
Two specialized classes support people who are seeking a career path:
Career Exploration and Job Search explores online and offline resources that allow the student to assess her/his own strengths and weaknesses and to test them against typical job qualifications.
So You Want to be an Entrepreneur uses CCVIP's computer resources to determine whether the student has the resources, characteristics, and drive to start her/his own business.
Annual Conferences
Every spring for the past six years, CCVIP has run a free, citywide conference on some aspect of employment and visual Impairment, policy and practice. These well-attended conferences feature subject matter experts who address the current policies and best practices that affect people's ability to live maximally productive lives.
The CCVIP Annual Conference provides a unique and productive networking opportunity bringing together blind and visually impaired individuals (especially job seekers), placement professionals, assistive technology experts and major vendors, and the business and academic communities.
Other Services
Services to businesses and nonprofits include:
Braille production of pamphlets, statements, menus and more;
Web usability testing
Scripting Service (small programs that make screen reading software identify critical components in application programs, increasing accessibility for employees with vision loss)