Pratik Patel's Passion for Knowledge

Pratik Patel is Director of Information Technology Access for the City University of New York and member of the Governor's Advisory Council to the New York State Department of Education. He is also the owner of EZFire Enterprises LLC, which consults on a variety of technology projects, including accessibility to websites for people with disabilities, business development, nonprofit management, and training and development.
Tell us about yourself. What is your background, family, and education?
I was born in India in 1978 and grew up there before emigrating to the U.S. in 1991 at the age of thirteen. My mother's and father's families were both from the western state of Gujarat. Born in a thriving town called Anand where my mother spent her childhood, I moved from town to town with my small family. As a banker, my father often transferred from branch to branch and from small town to small town, taking my older brother, my mother, and me with him. I got to experience living with different people and different cultures until 1988, when my dad was killed in a car accident and we moved back to Anand where a large part of my family still resided.
Until emigrating to the U.S. in 1991, I lived with my family in Anand as my mother took my father's place at the bank. I finished seven grades (or standards as they were known). By this time, it had become quite difficult for me to see printed textbooks and other things. Had I not moved to New York, I would have had to go to the school for the blind hundreds of miles away.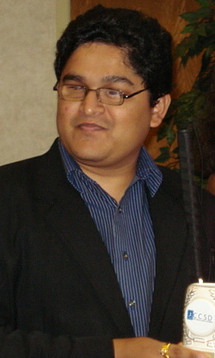 Pratik accepting an award at a leadership retreat for the CUNY Coalition for Students with Disabilities (CCSD)
Coming to New York was certainly an interesting experience—especially the year's wait that I was forced to endure while the City Board of Education placed me. Fortunate in some respects because this gap gave me the time to learn my English conversation skills, I also attribute my need to gain knowledge and my passion for life-long learning to this period of my life. Thanks to the influence of an excellent vision teacher, I quickly learned and remained in the New York City school system.
After graduating from junior high with honors, I attended Townsend Harris High School. Considered to be one of the top magnet schools in New York, it gave me experience and passion for the humanities, including literature and languages. It was at Townsend that I formally learned Spanish and Latin, as well as explored other languages on my own.
I began my college career as a part of the high school's senior year program that gave us twelve credits for taking four courses. I remained at Queens College of the City University of New York after graduating from high school. Ultimately focusing on the English program, I attempted to learn psychology and anthropology. I was fortunate in my choices of colleges in that I found my career in information technology at the City University, as well as a few lifelong friends.
I count a few things in my life that have been tremendously influential: the death of my father, my immigration to the U.S., learning braille, and having the opportunity to study with sighted peers being among the most important influences.
But perhaps the greatest influence on my life came at the age of 22 when my brother died from cancer. Having the opportunity to spend the last six months of his life with him at the hospital was probably the deepest experience I could have had. It made me more dedicated and more passionate about what I wanted to accomplish and how I wanted to live.
What was it like to grow up with a visual impairment?
The records for my eye treatments are no longer available in India. I am told, however, that I was born with congenital cataracts. In a surgery to repair this, I lost my sight in the right eye when I was four months old. The condition appeared to have been somewhat repaired in the left eye. But, unbeknownst to the doctors in India, I developed glaucoma in that eye—a fact not discovered until a visit to a UK doctor while traveling to the U.S.
After a surgery in 1992, the condition was somewhat stable but I had lost my sight significantly and continued to do so, even with medication. With a cornea transplant surgery in 2009, it was projected that my sight might be slightly better. Yet this has not come to pass.
When I look back at my life, I find two different experiences related to my blindness: one before coming to the U.S. and the other after my arrival. There are, of course, similarities when compared; things such as children's attitudes toward blindness strike me as particularly similar. I grew up with not being able to see from my right eye so I don't even recall what it might have been like to see from that eye. However, as I gradually lost sight in my left eye over time, I do recall being able to see a lot more.
Blindness is often seen as a pitying condition in India and I encountered a lot more pity when dealing with most of the adults. But until I was unable to see print, even with any kind of magnification, I mostly "got by" in school without garnering too much attention. The older I grew, the more difficult it became in some respects. The typical curiosity exhibited by children often turned into teenage cruelty. I can only attribute this to the absence of examples of other blind children or even successful adults.
In contrast, the experience I had in the U.S. was rather different. In schools, I found students to be far more accepting. Most teachers were accommodating and helpful. But a few years into junior high, I had gained enough confidence and knowledge about myself to know what I needed to learn successfully. And, if nothing else, I was willing to articulate the fact that I needed accommodations.
What are your interests? What do you love to do?
My interests tend to vary. But in general, what I do and what I enjoy correlates with gaining and disseminating knowledge and information. If one can be said to have a single passion in life, mine would be learning.
With that in mind, I absolutely adore reading—be it books, journal articles, or other information. I take everything as a learning experience and make it my mission to learn something from everyone. Perhaps I can call it a sense of curiosity or perhaps just a side effect of having a spongy brain; whatever it is called, I know it to be one of the most important things about my life. I'm truly grateful for having it.
My second passion is technology—especially technology that has the power to increase independence for everyone. My work involves technology and access to that technology for and by individuals with disabilities.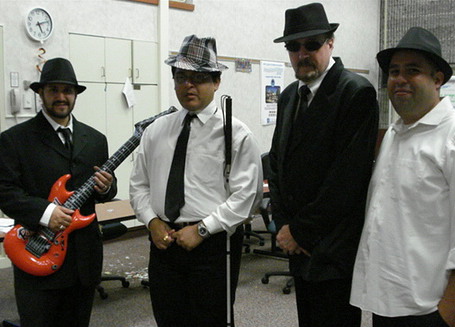 Pratik with the "Blues Brothers" during a student exercise at the CUNY Coalition for Students with Disabilities (CCSD)
Thirdly, I enjoy advocacy. My work with the American Council of the Blind serves as a reminder to me that our society needs important changes in order for blind people to have successful careers and fully successful lives.
Tell us more about your online and professional lives.
I started my career in information technology as a volunteer for the newly established City University of New York Assistive Technology Services (CATS) project at Queens College in 1999. A year later, I became a part-time staff member. Shortly after that, the project manager took a temporary position at a different college. From that time until 2004, I managed the project full-time. Appointed to serve as the director of disability services for Queens College on an interim basis, I also served as the director of the CATS Project until June of 2006. That project provides assistive technology services to directors of disability services on more than nineteen campuses at the City University of New York.
In 2005, I partnered with several university units to write a mathematics and science accessibility demonstration grant. Serving as the director for PeopleTech, I conducted important research on access to mathematics and science material for students with sensory disabilities.
Since 2006, I have served as the Director of Information Technology Access for the City University of New York and have worked with the Society for Disability Studies. My community work involves serving on various boards of directors as well as serving on the Governor's Advisory Council to the New York State Department of Education on post-secondary alternative format material.
Using my experience as a partner in Consultability LTD (which I and my partners disbanded in 2007), I established a small business in 2006 named EZFire Enterprises LLC. The company focuses on consulting on a variety of technology projects, including accessibility to websites for people with disabilities, interfaces and usability, business development, nonprofit management, and training and development. With new projects, EZFire and I are on the verge of new product developments and establishing products for learning and information dissemination.
I can be found on Twitter, Facebook, and LinkedIn, having conversations with followers and friends. My latest activities are also available on my Google Profile page.
What do you like best about VisionAware?
I find the site to be an important resource for families and individuals seeking information about many different aspects of blindness. While the site does contain information about various medical conditions that affect blindness, I find its approach to be much less medical-based than other sites. The information on independent living, recreation, and employment is very useful.