Thomas Reid Audio Producer of "Reid My Mind"
Meet VisionAware's Featured Service: Reid My Mind Radio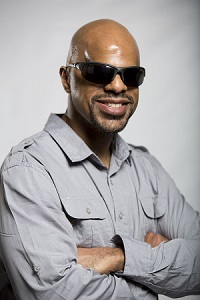 VisionAware peer advisor Susan Kennedy interviewed audio producer Thomas Reid. He says as, "a true New Yorker born and raised in the Bronx, it doesn't matter where I go, NYC will always be home." Currently, he lives in Stroudsburg, PA, in the beautiful Poconos mountains with his wife, Marlett, and his two teen-aged daughters, Riana and Raven. Previously an IT developer, when he's not producing audio, he volunteers with the Pennsylvania Council of the Blind and World Eye Cancer Hope. (Reid lost his vision due to cancer). He enjoys working out, listening to other podcasts, music, audiobooks, playing audio darts, watching movies, Netflix, and spending quality family time.
Launching "Reid My Mind Radio"
Susan Kennedy: Why did you launch your podcast, "Reid My Mind Radio?"
Thomas Reid: After becoming a screen reader user, I started my WordPress blog, "Reid MY Mind.com" in 2006. I was missing IT related work and always enjoyed writing, so it seemed like a great fit. Around that same time, I was reintroduced to my love of audio production. I submitted short stories produced for the Pennsylvania Council of the Blind's "podcast." I used quotes around that because it really officially wasn't a podcast as it wasn't distributed through an RSS feed. However, it was a monthly audio magazine. I started a separate "podcast" for the organization focusing specifically on advocacy related topics.
In 2014, I applied for a scholarship to attend the Third Coast Festival in Chicago. It's a conference attended by some of the most popular and admired radio and audio producers… like those from Snap Judgement, "This American Life," and "Radiolab." It includes presentations and workshops on a variety of audio topics, and it concludes with what's considered the Grammy's for Radio Producers. The Association of Independence in Radio (AIR) offers the New Voice Scholarship to audio producers they feel have something new to offer radio/podcasting. Quite honestly, I took a shot without really thinking I would win, but to my surprise, I became one of the New Voice Scholarship winners.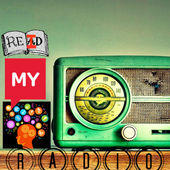 Through an AIR contact, I learned of Gatewave Radio, a radio reading service in NYC. They were looking for volunteers to produce original content for their service. I gave it a shot. I realized I had no way to share the stories I produced with others as they were only broadcast via the specialized radios. Boom! I now had what would be regular content for a podcast.
Recording and Producing a Podcast
Kennedy: What's it like to record and produce a podcast?
Reid: The term "podcast" really doesn't describe the content of the audio. There are so many different types of podcasts today. Some people associate the term with pressing play on a recorder, talking, and then putting that online. That's not really my thing. I'm more into production. That starts with finding the story or interview, making the contact, scheduling interviews, researching, recording, writing scripts, recording narration, editing, uploading the audio, writing blog posts, and then all of the social media that goes with trying to get people to find your show. It's a lot of work. In many cases, podcasts consist of a team of people to share the work. I sometimes receive story ideas from a Gatewave producer who helps with making the initial contact, but for the most part, I am really on my own with this. My daughter and wife do help me out with the visuals, but I am doing every other part of it alone.
Kennedy: What is unique about your workspace?
Reid: My workspace has changed since last year. I went from a horizontal layout to a vertical one. I am fortunate that I have a "slash" room. It's my office/studio/workout room/den, and now, it's a shared office space. My wife began her own tax preparation business, so I made space for her in here to see clients. That forced me to stack some of my equipment. I have one laptop that I now dedicate to the editing and production process, but I also have an audio interface (external sound card), two mixers, microphone, another laptop I use for non-audio work, and some other devices. I also have my own vocal booth! Well, like the "slash" room, the vocal booth doubles as my closet. That's right, with clothes and shoes. It's actually more common than you may think. Some of the reporters you hear on the radio and definitely in other podcasts have voiced their narration in a closet.
Explanation of "Reid My Mind Radio"
Kennedy: Describe "Reid My Mind Radio" to a stranger as if you're standing in line and have two minutes to chat.
Reid: "Reid My Mind Radio" is my space to tell what I believe are interesting stories currently focusing on disability. These stories are rare and often, in my opinion, aren't properly told by the mainstream media, so I thought I'd take a shot at it myself. It's also my place to share my personal experiences and commentary as a Black man, husband, father, and advocate adjusting to blindness… or whatever is on my mind!
Kennedy: What makes good tape?
Reid: If it sticks, it's good tape! Sorry! As long as it's clean audio (not a lot of background or any noise that interferes with the main audio) captured on tape, it has the potential for being good tape to me. I truly believe that we're only limited by our creativity. I think of great musicians and producers who have taken very random sounds or pieces of music and layered them with other sounds to make a whole new experience. Good tape therefore I guess is inspiring.
The Power of Podcasting in Reid's Life
Kennedy: How has podcasting changed how you think about blindness?
Reid: I don't think it has changed, but it has strengthened my belief that the challenges we face as people who are blind are less about our visual acuity and more about the way we sometimes as individuals and as a society think about blindness and disability. The one thing that most of those I feature and speak with on my podcast have in common is that blindness is just one part of who they are. Once they understood that and sometimes made adaptations, they found their purpose and felt confident in going for their goals.
Kennedy: Tell me about a memorable time when you were creating an episode.
Reid: I became blind only about three months after moving from the city to the Poconos. I would have never moved out here if I were blind due to the lack of public transportation. I used to overestimate the limitation that my lack of access to public transportation presented as it applies to producing this podcast. While in-person interviews make for a better quality recording, I think making a connection with the interviewee makes for the best content. During one interview, I had to stop and just sort of acknowledge that I was interviewing a young lady in Moscow via FaceTime Audio. At 48, I'm old enough to remember the Soviet Union. I remember when the web was rolled out even before Prodigy and the ubiquitous AOL discs and CDs. I've been blind long enough to have experienced what it was like to have little to no cell phone accessibility. Yet, I sat at my desk with a microphone having a very nice conversation with a young woman who also was blind. She told me all about her experience growing up in Russia. I thought to myself, I may not be able to get there in person so easily, but I can do a lot of things right here, right now with the tools I can use.
Kennedy: Is there a conversation or moment you had with one of your guests that still resonates with you?
Reid: While listening to another podcast featuring a former VJ (video jockey) on Yo MTV Raps, Doctor Dre, I learned he was experiencing vision loss. The topic really wasn't discussed much on the show, and I thought he and I could explore that more on my podcast. Most people I interview who don't know I am blind often seem to become more comfortable when I share that information. Based on the initial energy, it seemed our conversation was going to be quick. I got the sense that understandably, he wasn't really comfortable talking about his vision loss with a stranger. That all changed and two hours later, our interview included some real talk about vision loss. He made me re-examine how I think about the idea of getting back my sight.
Reid Favorites
Kennedy: Who are some of your favorite performance artists?
Reid: Most of my favorite artists would be musicians. Anyone who knows me would tell you I am a big Stevie Wonder fan. Stevie is like that first artist I really feel like I "found." Yes, he is on the radio, but it wasn't like I can recall my older sisters or brother were that into him. I just really liked listening to him. Then I later learned of his advocacy. "Hotter than July" is the first album I recall having that was mine. Since the late 80s, I've been to most of his concerts when he came to NYC. In 2014, I checked off one thing on my bucket list by taking my girls to their first Stevie concert.
I grew up listening to a lot of Michael Jackson from the Jackson 5 days to his solo career. I was a big Prince fan as well. I am fortunate that I had the chance to see both Michael and Prince in concert.
As a fan of rap, I remember when it wasn't even played on the radio. Groups like Run-DMC, Public Enemy, Boogie Down Productions, De La Soul, and more were a big part of my high school and college life. That music led me to books that helped form how I look at the world. These are all artists whose music make up the soundtrack of my life.
Kennedy: Do you listen to other podcasts? If so, what are some of your favorites and why?
Reid: I've listened to a lot of podcasts probably since 2005 when there really weren't that many. They each not only satisfy a specific interest, but I think they reflect a certain aspect of my personality. The early podcasts consisted mainly of tech-related shows. Later came Snap Judgement, storytelling with a beat, it was exactly what I wanted to do, but they did it well. It made me think if I wanted to produce for the radio it might be possible. I don't have an NPR style or voice. Of course, "This American Life" and "Radiolab" for their stories and production respectively. My lifelong love of hip-hop makes me really appreciate shows like the "Combat Jack Show" and the "Cipher Show." Each of these featuring artists and those behind the scenes in rap and R&B music and more. Also, I like podcasts from Tim Ferris and James Altucher. I get some creative inspiration and many good book recommendations from both of these shows.
Recommended Podcasts to Try First
Kennedy: For new listeners, what episode of "Reid My Mind Radio" do you recommend starting with?
Reid: I think these three capture important aspects of my podcast:
"Traveling Blind, Go Team Zen": This episode is an example of personal experiences that are fun to tell and had a real lesson for me and chances probably for others adjusting to disability.
"At The Intersection of Black and Blind": An example of the stories that we don't hear much about when it comes to disability in general. It features Robert Lewis, an African American who grew up in a segregated school for the blind. The segregation he experienced in his school and then when he went home.
"Fears of A Blind Nomad": The idea that stories are everywhere is so true. I stumbled across this blind nomad on Facebook. He shared his story of traveling alone through Ecuador.
Advice from Reid
Kennedy: What advice do you have for someone who is experiencing vision loss?
Reid: The key word is experiencing. How we interpret our vision loss is going to be based on how we view the world. We have the opportunity to examine what blind or low vision really means. Each of these refers solely to visual acuity. Somewhere along the line, we have been conditioned to believe it means less. We start to expect less from others and ourselves. We can't change that if we don't first acknowledge it. I would encourage anyone experiencing vision loss to fully immerse yourself in that experience. Meet other people who are blind. Those who have been blind all their lives and those with similar experiences adjusting to vision loss. Read about the topic. Learn how to do those things you are interested in doing. Become a person who can appreciate the skill of adapting. Understand that despite what everyone may tell you, your vision loss doesn't define you, but rather, it's a new part of you. I don't like to say I or anyone else with vision loss succeeds despite their vision loss. I succeed with my blindness, and I'm cool with that!
Contacting Reid
Kennedy: How can readers find more information about "Reid My Mind Radio" and contact you?
Reid: Launch your favorite podcast app and type in the name and then hit play! Don't forget, that's Reid spelled like my last name, R, E, I, D. You can also find that on SoundCloud directly and through the Sero app from Serotek. Or, visit www.reidmymind.com. Send email to reidmymindradio@gmail.com. Follow me on Twitter @tsreid.
Kennedy: What do you want to mention that I didn't ask about?
Reid: I am always open to story ideas. Feel free to contact me if you have an idea that you think would make for a good fit for "Reid My Mind Radio." I'll credit you as a producer!
Read More on Podcasts
Exploring the World of Podcasts